BlackSector: Subject H.O.R.I.Z.O.N.
Update #4
---
Hey guys, welcome back to the next BlackSector: Subject H.O.R.I.Z.O.N. update. Everything is going fine, we have some new members this time in our team and some new stuff for you. At first i would like to thank DeathCaller and duomx88 for their good work. We have some new concepts from wiredgear, who draws some of the most incredible concepts i have ever seen. So thank you too for helping us with some of your work.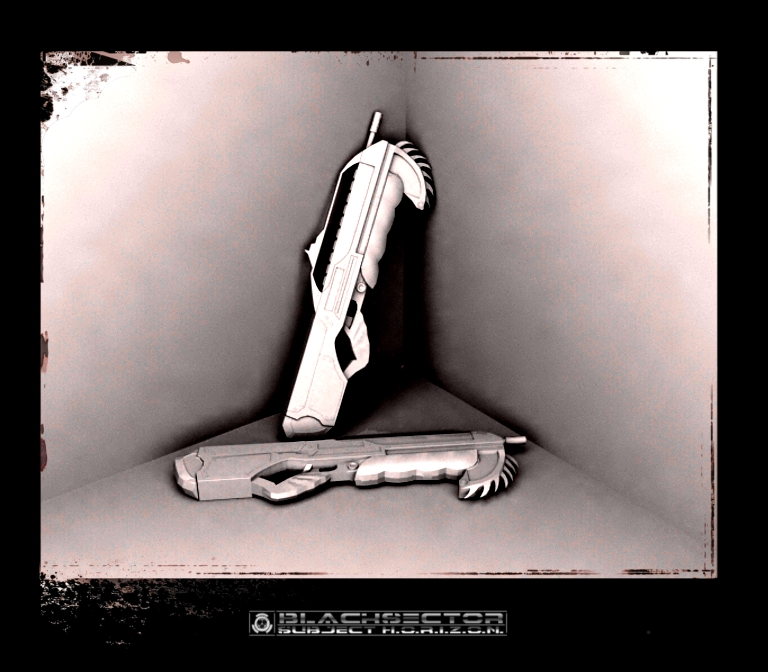 This is the first render of the Slaughter-Gun without any textures and still work in progress. The model is made by DeathCaller. Hope you like it. I think this one will be a really nice gun for heavy assault.
And here are three really nice concept arts by wiredgear. The character design of the warrior is amazing, hope to get that in the game. As you can see, the urban environment and the whole atmosphere is really intense and dark. You and your squad are in the war and there is nothing left except of your weapon, your suite and your mind.
Finally we have a great sound composer in our team, duomx88. He created three very atmospherical and ambient soundtracks for the mod and is going to make some more awesome tracks for us. Glad to have him in the team. Check out his homepage: Blcompositions.com
What you see or hear here is just one of the tracks, there are two others on the site. Maybe we will use this one for the main menu of BlackSector: Subject H.O.R.I.Z.O.N.
---
Thats all for this month, see you again soon with some new updates and news.
Watch your back,
Unreal1ty