Hello once again everyone,
I know its been a while since my last update, things have really gotten crazy around here,but there is a lot of good news,whilst doing work on Limit Release I have been able to really improve my skills, both in 3d, and texturing, I am slowly picking up stuff that I originally wanted to try a year or so back,but never got the chance to.
At the moment I am happy as I am slowly getting better at texturing, I managed to get that worn out look that you have seen on the metal work, and also the scratched effect on the paint work, but now I have learned how to apply tearing to the paint and also how to paint it so that it looks like theres Metal underneath, I`ll explain with a simple picture.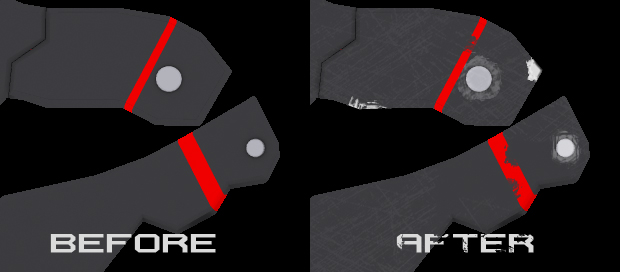 On the left is before I apply the new techniques, its just a bland normal baked texture, on the right is me messing around with the various effects I have used and also the new ones, to simulate age, damage and scratching.
I am working hard on the final scene for the animation I am working on currently, my computers having problems so instead of jumping right in and doing the main work for Limit Release`s story, which I had originally all planned out instead I am going to be releasing a much smaller animation.
Its comprised of a drop sequence , a VOB sequence and also a fight sequence, all in the sake of taking down a fleet of transports that are on route to an area to commence their mission, and Limit Breaker is given the task of taking down the transports and retrieving anything it can from them.
Its gonna feature AC vs AC fighting and I am trying to get it to be the best it can be at the moment,so I really cant wait till its all done, for those who don't check often, heres a sneak peak on my youtube page of it.
-Dave