Update #3 - Sounds of Ancestory
Sound Designer Introduction
Hey, my name is Tero and I'm the Sound Designer on Ancestory. During our initial 7 weeks of development I felt like I learned more about game sound designing than I had learned on all of the previous projects combined. My previous work includes some simple mobile games that don't come even close to the scope of Ancestory, so it was a great experience to work on something bigger and on PC for a change. It was the first time I had access to proper tools to work with, namely a DAW (Pro Tools Express 10), a large sound library and some high-quality microphones for recording the VO in the game.
Sound Effects in Ancestory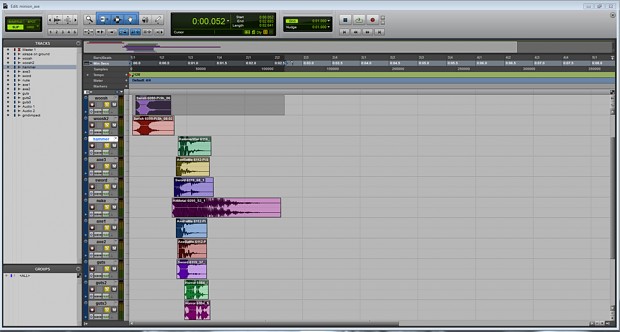 I had a lot of fun making the sound effects for the game, as it was the first time I had access to an extensive library of different sounds. It was definitely a learning experience on how to combine different sounds together to make something new, but it all came together pretty quickly. Above you see a screenshot of the minion Matti's attack, which was one of the first multilayered sounds that I made. You can see the different tracks, some containing the main body of the sound, some containing sweeteners or other detail that I wanted to put in.
You can listen to the sound here.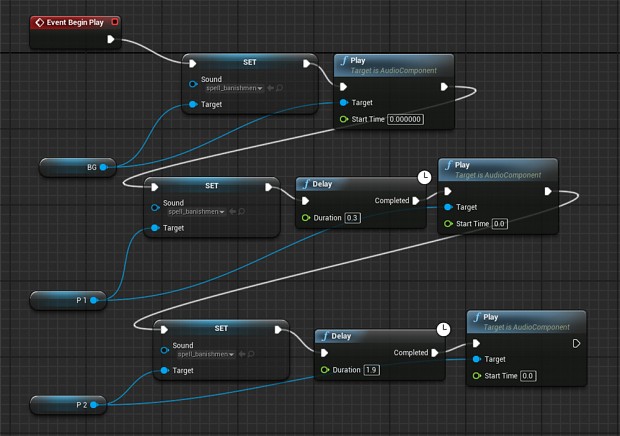 Here's an example of a blueprint for one of the particle effects. We used the blueprint system to trigger all the sounds and particles, which has proved to be a really fast and effective tool.
During development I was sitting next to our 3D Modeler Hege, which was super convenient because I could just ask him what kind of animations all these minions were getting, so I was able to roughly do all of the attack sounds for the minions before the animations were even done. And next to Hege was Oona's workstation, our 2D supergirl, so I could just lean over and ask about the sprite particle effects of the spells, or ask for concept art for some assets so I could start thinking what kind of sounds the assets should have. I could also ask Hege for quick feedback on something I was working on, since I could just hand over my headset to him, which was really useful, especially on the attack animations. Communication worked extremely well within the team, so it's been really nice and a great experience working on the game.
The Voice Over Challenge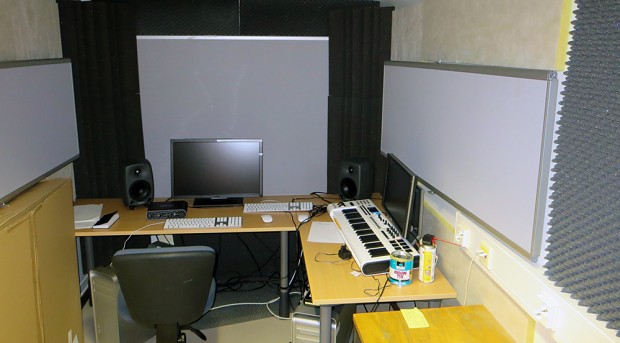 The initial voice-over of the game was rushed during the last few weeks of our summer development cycle for the fully playable version. There were some issues trying to get microphones from the university so in the end I just bought some microphones of my own. We used a Røde NT-1A for the voice over recording, which is a great microphone! However, the best acoustic environment available to us was this "cleaning closet" sound studio at the university, which is a good place to record acoustically, but it quickly turns into a sauna if you stay there for more than 10 minutes. But it got the job done, which is what counts. Because we were so short on time there wasn't much time for me to act as a writer to come up with the lines in advance, so we just came up with the lines on the spot as we were recording. This isn't ideal, since we were also defining the characters on the fly as well. We will do another pass on the voice over later on, though.
What I'd like to do next
I would like to integrate either Wwise or FMOD studio into the game, as I'm going to be learning to use them during the autumn. This would allow the in-game sounds to be more flexible and include more variation in the sounds by the use of multilayering and randomization. It would also give me more control over the sounds, but I might need to spend vast amounts of money by bribing the programmers with beer to keep them happy. I would love to hear your thoughts on implementing Wwise or FMOD into Unreal Engine and I'll eventually be sharing my experiences in that.
Recent Developments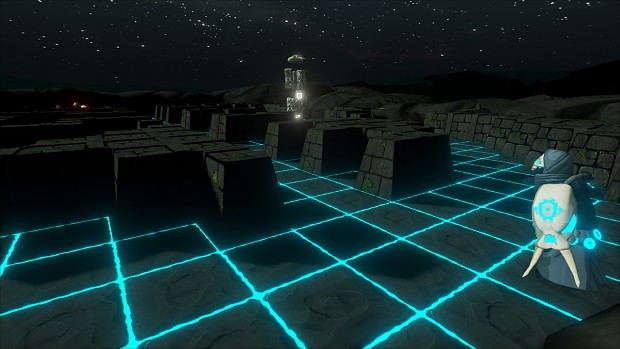 The Greenlight release is now only a few weeks away and we've been able to get our rough cut of the trailer to the musicians as well as do some actual development of the game. The poll we had last time about the necessity of AI quite clearly showed that we need to have an AI for the launch so we listened to the feedback. Last week two of our programmers, Mikko and Joni, built a working AI from scratch and we had the chance to test it out at a local LAN-party event. It's still relatively simple and most people have found it to be rather easy, but we're really happy that we didn't have that much trouble doing the first working versions. We also implemented a working Hotseat-mode, but will now need to work on the menus to support all three modes with the same game version.