Greetings, Kindred! It's been a while since our last blog post; we've been working on new patches, updates and addons to the test client. Here's what we have so far.
For the past two months, we've changed the game client, started work on a Linux build and launched a test version of the new website. More importantly though, we are now focusing on gradual introduction of game mechanics so that characters can do more than just wander the city.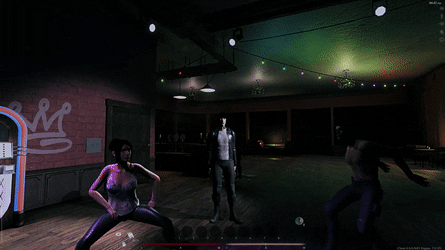 One of these new mechanics is a partial implementation of "passive" missions: vampires can control mortals and send them on various tasks. For now, we lowered the difficulty for a successful dialogue attempt with an NPC, so now they'll agree to do something from the get go. In Establishments (right now there's only one) you can find various quests in the character menu. By dragging the icon of an available mortal to the quest, you will send him to do that task for a certain period of time.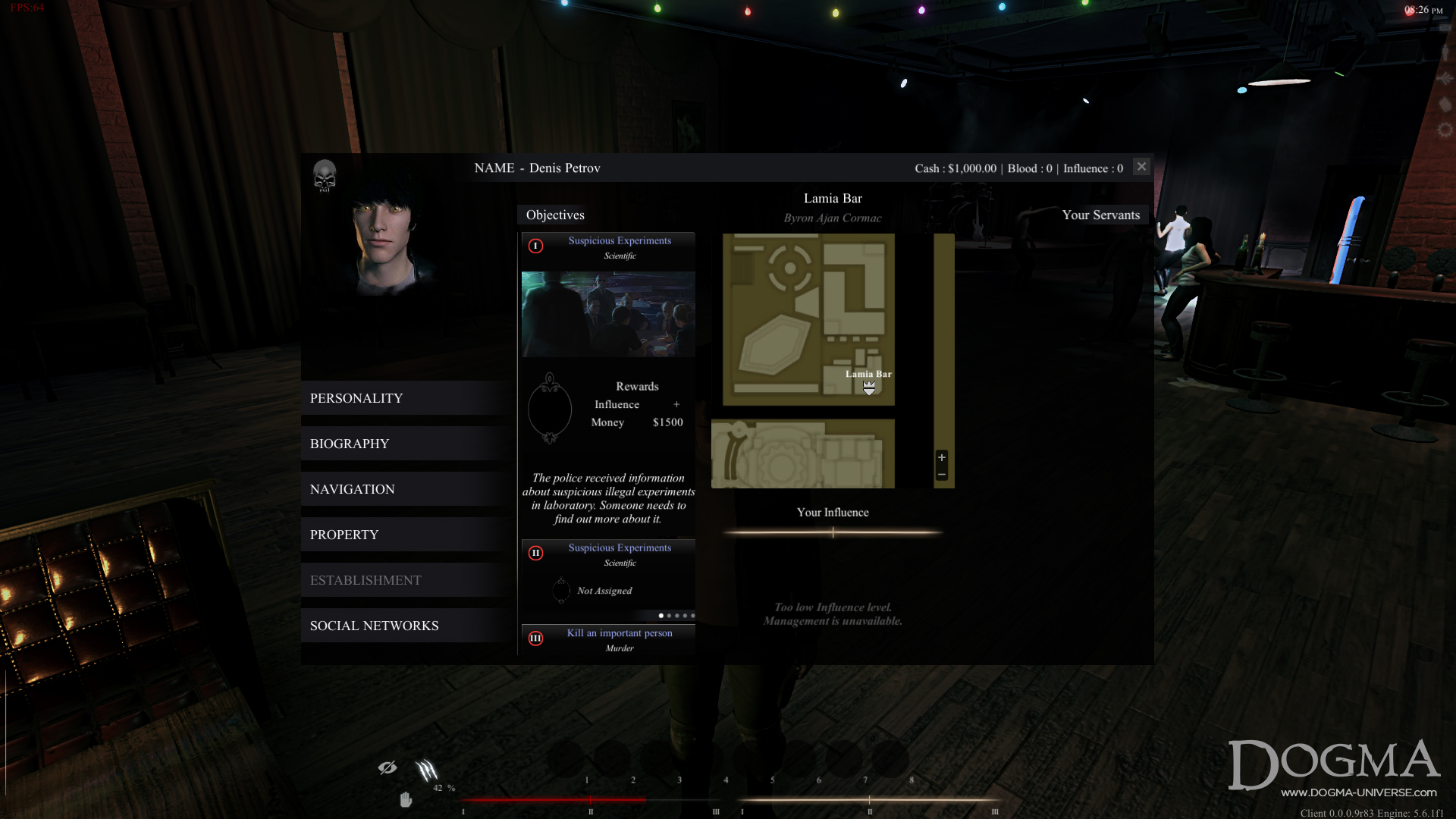 And now for the main course – right now the tasks are simple, netting you a small boost in Influence as well as a monetary award. Money is self-explanatory, but you will never know the exact influence boost you will receive. The indicators will be displayed as a percentage, refreshed on a daily basis. Higher percentages will unlock new opportunities and give you control over the establishment and the city. As of now, you can already compete with other players in vying for Influence.

Naturally, this is not the main part of gameplay, in the future we will add more challenging quests, with bigger risks and rewards. Furthermore, mortals will grow and improve, just like your character, making them more efficient at certain tasks. These quests will not only give control over an establishment but allow for slight changes of the surrounding area as well. Each bar or club will have a "State" indicator, influenced by the completed quests. The environment will be affected by various positive and negative effects, which is why this mechanic is an important part of the project and will significantly change the gameplay.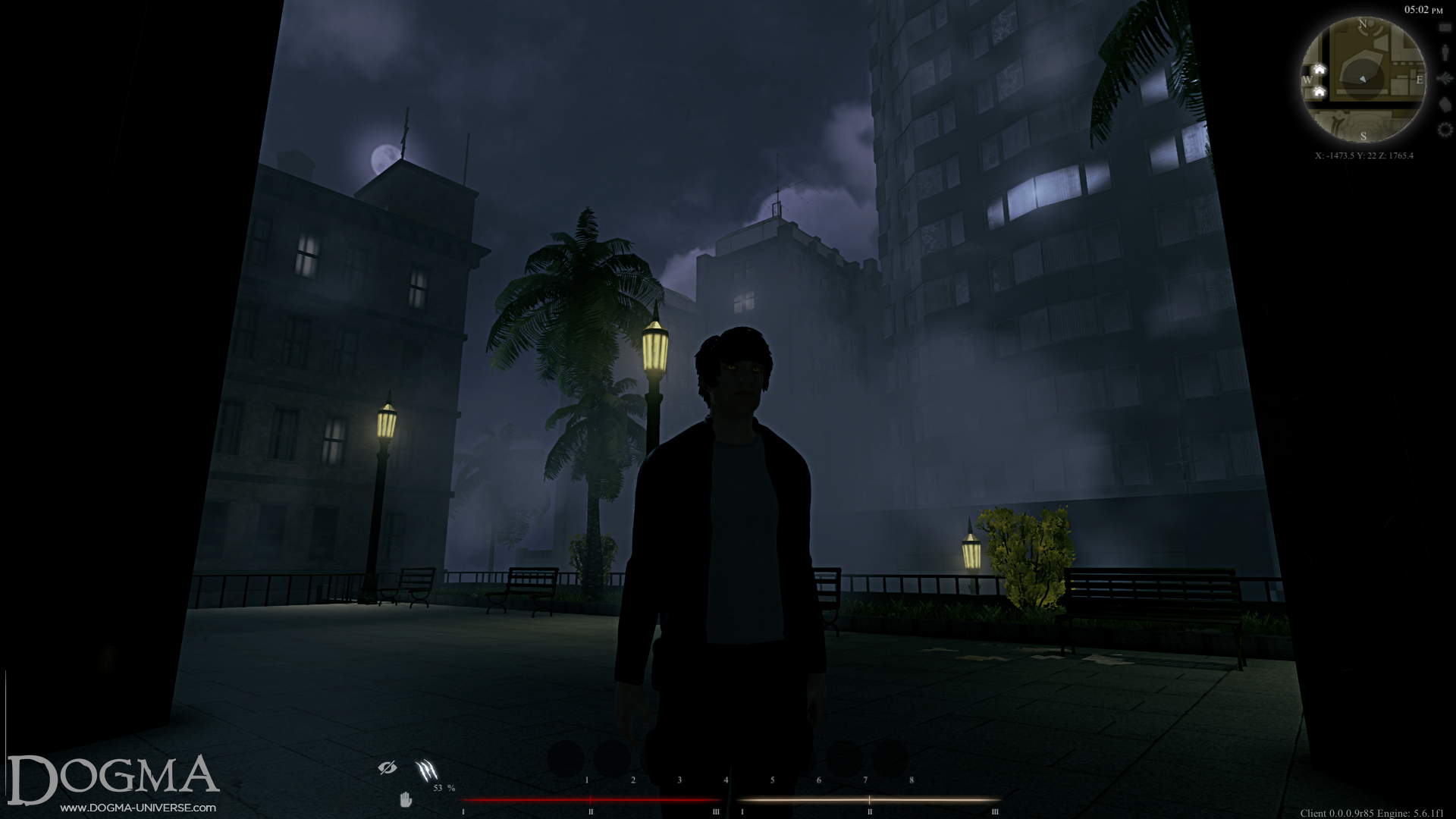 Aside from the mechanics, graphics are getting some love as well. We added volumetric fog, brought back the reflections, fixed various errors and bugs and optimized the whole build. Of course, we still have lots of work to do here but for now we focus on fixing the most glaring of issues.
In addition to working on "passive" gameplay, this upcoming month will be spent on combat system. We'll begin with simple brawl mechanics and monitor how our system deals with them in-game. If you can't wait to kick someone's ass, make sure to visit us when we release the combat patch ;)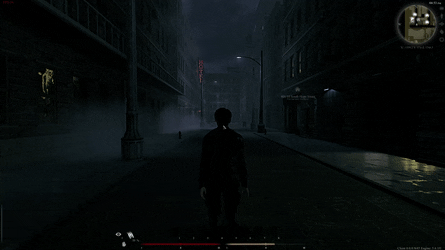 Finally, the team is holding onto a piece of city that we're hoping to release in the near future. The added area is 250m long and will boast new buildings, objects and later, a new club.
And remember, if you want to take part in our alpha testing, all you need to do is support our project by getting a pack with alpha access.
May the nights be ever dark for you Kindred. Watch this spot for more news.