Hello everyone! Leevi here again, straight from GDC and Gamescom in Cologne, Germany! I met a lot of amazing people, snatched some awesome loot and also got a lot of good feedback for Combat Racers! Anyway, in this post I'll tell you a bit of history about this game and why we decided to make it. If you don't know what Combat Racers is yet, check out our earlier update about it or the Greenlight page.
Why make Combat Racers?
I have personally never liked cars or racing games much. To me, cars always were a way to get from A to B faster and more efficiently than by walking or taking a bike. And racing games just couldn't compare to the fantasy worlds of RPGs and Sci-fi FPS games. There were several expections, all of which had one thing in common: Weapons. Crash Team Racing, Mario Kart, RC Pro A.M amongst several others were always fun either alone or against my friends, even since I was a child.
I had forgotten my love for Car Combat games until during around last Christmas I was browsing around a local hobby game store and came across Steve Jackson's awesome game, Car Wars. I only needed to look at the box, and I was instantly sold. As was the game, placed in my shopping bag minutes afterwards.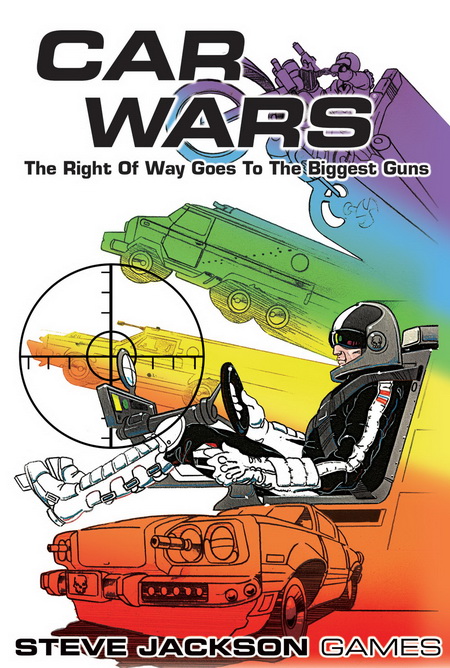 What's not to love?
Within days, I had absorbed the information on the rulebook and designed my own vehicle. After which I started searching for more. I found out about Games Workshop's Dark Future, Necrodome for the MS-dos and many more. I was hooked. I love car combat games. So what's next logical step for a young developer? Make one yourself.
The beginning
In January, I gathered together a core team of five people including myself. Two programmers and two artists. We wrote contracts and started The Major Game Company. We agreed to making a Car Combat game (titled carwar.exe at the time), and set out a few key aspects, which at the time were:
Firing in different directions: In most games of the genre, you could usually only fire in one direction, either to the front or back, or sometimes both. We wanted the player to have more freedom to this and opted for the cars to have a weapon constantly in every four sides of the cars.
Car customization: This was a given, considering that this is usually a huge part of games in the genre. Do you want a fast car? An armoured car? What kind of weapons will you choose? This adds great depth into the game and frankly, it's quite fun to see what combinations people use. (I personally use an Interceptor with a rocket launcher at the front, Autocannons to the side and a Backburner to the back)
Fast-paced yet realistic: We wanted the game to feel a bit like a simulation of how vehicular combat would go, but wanted to have it fast-paced, easily approachable and fun. These two contradicted each other and were a major problem later on. I'll write another update on that topic later, since I can't do the issue justice here.
Unreal Engine: Even though UE4 was a new thing, we felt that it had a lot to offer and wanted to use the engine for developing Combat Racers. It had a few drawbacks (more on those soon) but all in all, we have been very satisfied with the performance of Unreal Engine.
The mistakes
There were a few issues, as with any new project and company. I'm hoping that mentioning these here will help others not make the same mistakes as I did.
We didn't think enough on the music: Sure, we were going to have a kick-ass soundtrack and awesome sound effects. We just didn't think too much on when and how to make them! We contacted a freelancer about it but didn't watch his results and work closely enough, resulting us having to rush to get any music done in time for our current version, since the freelancer required guidance. In short: If you have someone working with you outside of your team, constantly keep him updated of what's going on in your end, and ask him to update you as well.
Licenses and software: Software used for making games is important, but as a new company we hadn't checked out the user agreements closely enough. A few assets had been worked on with the student version of 3DSmax, which is of course not allowed in a commercial product. We had no way of removing the watermarks from these assets nor did we have the funding to get commercial 3DSmax licenses at the moment, leading us to switch to Blender. In retrospect it was a great change and a lot more indie-friendly option too. The only problem was that had we realized this at the start, we wouldn't have lost a few weeks of valuable time re-creating the assets with Blender. Lesson learned: Make sure you know what license you're operating under.
Unreal Engine: First off I want to say that Unreal Engine 4 is awesome. It's an amazing game engine, very easy to use, very powerful and best of all free to use. If there's one drawback it's the fact that's it's still in development. Updating the engine takes time when a new version comes out, and there's no guarantee that your project will work seamlessly when you try it out. Sadly there's no real fix for this other than using an engine that isn't under development, but we have agreed that the benefits are way better than the cost of a few days we have lost updating the engine and the project files. TL;DR: Unreal Engine 4 is awesome, you guys should use it and give Epic all your love for creating such a great game engine.
The turning point
A few months of development passed and things were proceeding swimmingly. Our first proper chance to show off the game was at GamesFirst 2015, Helsinki. We finished a build, compiled it and then I ventured to Helsinki, carrying my laptop and four controllers. At the evening party I set them up at table and invited fellow gamedevs to come play with us. The game looked something like this.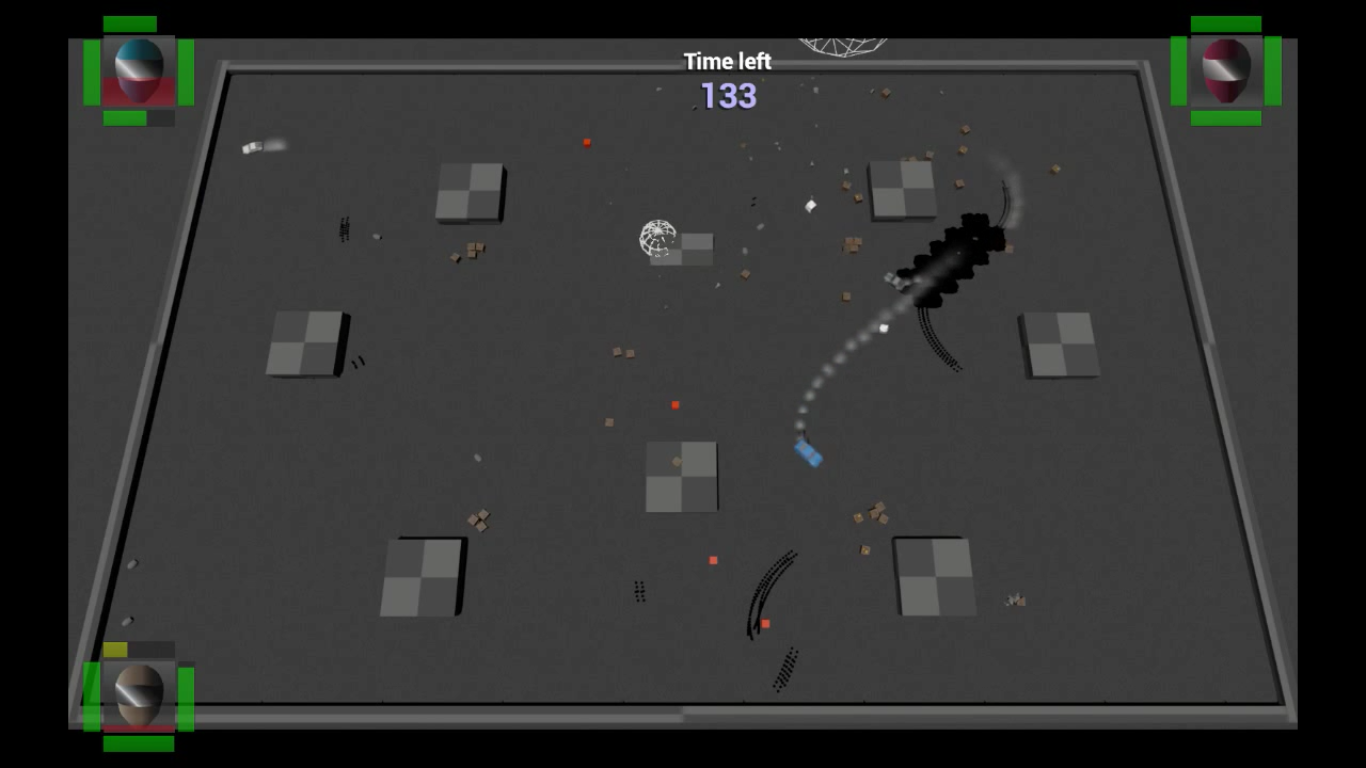 Looks grey, doesn't it?
And the setup we had was like this.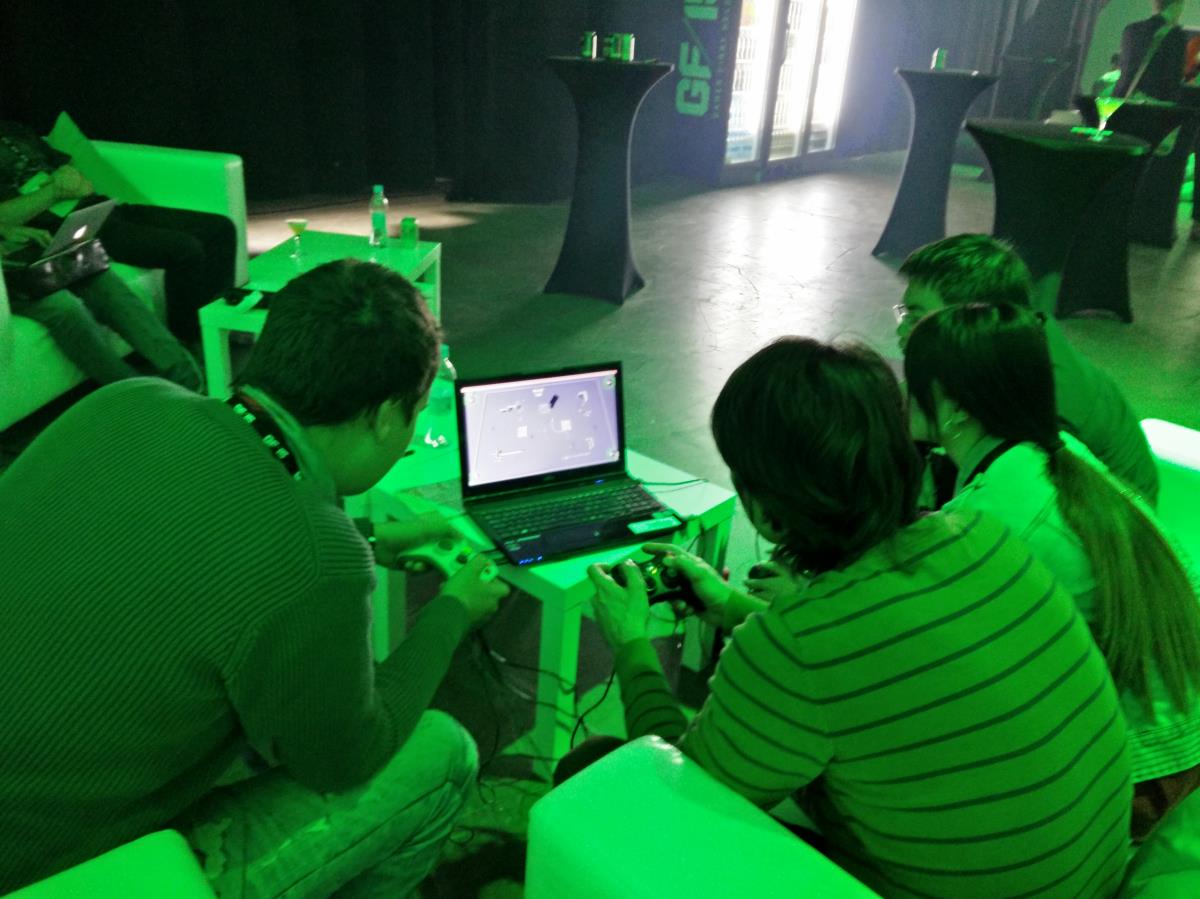 I had a lot of fun showing our game to people and talking about it. We received a lot of feedback for this. It was honest, it felt a bit brutal, but it was exactly what needed. People liked the idea, but nobody liked the way the game played. It was slow, confusing and dull. As soon as I got back we had a meeting, deciding on what to do with the game. We considered dropping it completely, but decided against it. After all, we had already spent a few months on Combat Racers.
Currently
We continued working for two months full-time. We decided to drop the simulation aspect completely, make the game a lot more fast-paced, make the arena smaller and weapons deadlier. We decided that now would be the time to put it out for the world to see and get it Greenlit well in time before our release during Q4 2015. I'll upload a video for comparisons sake on another update but the images above and this should show what kind of a contrast we are talking about.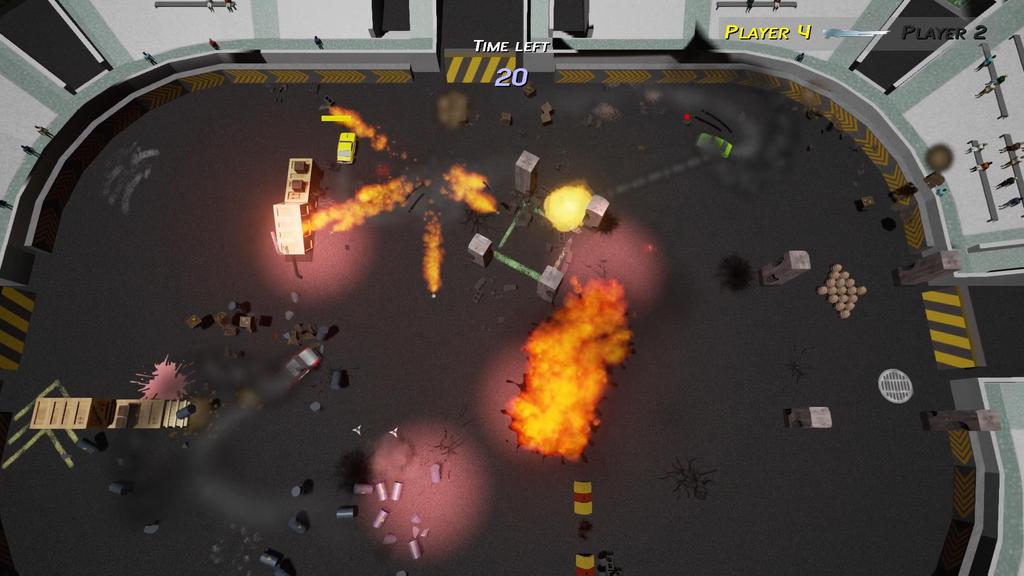 So that's where we are at right now. Almost two weeks since we launched our Greenlight campaign with the rest of the team enjoying a well-deserved summer vacation and me keeping our online presence up.
Next time I'll talk about what exactly we did wrong and what we changed about the two versions seen here, but meanwhile feel free to check out the Greenlight page and follow us on Twitter and Facebook! There's also a downloadable build of the game available, so check it out, too!
-Leevi