Many changes were made and I could have put them up here quicker .. but I was distracted. So about two or three days late I present you some new features beginning with a little size comparison between objects.
A human settlement to the left, followed by the golem, a forest and a mountain. Before this downsizing of the golem it was about three times higher as a forest. Now you still are able to push down trees but it is ok if you are blocked by a mountain.
Settlements of Humans
A settlement in its natural habitat. Settlements will be across the map and not too close to each other. Right now they just grow or starve and do nothing much more but will be essential later on. They will always try to be close to the best places for a settlement to get the most of the food and ores.
In order to grow and expand the settlements will create buildings to gather resources, like a woodcutter, a fishermans hut or mines.
These buildings give a certain amount of nutrition and production. The latter one is not really implemented but they can already starve! .. wow, way to make this akward ...
Creation of crystals
A Golem can create these crystaline structures in its body with energy harvested from the land. This menu to "build" them shows the crystal you want to create and which energy resources you need. I removed the background for easier show-and-tell.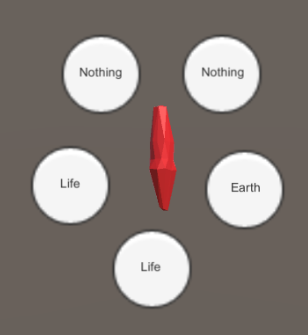 Life crystal with no resources gathered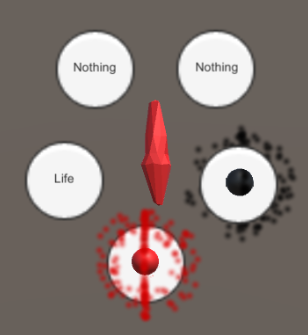 Life crystal with one life/one earth resource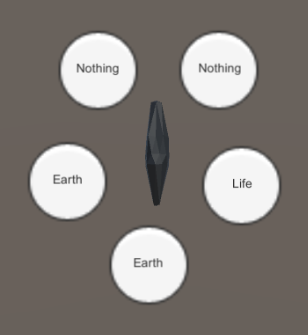 Earth crystal with no resources
They have no abilities yet but they will get them soon. Based on the crystal type they will have vastly different ones.
Finalized - Selection process
In the last update I already showed off some way I wanted to do it and I mostly stayed with and perfected it.
These are not all the resources to gather but most of them. You can turn this mode on and off, walk around with it or do whatever you want, it just shows you which tile you could right now harvest.


Next up:
- Destructable buildings for settlements
- Do something with "production" from the settlements
- Add some kind of wars and diplomacy to the settlements. Just some simple things
- MiniMap
- Events
This should be my small roadmap I try to adhere to but no promises.


Rackhim