Hey guys!
We are pleased to bring you some new information about the weapons in 2DLandz and how the system works.
First, let's take a look at some weapon art, these guns can be found in the game later on: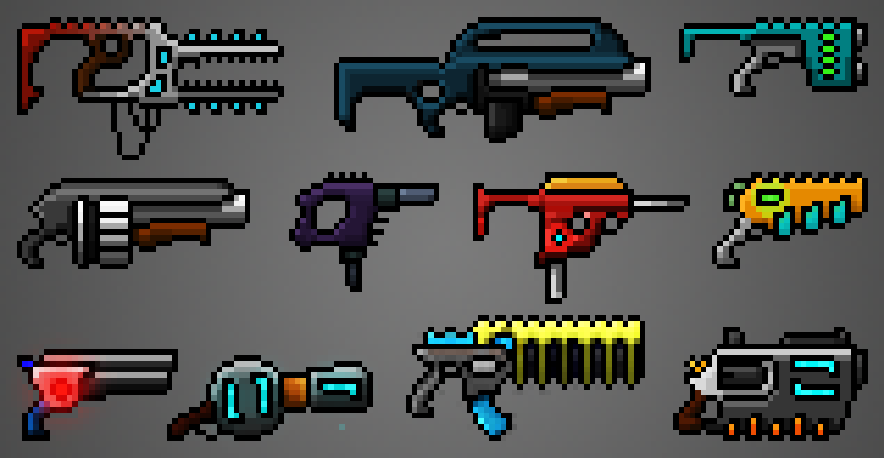 Now, every weapon got a special "weapon type"-variable, which determines where the weapon is going to be placed on the one holding it, among other things! The weapon types are the following:
Light

Rifle

Heavy

Shoulder

Okay, let's talk...So the weapons already implemented in the game are the ones that are shown above with the character, these are their properties:
Shotgun - Spread
Assault Rifle - Fast attack speed
Pistol - Ordinary gun
Bazooka - High damage output and splash
These weapons are the most basic weapons found in 2DLandz, but during the week wehave come up with some new, more unique weapons! We are always working on inventing new weapons and reinventing the mechanics of the old ones!
Here are some examples:
- - -
Artillery - Heavy - Rare
Fires a rocket at chosen direction, after a short duration the rocketexplodes firing out small rockets towards the direction in which the big rocket was pointing.
Ice Sharder - Light - Uncommon
Rapidly fires out low damage ice shards, the ice shards are affected by thegravity pulling them slowly down towards the ground. Shards slows down the movement of enemies.
Grenade Launcher - Heavy - Epic
Fires grenades at the target location, the grenade explodes after a short duration.
Shocker - Rifle - Epic
Rapidly fires out lightning jolt. If a lightning jolt hits a tile made of metal, it willlead the current further, through adjacent metal tiles and shock enemies.Every weapon will also be upgradeable, both statistics and abilites
And that brings this update to an end, hope to see you soon! // Zolerion & Luksa17