The Dimensional Update - 1.0.6
The Dimensional Update Specifically:
Includes a large amount of changes to textures relating to the pocket dimension, 860-1 dimension, and the 1499 dimension. The changes are everything from NPC textures, map textures, map normal maps, item textures, to even some skybox texture improvements.
Below is a list of screenshots displaying specific textures and areas, afterwards is a segment about the future of Graphics Overhaul and the development, and lastly is the full patch notes. Please enjoy the screenshots below and thank you (Additional screenshots in the download zip).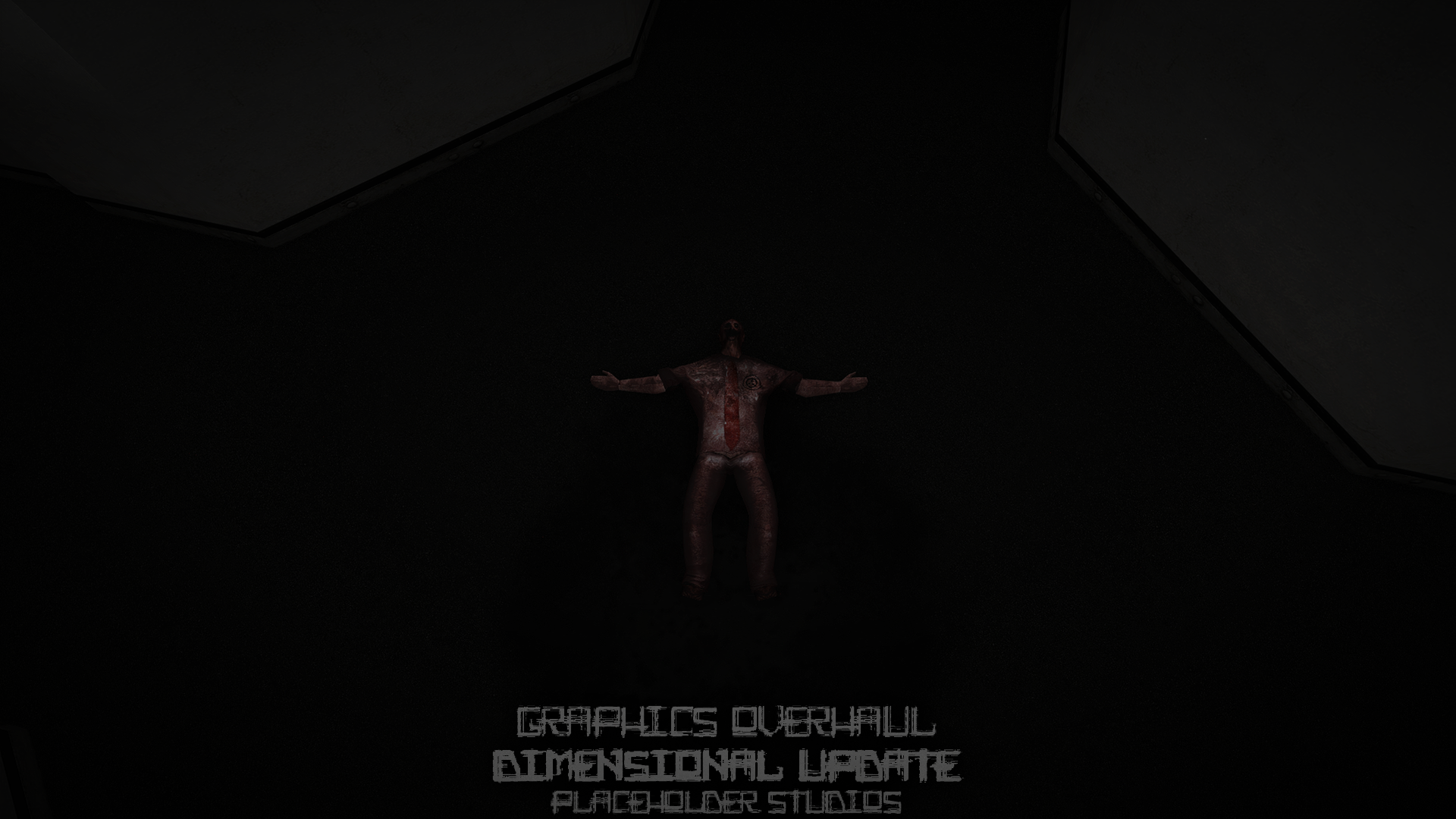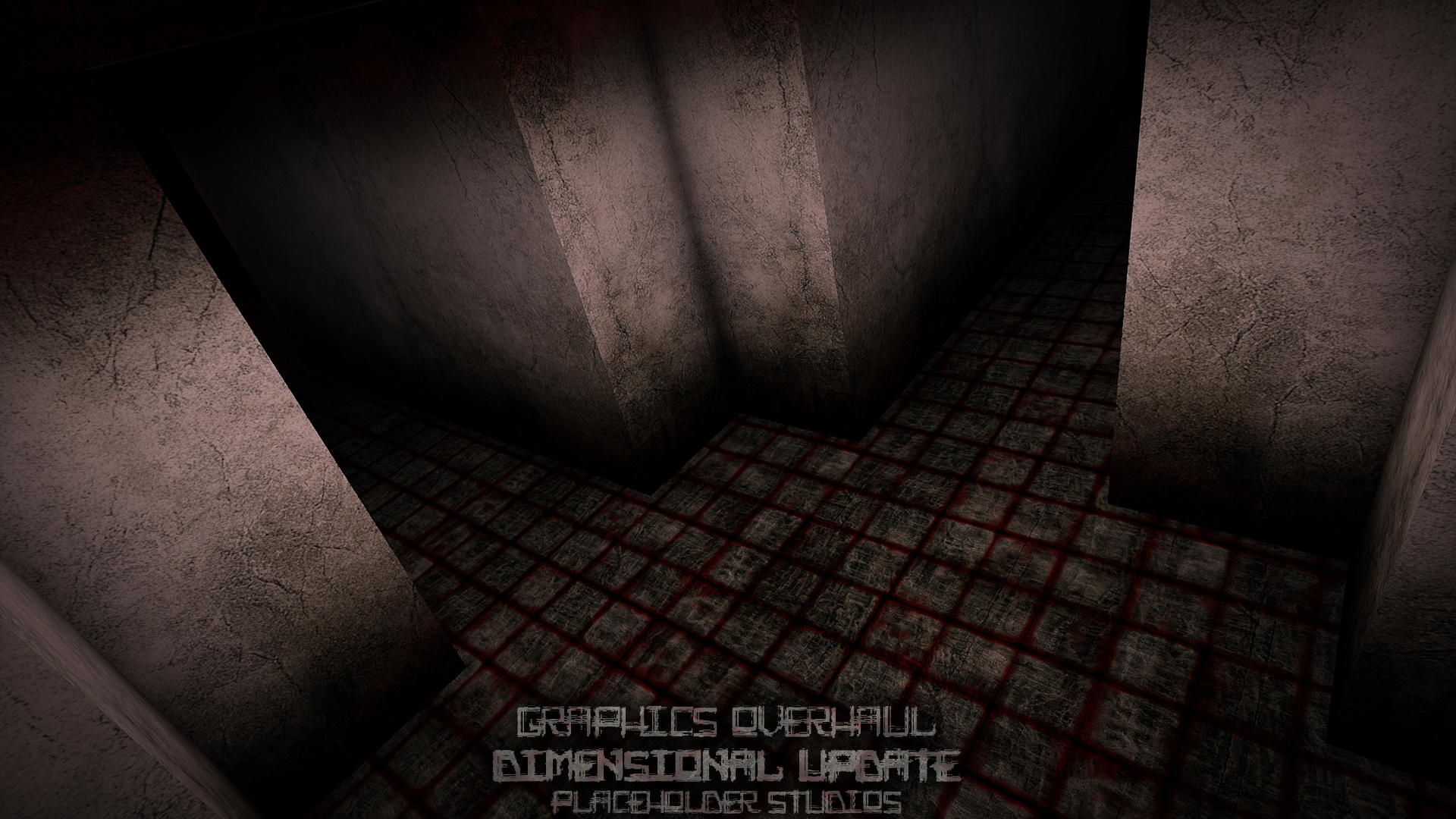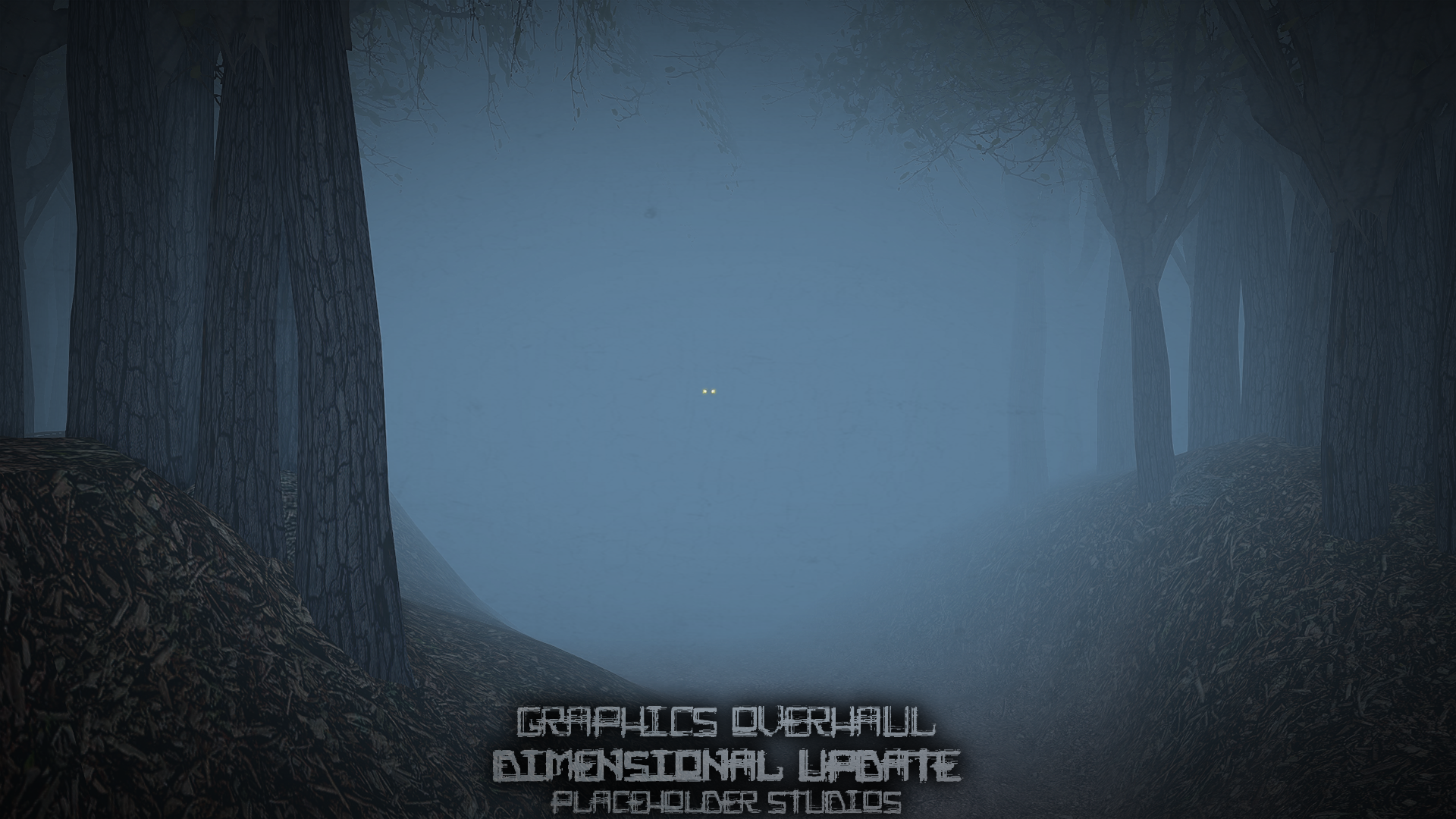 Future of Graphics Overhaul:
There is no debating that the graphical capability of Containment Breach is limited, so the far reaching effects of Graphics Overhaul are also limited. However there is still a lot that could be done with several textures and materials in the game, many small textures can be drastically improved and most map based normal maps can be improved as well. This is what the next few updates will aim to fix and improve, with the final and indisputably definitive version of Graphics Overhaul coming in the 1.1 update. How many updates that will come before that isn't determined quite yet, however it won't be over 1.10 for certain.
Each version moving on (including this update) will be named in order to focus its direction into a more specific type of texture (this update being dimension based textures, hence the "dimension update" title). We're incredibly excited for the upcoming updates and the improvements we can make. We hope you'll enjoy them and find them exciting and impressive. Thank you.
Patch Notes:
v1.0.6 -------------------------------------------------------------------------------------------------------------
GFX:
- Updated "blooddrop1.png" (Blood drop decal 1)
- Updated "blooddrop2.png" (Blood drop decal 2)
- Updated "GasmaskOverlay.jpg" (Gasmask screen overlay texture)
Items:
- Updated "BurntNoteTexture.jpg" (Burnt note texture)
- Updated "doc106_2.jpg" (SCP-106 document 2)
- Updated "docAC.jpg" (Burnt note screen sprite)
- Updated "docdan.jpg" (Dr. Daniel note)
- Updated "docL1.jpg" (Dr. L note 1)
- Updated "docL2.jpg" (Dr. L note 2)
- Updated "docL3.jpg" (Dr. L note 3)
- Updated "docL4.jpg" (Dr. L note 4)
- Updated "docL5.jpg" (Dr. L note 5)
- Updated "docL6.jpg" (Dr. L note 6)
- Updated "f4.jpg" (SCP-860-1 log #1)
- Updated "f5.jpg" (SCP-860-1 log #2)
- Updated "f6.jpg" (SCP-860-1 log #3)
- Updated "INV420.jpg" (SCP-420-J inventory icon)
- Updated "INV513.jpg" (SCP-513 inventory icon)
- Updated "INV714.jpg" (SCP-714 inventory icon)
- Updated "INV1025.jpg" (SCP-1025 inventory icon)
- Updated "INV1123.jpg" (SCP-1123 inventory icon)
- Updated "INV1162_1.jpg" (SCP-1162 key inventory icon)
- Updated "INVbn.jpg" (Burnt Note inventory icon)
- Updated "mastercard.jpg" (Mastercard item texture)
- Updated "note_tex.jpg" (Note texture)
- Updated "notetexture.jpg" (Paper note texture)
- Updated "papertexture.jpg" (Document Texture)
- Updated "SCP-1499.jpg" (SCP-1499 gasmask item texture)
- Updated "Vest.png" (Vest item texture)

Map:
- Updated "201_camera_diffuse1.png" (SCP-205 texture)
- Updated "concrete.jpg" (SCP-860-1 concrete texture)
- Updated "concretebump.jpg" to "concrete_normal.png" (SCP-860-1 concrete normal map)
- Updated "controlpanelbump.jpg" to "controlpanel_normal.png" (Server/control panel master texture 1 normal map)
- Updated "controlpanel2bump.jpg" to "controlpanel2_normal.png" (Server/control panel master texture 2 normal map
- Updated "flat_monitor.jpg" (Computer monitor texture)
- Updated "forestfloor.jpg" (SCP-860-1 forest floor texture)
- Updated "forestfloorbump.jpg" to "forestfloor_normal.png" (SCP-860-1 forest floor normal map)
- Updated "forestpath.jpg" (SCP-860-1 forest path texture)
- Updated "forestpathbump.jpg" to "forestpath_normal.png" (SCP-860-1 forest path normal map)
- Updated "grit1.jpg" (SCP-1499 dimension texture 1)
- Created "grit1_normal.png" (SCP-1499 dimension normal map 1) [Not sure if these 100% work yet]
- Updated "grit2.jpg" (SCP-1499 dimension texture 2)
- Created "grit2_normal.png" (SCP-1499 dimension normal map 2) [Not sure if these 100% work yet]
- Updated "grit3.jpg" (SCP-1499 dimension texture 2)
- Created "grit3_normal.png" (SCP-1499 dimension normal map 2) [Not sure if these 100% work yet]
- Updated "helmet.jpg" (Dead guard helmet texture)
- Updated "helmet_guard.jpg" (Standard guard helmet texture)
- Updated "medibay.jpg" (Medical Bay wall texture)
- Updated "medibaybump.jpg" to "medibay_normal.png" (Medical Bay wall normal map)
- Changed "miscsignsbump.jpg" to "miscsigns_normal.png" (Signs 1 master normal map)
- Updated "miscsigns2.jpg" (Signs 2 master texture)
- Updated "miscsigns2bump.jpg" to "miscsigns2_normal.png" (Signs 2 master normal map)
- Updated "miscsigns3.jpg" (Signs 3 master texture)
- Updated "miscsigns3bump.jpg" to "miscsigns3_normal.png" (Signs 3 master normal map)
- Updated "miscsigns4.jpg" (Signs 4 master texture)
- Updated "miscsigns4bump.jpg" to "miscsigns4_normal.png" (Signs 4 master normal map)
- Updated "MTF_P90_diffuse02.jpg" (P90 weapon texture)
- Updated "papertexture.jpg" (Document Texture)
- Updated "pdfloor.jpg" (Pocket dimension floor texture)
- Updated "pdfloorbump.jpg" to "pdfloor_normal.png" (Pocket dimension floor normal map)
- Updated "pdwall.jpg" (Pocket dimension wall texture)
- Updated "pdwallbump.jpg" to "pdwall_normal.png" (Pocket dimension wall normal map)
- Updated "rockmoss.jpg" (Pocket dimension rock texture)
- Updated "rockmossbump.jpg" to "rockmoss_normal.png" (Pocket dimension rock normal map)
- Updated "scp_860_testingdoor_diffuse.png" (SCP-860-1 door texture)
- Updated "SLH_miscsigns.jpg" (Signs 5 master texture)
- Created "SLH_miscsigns_normal.png" (Signs 5 master normal map)
NPCs:
- Updated "035.jpg" (SCP-035 mask texture)
- Updated "035victim.jpg" (SCP-035 body texture)
- Updated "106face.jpg" (SCP-106 face overlay)
- Updated "106victim.jpg" ([SPOILERS] Mr. Maynard corpse texture)
- Updated "860_diffuse.jpg" (SCP-860-2 texture)
- Updated "860_eyes.jpg" (860-2 eye glow jpg)
- Updated "860_eyes.png" (860-2 eye glow png)
- Updated "860_leaf.png" (860-2 leaf texture)
- Updated "1499_King.jpg" (SCP-1499-1 king variation texture)
- Updated "1499_normal.jpg" (SCP-1499-1 normal variation texture)
- Updated "corpse.jpg" (Corpse body texture)
- Updated "oldmaneyes.jpg" (SCP-106 throne room eyes sprite)
- Updated "papertexture.jpg" (Document Texture)
- Updated "pdplane.png" (Pocket Dimension Trench Plane 1 texture)
- Updated "pdplaneeye.png" (Pocket Dimension Trench Plane 2 texture)
Sky:
- Updated "1499sky_back.jpg" (Back SCP-1499 dimension skybox element)
- Updated "1499sky_front.jpg" (Front SCP-1499 dimension skybox element)
- Updated "1499sky_left.jpg" (Left SCP-1499 dimension skybox element)
- Updated "1499sky_right.jpg" (Right SCP-1499 dimension skybox element)
- Updated "1499sky_up.jpg" (Up SCP-1499 dimension skybox element)
- Updated "sky_back.jpg" (Back normal skybox element)
- Updated "sky_front.jpg" (Front normal skybox element)
- Updated "sky_left.jpg" (Left normal skybox element)
- Updated "sky_right.jpg" (Right normal skybox element)
- Updated "sky_up.jpg" ("Up" normal skybox element)
Misc:
- Fixed typos and some formatting in the changelog