Welcome back! Guys, we got some new, crazy, drool inducing stuff coming your way. The team is growing, we got our new forums (which you can find here!), and we are excited to give you a first look at what is to come. For this update, our focus in on the Empire. So, let's get started shall we?
Your Tools
These are all confirmed and are being worked on...listings encased in [] are for both factions:

Weapons
E-11 Blaster Rifle
E-11s Sniper Rifle
DH-17 Blaster Carbine
DLT-20a Sniper Rifle
SE-14r Blaster Pistol
KX-80 Prototype Repeater
T-21 Light Repeater
[DLT-19 Heavy Repeater]
[DXR-6b Disruptor Rifle]
[E-Web Heavy Repeating Blaster]
[Thermal Detonator]
[C-22 Fragmentation Grenade]
[Detonation Pack]
[MiniMag PTL Missile Launcher]
Vehicles
AT-ST
TIE Crawler (Century Tank)
2-M Repulsor Tank
S-1 Firehawk
MA-4b Mobile Artillery
74-z Speeder Bike
Lambda Shuttle
TIE Fighter ( + X-Wing)
TIE Bomber( + Y-Wing)
Buildings and Infantry -by Nomad
The Basics, this is not everything.
In addition: Aznable is working on a Stormtrooper model worthy for the Emperor's commands.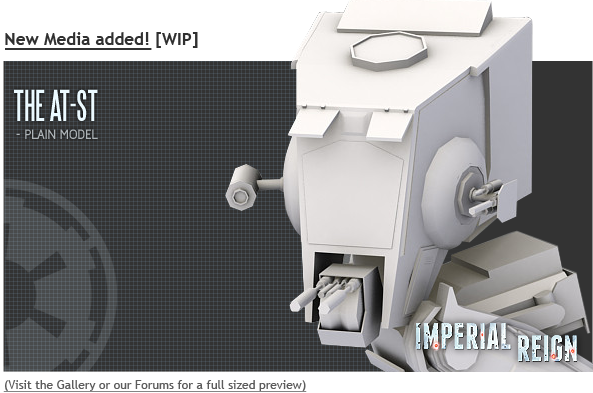 Be sure to check the media section!!!! All renderings are individual. Later renderings will start to conform to some such a standard as above.
Design
Zephon, a new member of the team, is now going to be stepping up for graphic design. He will be fielding the menu and in-game UI. I will still finish the other UI that I introduced to you guys a while back, don't worry. Fans will be able to, upon installation, choose which graphic interface they would like to gaze upon. Zephon's in-game interface will remain default though, and if we have other interested designers willing to add their flair and diversity to the mod then they are welcome.
With this news, we also have a call-out to any coders out there especially fluent in lua for a UI job. Anyone who would like to take up the position would coordinate with Zephon directly so the UI may be correctly implemented.

****Important Note: There seems to be some confusion on the UI. All campaign and map content is atm, placeholder. This mod is very early in development, make no mistake.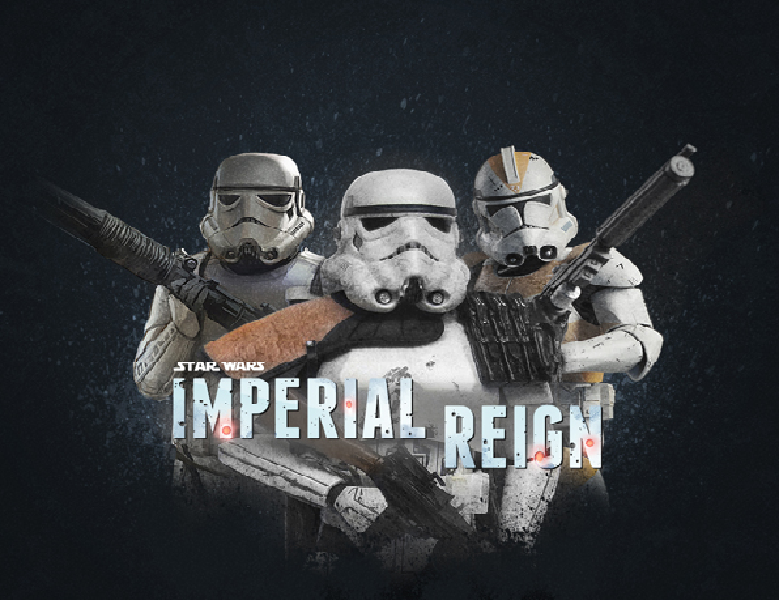 Thanks for following us, we appreciate all the support. More to come in the future!!!
Positions:
Note! Positions with a * are open.
Project Leader
-Zeridian
Web Site Development
Lead - Zeridian
*Moderation - WhiteRatchet
Other Positions
* Modelers - Zeridian, Squatch, WelshManDan, hydrax, Aznable
* Texturers/Skinners - BurtondrummerNY
* Sound/Voice - gamerisin, atis_star_tours
* Programming/Scripting - BurtondrummerNY
* Mappers - Arca2
* Writers - atis_star_tours
User Interface:
Main Design Artist: Zephon
*Optional UI Design: Zeridian
*UI Lua Coder: Open
*Quality Assurance Positions: See Nomad.
Red: On leave
New types of positions will appear as mod develops