Hello, and Welcome to another Blog Post.
Let me introduce myself, I am Robert from Germany and
I have recently joined at Infinity Interactive. I will keep you updated with
our current development, and I am sure we will read us many more times!
So, let's come to the part which interests you more.
Our 3D Team has made a new Weapon which we call the 416E.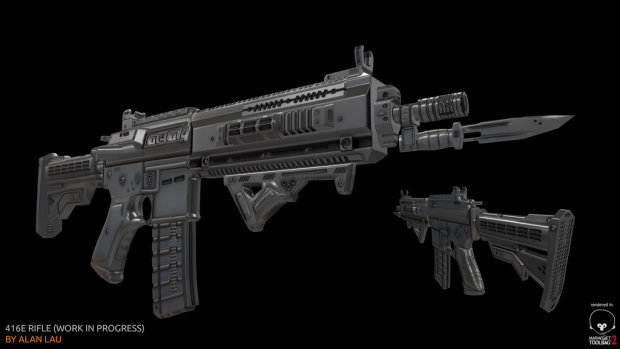 As you can see we
modified the Weapon a bit, and upgraded it with a Bayonet, looks pretty rad
doesn't it? Maybe you ask yourself, why do they attach a Bayonet to an assault
Rifle? Well, take a look at the Forum and maybe you will find out.
Things are going good and we are moving forward on a
daily base with regular updates . If you aren't following us yet, it's definitely time to do it now.
You can also follow us on our Blog and Forum for fast Updates and
Interactions with our Team.
PS: Can you guess which weapon was our Model for the
416E? Let us know in the comment section.