G'day,
After about a week of Chinese New Year (and Australia Day!) holidays I've had plenty of time to scour the internet for leads on where I originally got the mods that I dissected into the Expansion.
It is with significant chargrain that I report that I've not been able to find a single one.
Even the files that were on Armada2files.com, which also hosts files for Armada 1, has failed to turn up anything. This is most worrying because that is where I got 90% of the material that I incorporated into my mod.
So all that remains is to ask the public!
Has anyone got information on:
a) The Yamato class - (by sevenismine I think)
b) A mod with "nemesis" in the title for Armada 1
c) The mith multi race replacer
d) The "lightning cascade"
e) A Galaxy-X class ship with a seperation sequence based on a worker bee
f) A Sovereign-X class ship
g) ... umm... etc
To help jog peoples memory, this is the Yamato Class, serving as the Federation flagship in my mod: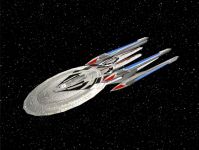 And this is the Gorn Confederation fleet, obviously inspired from Starfleet Command II, this was from the Mith-multi-race-replacer and not downloaded from Armada2files.com. The replacer originally changed one of the stock four races into the dominion, gorn or ferengi.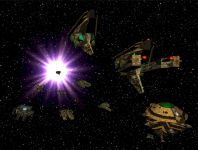 I will post more images and further brain wrackings if I get some helpful hints from you lot. However, if it is as I suspect and no one cares about these ships anymore (It seems as if they were removed from websites because no one looked at them for however long, pruning databases and such) then I could be the only one with a copy of them. I would then ask help in composing an appropriate read-me so I can release~
Nathanius