I plan to do some clean ups and polishing. Expect major content update to be limited until further notice. Right now I am focusing on 3 areas.
Porting the old minor changes from pre-SA versions.
Focusing on scripts that allows me to further differentiate between new unit option and default launch option.
Larger overhaul on historical renaming projects. Thanks to a contributor "Serenity" I had a large list of things to tweak to make it more accurate to real names.
These will only have limited influence on the gameplay changes in contrast to the spree of new optional units I had been adding recently. Things may feel a bit slow for a while. I will elaborate in detail what each areas refer to.
The first one is porting old stuff. I will be porting most of the old pre-SA changes back. 90% will be ported as is. Some of them upon better research and testing I have decided to change them. You see in the past I was trying to port only important features first, stuffs like Eurofighter for West Germany were left behind. These old stuff you may liked will come back. Others are minor fixes like the Polish helicopter MANPADS reload time fix. Those small details will be brought back. There are also nice QoL features like tank gun range indicator, those will come back too.
The second point is more on my side. I am trying to write a script that can easily revert unit reworks for default launch option. It is meant for the purists who prefer only balance change and small fixes rather than shiny new optional units. I did not forget about you guys. I will bring back T-90S and ZTZ-85III for example. I want the default launch option to stick closer to the original rather than just a lamer version of "New unit pack" option.
Last point is straight forward. Just naming things correctly for better immersion. It is not as cool as shiny new units, but this mod's core idea has always been about refining the existing features. I got a bit too carried away with adding new units past few month. Please understand I did not abandon the original principles. Another reason I am putting this as a priority is because recent poll shows there is a lot of foriegn players whose native language is not English. I want to translate this mod into Russian for example.


Now for the more fun stuff. Unit reworks and new units. I do not plan to add many of them any time soon. The only two planned for now are WZ-504 for China, and Javelin ATGM team for USA.
1. WZ-504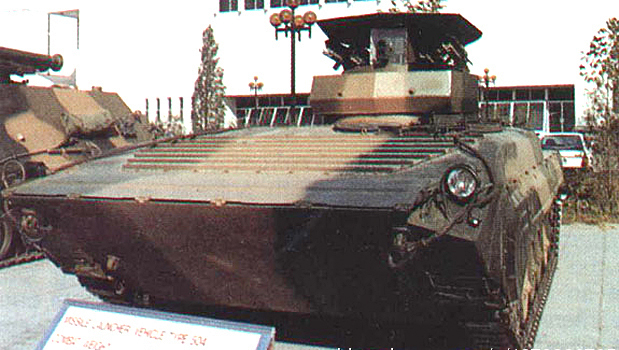 This is an ATGM carrier for China, based on ZBD-86 (bmp-1 clone) platform. I know what you are thinking, China has plenty of decent atgm carrier already, why another one. This one is for replacing BRDM-1 HJ-73, acting as the low end ATGM platform. China simply did not use BRDM-1 it was completely made up by Eugen. What it differs with other HJ-8 carrier is that it will be in the recon tab with medium stealth. It is meant to cover China's lack of ATGM infantry. With stealth it can be more lenient in the positioning to zone out minor assaults. Later variants had thermal sight which was why it was place in recon tab. Honestly this role is not as historical as I would like to be, and the vehicle was not widely produced. But anything is an improvement over the non-existing BRDM HJ-73.
2. Javelin ATGM team
First entered service in 1996, right on time. This unit is rather obvious missing in American arsenal. However USA is already quite balanced in both the mod and vanilla. I was very reluctant to suddenly remove their big downside. However, given improvement to rest of the weaker factions like Red Dragon and Commonwealth, I am willing to experiment a bit.
The first problem is that it is top attack. In mods like Annihilation mod and Ash and Shadow this posed a major challenge to the balance. However unknown to most people this is already addressed in vanilla wargame. You see top attack is not new, it is in base game. RBS-56 is top attack. It has the absurd 26AP for an infantry atgm. Turns out its real penetration value is more like 21AP worth, but due to top attack it was given a +5 bonus. Base javelin only has 18AP worth of penetration, but with top attack it is a reasonable 23AP. Then you add the cumulative charge bonus it gain 2 more AP, meaning 25AP. Quite high, but still within reason.
The second problem is that it is fire and forget. It means the meta strategy of using smoke to cover tanks is obsolete. The unit can also run after firing. This is balanced out by the low range of early variants of Javelin which will only have 1925m range in game by scale. This means it would rely on stealth as tanks would always out range them. It will not be much of a zoning unit like others.
But even after range limitation it is still a very high AP, very accurate, fire and forget unit with very good stealth. My last dimension of balance would be make it a shock unit and thus only 4 units a card, 1 card only. Each will be 40pt. After all Rangers were the first one getting hold of Javelin ATGM. It will be a kick ass ATGM team with unique play style. It can immediately retreat after firing, and will have walk speed of shock infantry. However it will always be exposed to dangers due to low range. It would require active management as opposed to a low effort passive zoning unit. It is fairly pricey and low in availability, and thus not totally revoke the weakness of American deck. I hope this optional unit will end up being a fun balanced addition to the game. I look forward to your feedback once it is out.
My opinion on WARNO:
At this point it would be clear WARNO will be its own game and not exactly a Red Dragon 2. The game is still in Early Access, so things like balance and unit arsenal can be put aside. Some design choice will stay, and those choices will certain to make sure it play nothing like Red Dragon. There seems to be much less cool prototype units. WARNO is going for a more realistic approach and that cut down many of the cool stuff. You may only pick a specialized deck like US Armor, as opposed to the coalition systems and generic decks you could make. It will make playstyle more specialized, and severely limit the deck making options. These a lot similar to Steel Division 2 compared to Wargame. The units will be hard capped to 1989 date, as opposed to 1996 in Red Dragon.
What does this mean? WARNO would be somewhat of a hybrid of 1991 mod playstyle, and Steel Division 2. Almost like a Steel Division 3: Cold War. Some players seems to be put off by it. This combined with strings of delay off the road maps meant Red Dragon will stay populated for a while. This is why I am taking things slowly. And rest assured a lot are still be worked on this mod. Once those are done, I will see what state WARNO is in and see if I should wrap up my work on this mod.
Now on to the good parts of WARNO. It seems to have much improved modding potentials, as well as promise of map editor. Modded multiplayers will be supported on official server with modding icon to split from base game player base. Updating mods will no longer be a pain. For those features alone I am still highly anticipating the game. At worst if no Red Dragon 2 come out we can just make our own in WARNO! Port in all the models from Wargame. Once I WARNO come out you can expect me making a Red Dragon conversion mod! :D