Before I started on the development of Untamed:Life of a Cougar, I had to face the daunting task that I was coming into a new industry with very limited knowledge on game development.
I was further motivated and determined to go into the development when I read a quote from a user on the unity forums "If you wait before starting in, 2 years time you will wish you had started today."
It has not been an easy task developing Untamed: Life of a Cougar, a nightmare at times. But looking back from where I started and how far I have come in the development stage, I am glad that I started when I started.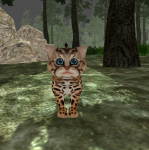 Currently I am faced with a daunting task which is getting Untamed on steam through Steam Greenlight, and it will be a huge milestone for me if I can overcome that task especially considering the fact that I am trying to improve my programmer art with limited resources.
You will make all the sleepless nights and development hours worth it if you can help get Untamed on steam by voting here - Steamcommunity.com
You can visit Untamed:Life of a Cougar on indiedb
Thanks for reading,
Eugene Onuoha.