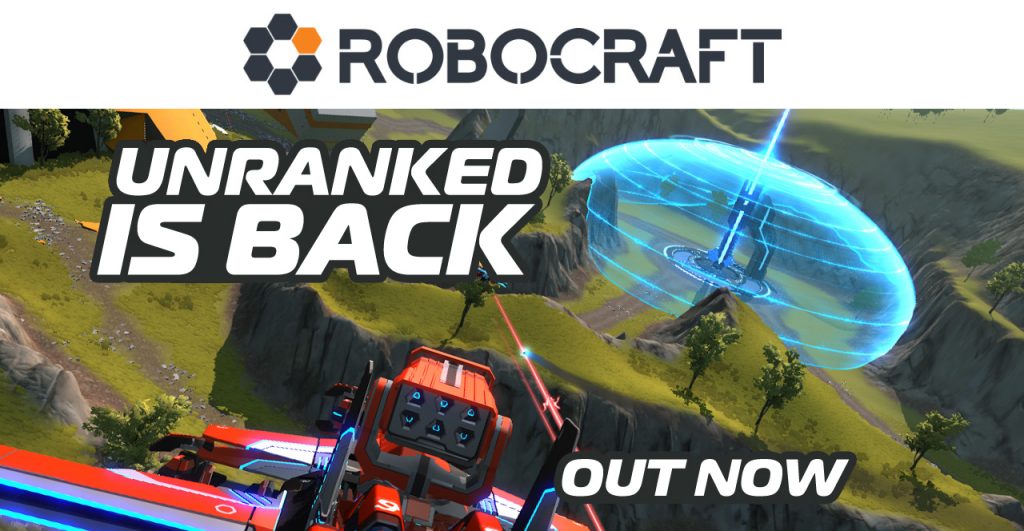 We've rolled back the Robocraft clocks and putting some much community-requested features back into the game. If you follow our game director Mark Simmons on Twitter, you'll already know that he recently alluded to some game mode changes in Robocraft. Well, we're super-excited to announce that we've added a new 'Play Screen' to the game and with it unranked Battle Arena!
The full patch notes are below.
NEW:
Unranked Battle Arena added to the game*
New play screen

Basic Mode has been renamed to Team Deathmatch
Normal Mode has been renamed to League Arena
Custom Games placeholder added (yes it really is coming soon)
In League Arena, all players on the winning team will each receive a Protonium Crate and all players on the losing team will each receive a Gold Crate
All League Arena players will now earn double XP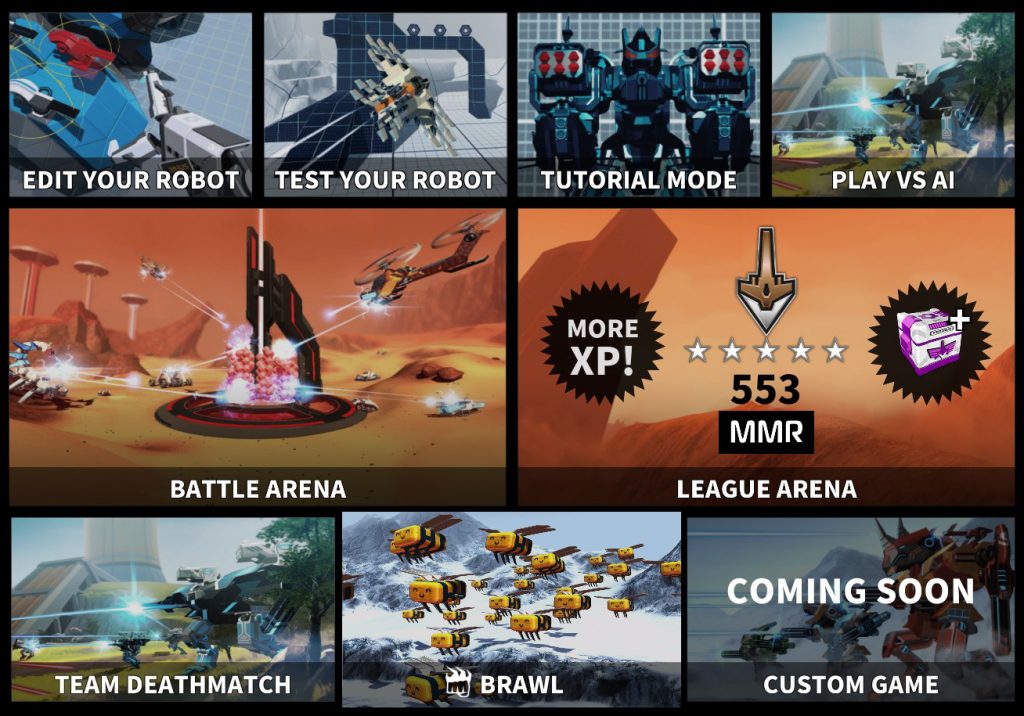 All new players will now receive more starter blocks when they create their account so they can start building Robots straight away. In addition to the blocks on their starter Robots, new players to the game will also receive 2,000 solid square chassis cubes and 1,000 of each other common type chassis cube in their inventory
*The addition of unranked Battle Arena will mean the average player may see an increase in queue times to around 90 seconds. Those players with a high MMR should see improved queue times over their current averages. The queue times between ranked and unranked modes should be similar.
OTHER CHANGES:
New keyboard shortcuts (this affects new players only). Any player wishing to change their keyboard shortcuts can do so via the controls screen (accessed by pressing the escape key in the garage view)

Battle Arena - B
Team Deathmatch - H
League Arena - L
BRAWL - J
The name of the game mode being played is now displayed on the pause menu
Removed the game lobby for players levels 1-5 to decrease queue times for all players
Disabled the dust particle on low quality graphic settings on the following maps:

Ophiuchus Valley
Spitzer Dam
Tihonium Canyon
Tharsis Rift

New loading screen for Tihonium Canyon
New loading screen for Spitzer Dam
Minimap for Spitzer Dam has been updated
Minimap for Ophiuchus Valley has been updated
Removed the functionality to change the color of a player's Robot name
BUG FIXES:
Fixed a bug which prevented players with older accounts progressing through the tutorial
Fixed a bug which caused players to enter edit mode and not the main garage screen when skipping or completing the tutorial
Updated the inventory icons for Vampire wings and rudders
Fixed the Clan Seasons Reward screen Robits image
Fixed a bug which displayed the Party Invite dialogue in Italian incorrectly
Fixed a bug which caused the pulsing animation for base progress to stop if a team destroyed a large number of crystals on the opposing team's base
Fixed a bug which caused high-scoring players to receive less objective score than expected
Fixed an audio bug which caused the wrong voiceover to play for both teams in the event of a win/loss
Fixed a sync issue with the voiceover and game end explosion in Battle Arena modes
Tweaked the AI bot pathfinding algorithm to improve their ability to maneuver around the new maps
Updated the crate purchasing screen to correctly display the 'guaranteed legendary' messaging in English