It finally happened! UnnyWorld is officially available on PC. Hurray!
You can play it on Steam, Gameroom, GameJolt, IndieDB or download our own Installer.
Mac and Linux versions are on their way!


It's been quite a long journey for our team. We still remember how, in 2014, it all started with just three of us - the technical mates (Margarita Belorukova, Andrei Apanasik and Pavel Ignatov) and a Hackaton event, where we introduced a prototype of a cross-platform game, where PC players were able to compete with mobile players in a multiplayer Arena using Gestures in order to cast magic spells. At the same time we're thinking about another game concept, where each player would have his own tiny planet under control. As you might already know both of those two concepts were meant to become one epic game - UnnyWorld :)
We, ourselves, are huge fans of fast-paced gaming. Well-known PC games like: Half-Life, Counter-Strike, League of Legends and World of Warcraft inspired us to start this journey. We wanted to recreate the same intense experience of action on mobiles and, more over, make it available on all kinds of devices. We're on a mission to make instant E-sports for everyone! No matter whether you're using PC or a mobile phone, the game would be available on that device and you would be able to play against people from a different gaming platform. The plan was more challenging than we could ever imagined at the time we started, but, fortunately, we didn't know about that, so we hit the road!
In February 2014, the core team members of people mentioned above, quit their full-time jobs and started to work at our CEO's (Pavel Ignatov) apartment: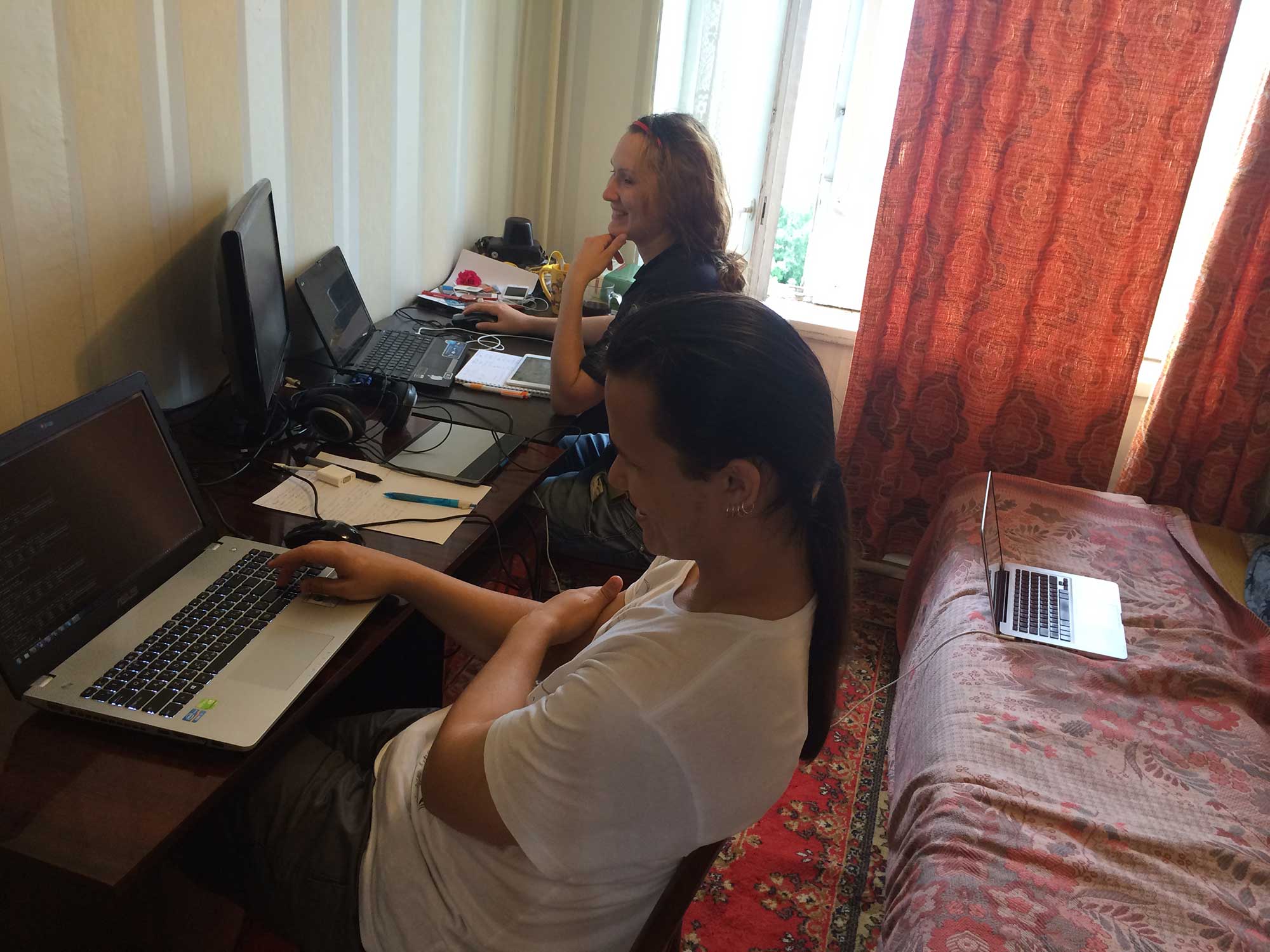 Margarita and Andrei at Pavel's apartment working on UnnyWorld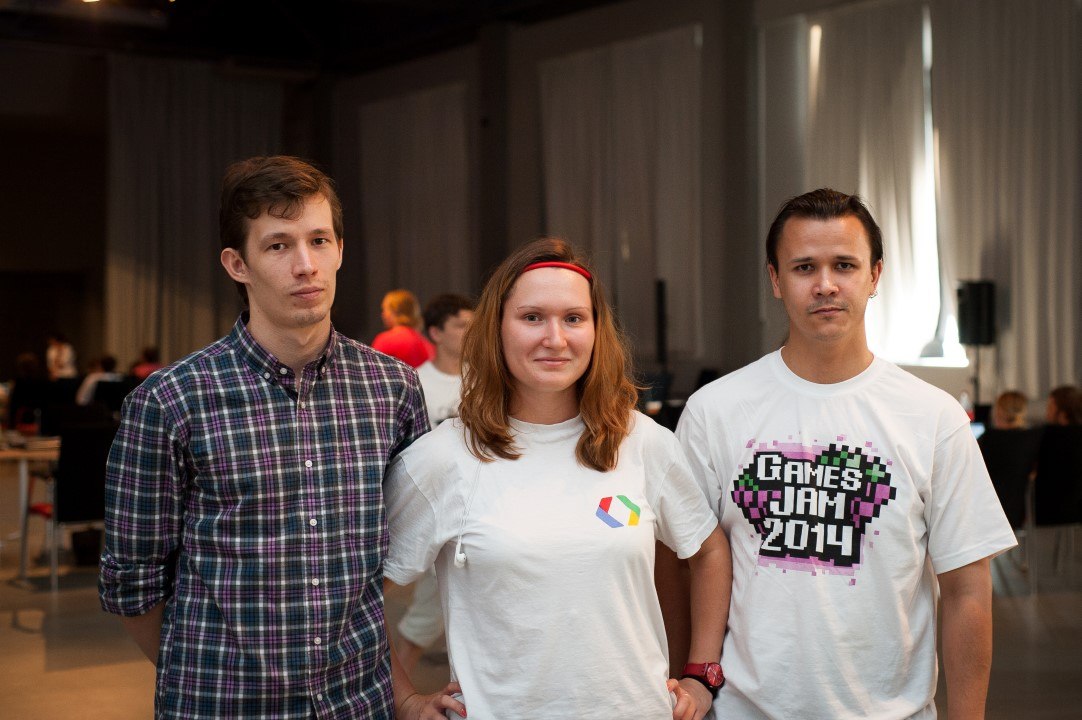 The core team at the Hackathon in Moscow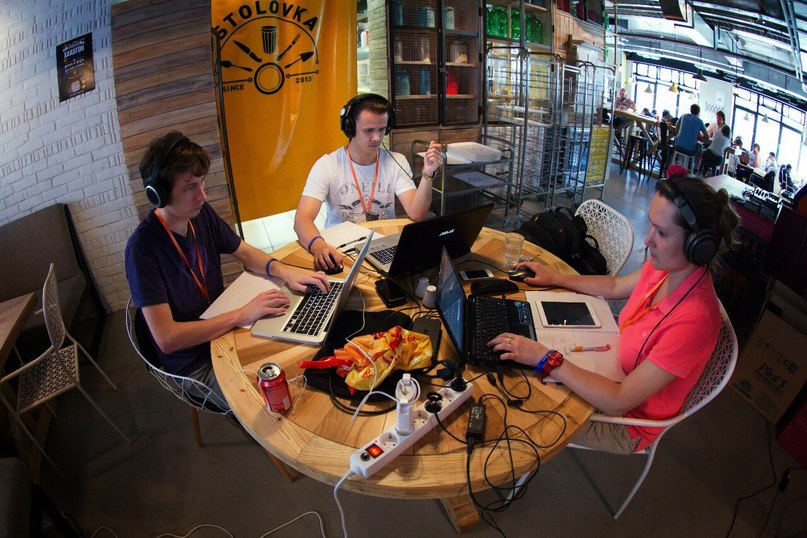 Another Hackathon in Moscow
During the first year of the development at home, we didn't have enough money, so we're searching for inspired people on Internet to join our team for free, on sites like: gamedev.ru, gamedev.net, connect.unity.com
and of course, we tried to find people at hackathons. In fact, most of our food and T-shirts were also provided by hackathons :)
And at the end, we actually found some guys who agreed to join us. Today we are the team of 8 people who are working fully remotely on bringing instant E-sports to you, from all different parts of the world!
The first year was extremely hard, but at the same time quite exciting period of invaluable first-hand experience in many areas like building a company from scratch, experimenting with complex technologies and self-motivation!
In September 2014, we decided to bring 2 of our games to the game dev conference - DevGamm, which were held in Minsk. One of them - Dodge & Roll, was released and UnnyWorld was at a very raw prototype stage.
This is how, by the way, UnnyWorld prototype looked like:
Our games were nominated for 5 awards, but what happened next we couldn't imagine. We though that Dodge & Roll might actually win something, but surprisingly UnnyWorld won this one special award. Many thanks for its support to Chartboost!



In March 2015, we got accepted to Flat6Labs business accelerator in Abu Dhabi. We were very happy, because that was the first company/investor, who believed in us and helped us a lot since then. We're accepted with this teaser:
During the whole development the biggest challenge for us was the fact that we'd never made MMO games before, although we had some prior experience in building multiplayer games. During the whole 2015 year we're developing the client side and studying server technologies. When we finally managed to combine Planets and Arenas, the game looked like this:
Our first soft launch was in Malaysia on iOS and Android. The concept was proven, but the game had too many problems to be able to scale. It was very hard to orient on both Planets and Arenas, monetization was very weak and, in order, to try another hero you would have to create a new planet and start over from the tutorial again.
We decided to apply radical changes, which cost us some time. All Planets and Arenas are now based on Hexagons, which appeared to be a really great idea. It's both easy to navigate, easy to prototype and very convenient to apply different skins. At the same time we managed to decrease the duration of Arenas from 10-15 minutes to 4-6 minutes and make them much more replayable.
In November 2016, we received the status Made with Unity, and participated in Unite conference which were held in LA, where we met Facebook gaming team and agreed to launch the game on their newest platform Gameroom. That was the second launch for us. The results proved that all changes we made worth it.
I shall say thank you to all our players, who are helping us, testing the game, reporting bugs and for just playing the game during this long journey. The game evolved enormously since its beginning. This is how it looks like, as of today:
It's not the end, it's a new start for us. We have a lot of new features prepared for you to implement in our roadmap. UnnyWorld is now public, so people all over the world might affect the way how it's going to evolve.
Thank you all again, and, remember to sign up for a series of warmup matches against developers this Saturday:
Stay tuned!