At UserCreated, we're big on celebrating the achievements of so many mod developers around the world. That's why we're dedicating the next four weeks to talking about them, in our extended feature: Unmissable Mods Month.
We spent a few days thinking, suggesting, arguing and almost hitting each other, but we emerged with a list of our 20 favourite mods of all time. Each day for the next four weeks (except weekends, when we'll do sleeping), we'll be revealing another of our choices, and reminiscing over why it was so brilliant in the first place.
The feature covers all mods for all games - in keeping with the site's outlook.
The first Unmissable Mod of the month was Black Widow Games' trilogy for the original Half-Life, the wonderful They Hunger series, which blogger Lewis Denby called "one of the absolutely great mods of its era." Have a read here.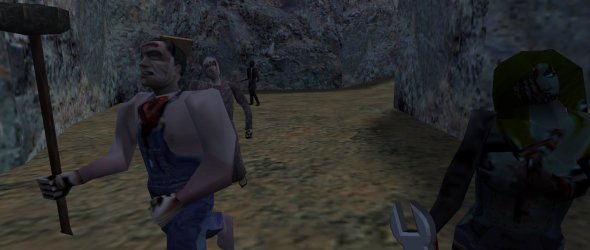 Black Widow Games' They Hunger
UserCreated launched earlier this year as a new resource for mod news, criticism, and general ponderings. Designed to be complementary to sites such as ModDB, which places its focus on the development community, UserCreated was set up primarily for players of mods; for people who love PC gaming but have never had the push they needed to get stuck into the world of modding; or people who already adore mods and want to read a blog by other people who feel the same way.
But we also set up the site for every mod developer out there who's fired off press release after press release to try to drum up some major coverage, only to find out no one really covers mods to their satisfaction. That's why we need YOU to make sure this is worthwhile. If you're working on a mod and want us to talk about it, or if you've just released one and want it reviewed; if you're a big chatterbox and want us to run an interview with you about your work... all you need to do is head on over to www.usercreated.org and hit that button labelled "Developers".
You can also join us on Steam, follow us on Twitter and subscribe to our RSS feed. You can also, of course, join our group right here on ModDB.