Unlucky Gnome Memories: Part 1
Four years ago, Juan and Federico (two gamer friends) wanted to create a team that focused on making games with deep conceptual design, beautiful art, and heavily based on experimental and alternative game design. But... How? What was the starting point? Clearly, without a completed game, there is no game studio. And so, the adventure began...
They played around with a concept they already had about a little gnome with bad luck and a cloud chasing and throwing lightning bolts at him.
The first iterations were mainly research about gnome and bad luck legends. They found interesting stuff, like the fact of the hat being really important for gnomes. It seems that a gnome without a hat isn't a complete gnome.
They also wanted to homage classic games like Mario Bros and Tiny Toons Adventures. These game really difficult. You had to start all over if you lose. While watching gameplay videos of Tiny Toon Adventures, they noticed that the player was not only commenting about the game, but he also showed anger, happiness and frustration. That inspired them to make a videogame that generated all those different feeling on the player.
Unlucky Gnome
The first version of Nubarron was actually called "Unlucky Gnome". Gnome was inside a dangerous castle full of falling spiders that attacked him. Gnome had to use a lightning bolt to kill spiders, find a secret key and open the door that took him to the next level.
This first game had really good reviews, being showcased on indiegames.com by, you guessed: Gnome. That review drove a lot of people to our webpage to play the game.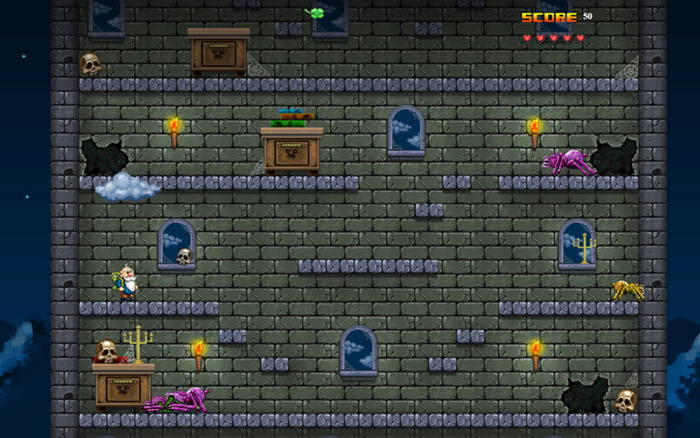 Nubarrón: The adventure of an unlucky gnome
Months later, Square Enix launched a contest in Latin America. The prize was developing the videogame with a regional partner. Nastycloud decided to participate in the contest, and we began making a bigger and harder Unlucky Gnome version.
For starters, we created a backstory for Gnome:
"Gnome was returning home at night. A shadow in the forest knocked him out and stole his hat. Good luck abandoned him, his life became sad, his wife got sick, and a cloud started throwing lightning bolts and following him around. Gnome wanted his hat (and luck) back."
This new incarnation of our little gnome was called "Nubarrón: the adventure on an unlucky gnome". It had 21 levels, with three different sceneries, different kinds of enemies (octopuses, bats, steam robots, poison ivies, etc.) and one final boss.
Once again we got some good press reviews, but we didn't win the contest. (It seems like Square Enix was looking for a different kind of game for Latin America). At least we got a nice meeting with two Square Enix representatives, a regional one and the actual president of the company that congratulated us for the game.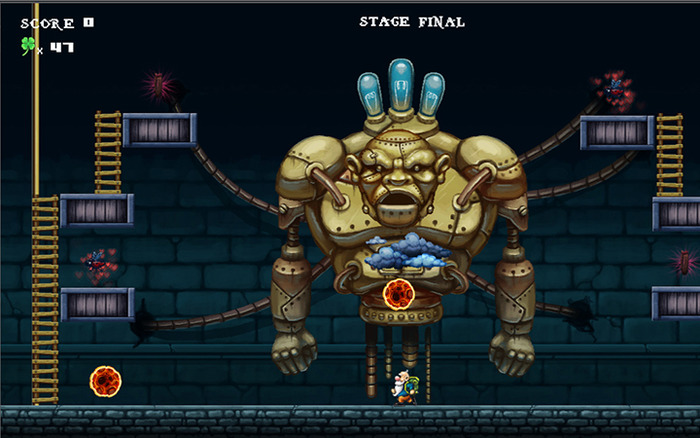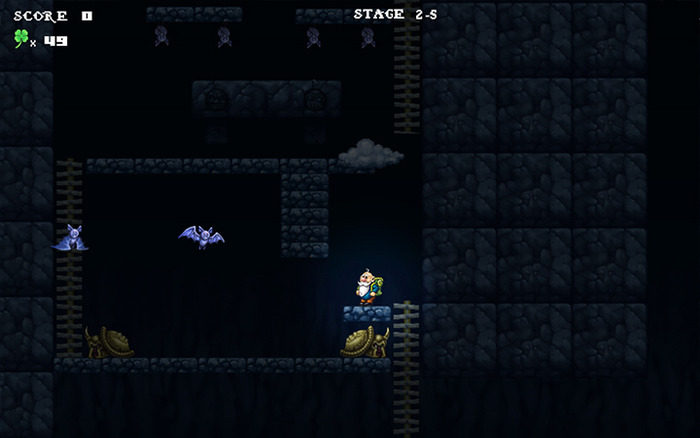 To be continued...