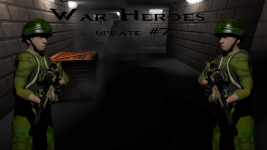 Watch the video for the best information about the game, the article will only help you to
understand the new functions from the game!
Welcome to update 7 of War Heroes. I'm working now for more than a year at War Heroes so I start with an announcement. If there are enough participants I will organize an event sometime at the end of the summer.
Please vote in the poll ( I still doesn't know how I can add a poll so please put it in the comments!) and share this with your friends! Also from now on I will create stuff in the game on request, for example for the next update I will create new and better weapons which was requested in the latest video. Also for better quality I will create a new soldier.
This is enough about the future. In this update I have implant a few very important functions. At first I created a feedback function. You can send directly feedback from the game, also it is possible to send 1 attachment (you have to copy the address to the file).
For in-game I created an objective. If time runs out (the server chooses the time before the game is starting) or if the point limit is reached everybody will directed to the lobby. The server can choose to restart the game. Also a new player can join at any time in the server and will directed to the map where the players play or to the lobby if the players are still there.
Another big difference is the new HUD. The new HUD contains also a new function, the energy function. Every second you run you will lose 2 units of energy, also if you jump you will lose 2 units of energy. So now you have to be careful when you jump or run. If you don't jump or run the energy will come back, every second one unit. The max amount of energy is 100. I also added clips. So the infinite ammo is over. Also by every kill you make, you will get a message at your screen that you killed somebody.
The score system is fully remade. Before I remade it, it was your kills divided by your deaths (kill death rating). Now you will get for every kill 100 points and for every death you will lose 50. You can now also respawn (in the pause menu). Every time you respawn will be counted as 2 deaths and it will cost you 100. So if you stuck in an object or you can't move, now you have the option to "fix" that.
I also fixed a few bugs and improved the map. I hope you like the video. Please share, like or subscribe to support and please mention in your comment ideas for War Heroes. I will appreciate that.
Video: