Hello everyone! Here i am with quite a few news, i dont even know where to begin so lets start with ussual dev progress summary as its been quite a while since i updated the game here on Indie DB. Here is ton of changes i have to write about. Lets divide them in to visual and gameplay sections.
Visual enhancements:
Replaced orange clouds in first level as it seemed only i liked them.

Added bubbling bullet traces to enhance underwater feeling(still much to do in this matter).

Finished set of enemies for first mission.

Main menu and storyline mission selection screen added.

Reworked combos and score notifications so they are much more visible now

Added ingame notfications(boss incoming messages, etc.)
Gameplay changes:
Scoring reworked, score multipier changes, combos enhanced, bullet grazing added.

Achivements added.

First level completely rebalanced, now it is possible to complete it on 100%, even without help of wingmen, but its really hard that way(achivement ll be added).

Boss completely reworked(both graphics and his abilities).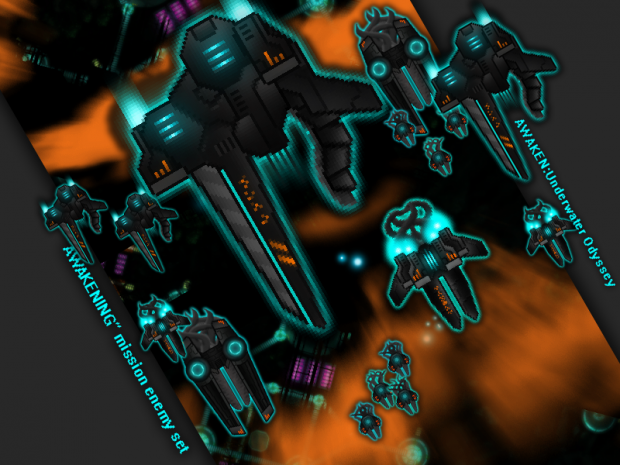 As you can see i ve been quite bussy past month and there is still much more im planning to implement like full screen shader effects to help with the underwater feeling, rework shield mechanics and drop old-fashioned 3 lives system. To sum above up i prepared new dev progress video and i hope you ll like it:
To be honest, im overwhelmed with the tasks i have to do and working alone on this project is making things even worse. However its still managable but a little help would be great and here comes next point of this post.
EPOCU PROMO CAMPAIGN
I started a promo campaign on epocu.com to get the game closer to audience, and here i need your help. Follow the link to the epocu campaign if you like what you see here and chose if you want to support the game with a tweet or facebook share. It ll cost you nothing, just a few clicks and ll help with the game promotion greatly. I need to get 25 supporters within a month to make campaign valid and I hope we ll reach this goal and beyond! Please, consider supporting Awaken this way as every like, every tweet, every piece of support matters to me and is more than apreciated.
If you want, you can even support me by following game progress both on twitter or facebook.
PUBLIC ALPHA
Yes, its almost here. Right now, alpha build is tested by few trusted testers and it ll be released to public during the week. There are still few bugs i ll not be able to fix before release(like pressing print screen freezing the game) as they are engine related and there is nothing i can do with them. Currently i am waiting for support response(hope they ll not pretend problem does not exist as im not only developer having this issue)as while its not gamebreaking bug, its quite annoying.
However details like that should not affect the impression from gameplay and i hope players ll enjoy the game and let me know their feedback as its worth gold at this stage of developement.
Thanks for reading! Thanks for even considering of your support for this game on EPOCU and hope you ll have great weekend!
See you again in few days!
Tryzna