Features:
All 9 masteries expanded and rebalanced, each going up to level 40 with 24 skills.
Max character level raised to 85.
3 secret areas added to the game.
New monsters.
30 new rare affixes.
Large number of charms and relics rebalanced and improved.
Large number of items rebalanced and improved.
All set bonuses improved.
New sets added.
New weapon type: vitality staff.
New item class: Mythic.
New items, including a whole new series of randomized unique jewelry.
New ultra rare items.
New easter egg items.
Huge amount of game balancing, including a number of key gameplay changes:
Increased monster spawning.
Increased champion and hero monster chance to spawn.
Experience recovered from gravestones reduced to 50%.
Axes all have a base 15% pierce ratio.
Potion stack limit increased to 100.
Potion cooldown changed to 16 seconds.
Defensive Ability chance to dodge decreased (damage reduction unchanged).
Boss monsters have aura which removes dodge and deflect immunities.
In addition, this mod comes bundled with features from other mods:
All bugfixes from the latest community fanpatch (1.17a), and a few of the bugfixes from the next fanpatch.
The Allskins Vendor inclusion from the latest fanpatch.
JMD's brilliant Immortal User Interface skin.
This mod is also compatible with the latest version of TQVault and TQDefiler.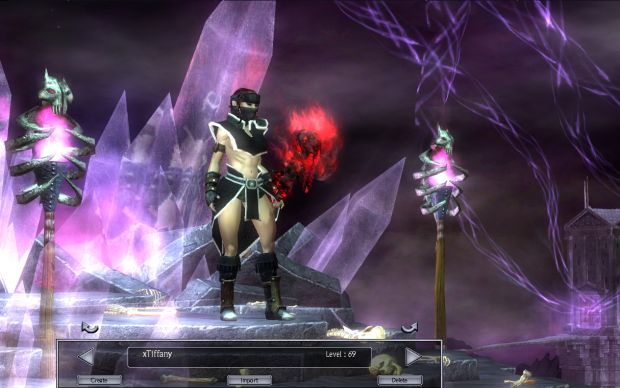 Installation Instructions
Windows XP, Vista, 7:
You must have a clean installation of Titan Quest Immortal Throne 1.1 or 1.17a.
Simply run the installer and play the game when it's finshed. If the installer fails to find your game, even after a fresh reinstall, try placing the installer in the installation directory, located by default in: Program Files\THQ\Titan Quest Immortal Throne. Steam users will find it in their steamapps directory .
Trouble-Shooting
If placing the installer in the directory still doesn't work, download the manual install package and follow those directions.
Symptoms of an incomplete installation:
Blue and yellow checkerboard skin/texture appears in the game.
Credits
Munderbunny - responsible for all the OCD.
Zilla - huge amount of graphic work, responsible for all alpha testing, incredibly hot, and the person to thank for the level of "coolness" the new skills feature (not to mention, the mind behind Ice Burst, which shall forever be known as the Igloo around here).
Yerkyerk - largest outside creative influence, coming up with a number of new skill ideas, as well as a lot of the writing--contributing a number of cool class names, monster names, item names, etc.. Also greatly shaped the much improved Spirit mastery with his early testing before the betas.
Jiaco - is the person you should thank for this mod coming out this year instead of the end of next year. A dedicated saint, he has gone around the community helping modders with their mods. With his mad programming skills, he's literally reduced months worth of work into a few hours of his time, and made possible features which I didn't think there'd ever be time for.
Kaets - in addition to translating the betas into German, Kaets has also done some work for the mod, as is the person who created all the mythic item recipes.
All dedicated testers and contributers - these people worked extra hard to make this game happen, and have been recognized in-game as well.
Poinas and the rest of the TQnet Community - for providing all the endless analysis and testing that provided the basis for the bulk of the game balance changes, and informed the rest.