1.0.1 is now live and we have some exciting new features for you! First off, Undead Shadows is now available on Desura!
You can now purchase Undead Shadows from Desura for only $4.99! With your purchase you will get access to all of the new features and fixes from version 1.0.1.
What's in the 1.0.1 Update?
Ill start with a detailed change log if what is fixed, added, updated and removed from the game in 1.0.1 and then below there will be more detail about the more important changes.
[Added]
- Added a mine build item that explodes when zombies and spiders are within 3 meters. Mines are part of the build system.
- Added an automatic turret that can be built from the build system. The turret requires scavenged parts (computer chips, scrap metal, M4A1 & M4A1 ammo)
- Added a question mark drop when a zombie dies. Picking up the ? will give the player money, armor, airstrike or a 50% health decrease
- When initially spawning, the level's map opens up to give the players some guidance as to where they are
- When shooting zombies heads with high powered weapons, the head will explode off of the zombie
- Added mod support for all major systems in the game. Mod tools and documentation will be released at a later date
- Added a version checker. When there is a new update available, a prompt will show up to notify the player.
[Updated]
- Changed odds of a money bag drop when killing a zombie from 6% to 4%
- Updated Zombie AI to wait between 250 and 400 ms before attacking a player within range, instead of a fixed 750
- Decreased the distance at which zombies can attack the player. Must be within arms reach
- Updated Downtown Quarantine to add more items to roads as well as random debris
- Updated Cornfield Country to add random debris and a new ancient castle in the forest
- Changed the map GPS blip to red for more visibility
- Changed some items respawn times. All ammo now respawns every 2 minutes along with other more important items
- Updated the zombie hitboxes to better align with the body of the zombies
- Changed the values of the money drop amounts: $ = 20-50, spider $ = 50-100, money bag = 250-500, ? = 250-500
[Removed]
- Removed moon shadows at night. This increases fps and performance by up to 30%
[Bugs]
- Fixed a bug that caused explosion sounds to sometimes trigger when shooting static shapes
- Fixed a bug that cause the round end sound to play when shooting a weapon caused the next round to start early
Updated Build System
We have completely overhauled the build system to make it easier to add more complex objects such as the new automatic turret that can be built with multiple scavenged parts. For the turret you need scrap metal, computer chips, an M4A1 and M4A1 ammo clips. Once all of these items have been picked up, you can build an automatic turret from the build menu. A new interface has been added for the build system to make it easier to manage the additional objects we added. We have also made the build system easier to work with which brings us to our next addition in 1.0.1.
Mod Support
We have gone over all major systems in Undead Shadows and made them more mod friendly. The mod support that comes with 1.0.1 is just the core of this new addition and things such as documentation, code examples and world editors will be coming at a later date. We also previously announced that we would be doing a mod of our own (Player vs. Player mod) and this will be released along side all of our mod tools.
Mines & Automatic Turret
Like I mentioned above, you can now build an automatic turret out of 4 scavenged parts and also a proximity mine. The turret has 500 rounds of ammo and only shoots at zombies and spiders. The proximity mine can be picked up from the gun store and be thrown on to a surface where it will stick. When anything that moves gets within 8 meters of it, it will explode.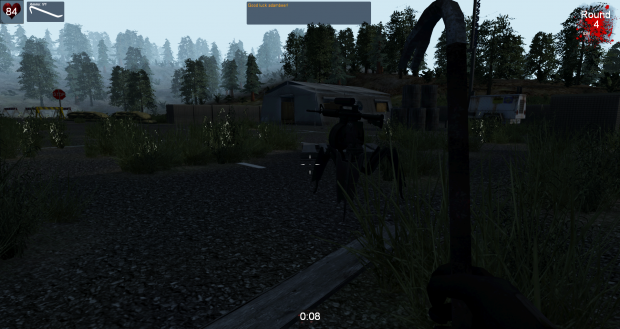 Various other changes
We were getting reports that getting started with the game is difficult and some players couldnt find where the gun store or anything else was, so when players first spawn a map will come up showing them where they are and where everything is. You can toggle the map with the [M] key.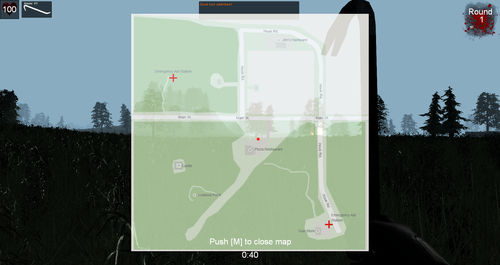 We also updated both levels to include a better, more immersive experience. Downtown Quarantine has more debris on the roads as well as taller grass to give a more eerie feel. Cornfield Country got a little of the same but we added a castle type building in the forest to the west of the gun store. This will give players a solid place to defend in a singleplayer or multiplayer game!
Thank you to everyone who has supported Undead Shadows and we look forward to hearing your feedback and reviews! Stay tuned for more updates on our mod support and future additions!