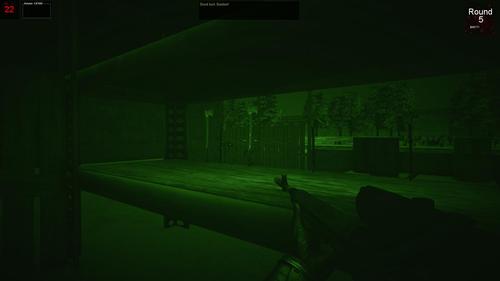 We've been working hard to get all the bugs fixed and most suggestions added in. There have been quite a few major bugs fixed as well as many gameplay changes and some much needed AI changes. Here is a complete list of all the changes and fixes in 1.0.1 as well as the download links for the patch and the beta:
REGISTER FOR THE BETA HERE
DOWNLOAD THE 1.0.1 PATCH HERE
Beta Version 1.0.1 Changelog (11/25/14)
Additions & Changes
Pushing escape in single player now pauses the game
Disabled pause functionality for multiplayer
Added auto-login functionality
Added an overlay to the login screen when being logged in
Changed the day length to 10 minutes and night to 5 minutes
Zombie money and special drops fade for 5 seconds for a better removal warning
Changed the amount of money subtracted when a player dies from 100% down to 50%
Changed the mounting to the ATV in Cornfield Country to use the [e] button like other interactions
Changed mission cycling at game end to restart the same level
Made changes to zombie and spider AI

Zombies now spawn from under the ground
The spawn minimum and maximum spawn radius has been reduced
Increased the angle which zombies can attack a player at (up to 45 from 20 degrees)
Lowered the damage given by zombie hits
Increased the speed at which zombies can run (up to 7.48 – 9.35m/s)
Bug Fixes
Fixed the missing blood decal texture in multiplayer games for non-hosts
Fixed an infinite loop that caused the game to halt when a player was killed by zombies
Fixed an embarrassing spelling mistake on the gun store sign
Fixed bugs with player ready up code that caused the wrong messages to show up
Fixed a bug where zombies would still see a close by dead player as the closest target to attack
Fixed a bug which allowed dead players to revive other dead players
Fixed a crash that was caused by the air strike
Fixed a bug that caused players being able to push zombies out of the way to not work as planned
Fixed a bug allowing players to toggle their flashlights while dead
Fixed a bug with the zombie AI that caused them to slow down when they got too close to a player
Fixed a bug that was causing no variation in zombie speed
Fixed a bug that was causing the zombies to not be able to push each other around in groups
What's next for Undead Shadows?

Well were hoping to keep the beta testing going for this week and some of next week too. After that we will be making some final preparations and rolling in some cool features for the release. We are aiming for the second week in December to release the full game in the Ignition Games store. We will be trying to get the necessary votes on Steam Greenlight to get the game onto Steam, as well as releasing on a couple other third party portals which we will detail in the release announcement. We want to hear from everyone who has tried the beta to give their feedback so anyone who has anything to tell us, install the 1.0.1 patch, check out the changes to see if we've made things better, worse or the same and send us your feedback!
If you haven't tried the beta yet, yo can go to Undeadshadows.com to signup and download. Just remember to apply this patch right after you install it! Invite your friends too! Undead Shadows is even more fun to play with friends!