The Ultimate Brutal Arsenal is the next (and first of many to come) Expansion Pack for Brutal Doom. This expansion will feature aprox 50 new weapons. It's a large variety of machineguns, shotguns, assault rifles, rocket launchers, energy weapons, explosives, flamethrowers, BFGs, and melee weapons.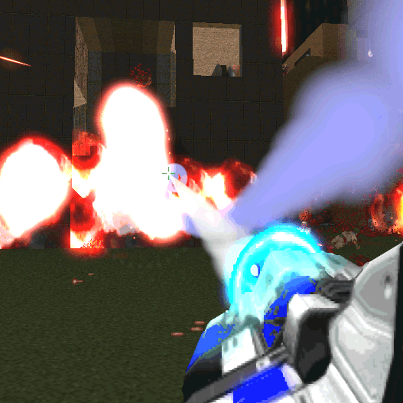 The Pegasus BFG 29000 showing it's powers.
The confirmed weapon lists (until the moment):
6 melee weapons
2 handguns
2 submachineguns
4 assault rifles
5 shotguns
3 rocket launchers
3 machineguns
2 flamethrowers
4 energy/plasma guns
4 bfgs
2 snipers - magnum weapons
5 throwables (grenades, molotovs, etc)
These weapons (and their ammo) will be distributed through the map, replacing existing stuff. A pistol clip may spawn a pistol or rifle clip. A shotgun may spawn one of the two low-tier shotguns, or a rifle, etc.
I have plans (but still not sure) to put a limit in the weapons that the player can carry. Limiting the player to have a limit of 9 or 10 weapons (one pistol, one sub-machinegun, one shotgun, one rifle, one machinegun, one rocket launcher, one energy weapon, one BFG, one flamethrower, etc.).
You will able to dual wield some weapons when you find two of them.
For this, the progress on Brutal Doom v18 will slow down a bit, because until the release of the first beta of the expansion, I will not have enough time to work on BD.
Stay tuned!
test 1
test 2a
test 2b
test 2c - test 2c fixed (no slots limit bug)