On the move towards version 0.3, Ultima Ratio Regum now contains a lot of new generation. Myths and legends are being generated, along with entire languages, but these will be covered in later updates. For now, let's talk about the history generation.
The generator starts at "Year 0" and moves forward to between 1600 and 1700. I've been working on the basics of territorial expansion so far. When the world is first generated, a number of civilizations are placed in locations with food, water, resources, and the rest of it. Over the next 1700 years, they then expand - preferring to expand into areas with rivers, coastlines and temperate climates, rather than the extremes of the world, though they will do that as well - and continue doing so until there is no remaining contiguous land to spread into. NOTE: as of yet, civilizations in the history generation will not declare war, nor explore, nor cross the ocean, hence the possibility of uninhabited islands. But these won't be uninhabited for long...
Currently, maps start off looking like: (full size: Ultimaratioregum.co.uk)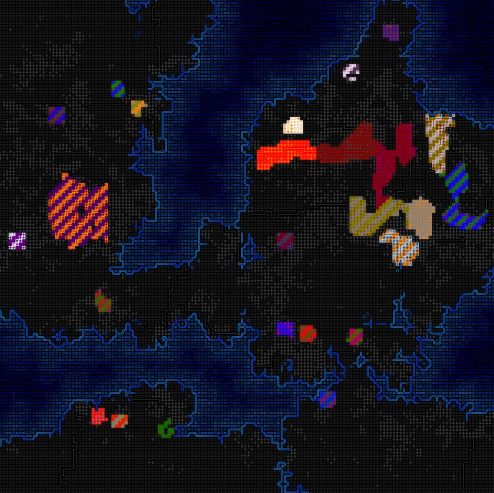 And end up looking like: (full size: Ultimaratioregum.co.uk)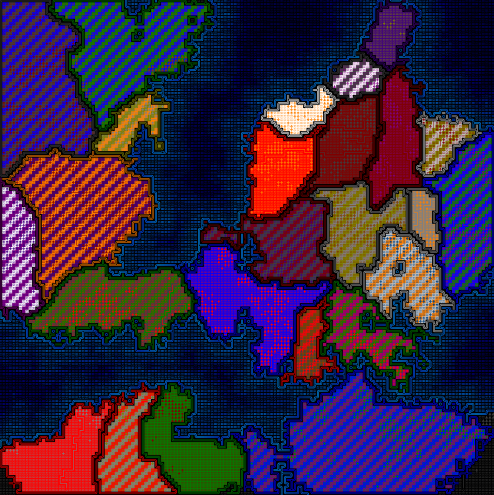 The next step is to create the under-the-hood tech tree to allow civs to advance towards the "modern" technology available to the most advanced civs when the game begins. After this, I'll begin modelling historical diplomacy, and see if we can get some wars going.
You can keep up to date on my devblog, Facebook page, or Twitter feed. The devblog is updated weekly on Mondays, Facebook a few times a week, and the Twitter roughly daily. Any thoughts, please leave them in the comments! Version 0.3.0 is now in the works, and will generate languages, myths, histories, coats of arms, flags, and entire civilizations. It'll be a big one, but I'm hoping to keep the updates coming regularly, and maybe put out a 0.2.2 in the mean time. Stay tuned...