Announcement
Two-Pound Ball: Minor Leagues is ready for Beta testing and is now available for download.

The game plays like a cross between tennis and hot potato and features amusing characters, audio, and signature moves in the spirit of games such as Mario Tennis.
Screenshots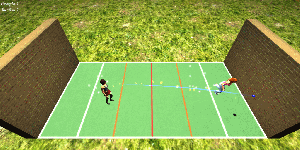 Signature moves: The Slice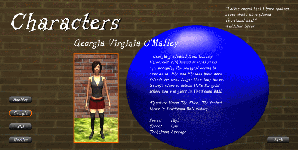 Character Biographies Menu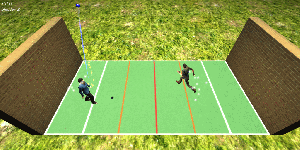 Signature sparkles and Bill's move: The punt
Requirements
A gamepad, such as an Xbox 360 controller, is required for each player




The supported resolution is 1366 x 768.

If your system doesn't support this, menus may appear squished and the far ends of the court will not be visible

Known Issues



There are no throw animations at this point




There is a bug that causes the AI player to get stuck on the wall.

Pause and quit to the menu if this happens



Gameplay elements such as difficulty, AI, and signature move effects need significant tuning

Please comment with any feedback you have regarding these or other issues. This is the time to make things better before release, and I would greatly appreciate any input from the community.
Background
Two-Pound Ball: Minor Leagues is my senior project in the Game Design Development program at UCCS. I've been working on it the last two semesters, and the game is set to release here on 8 May.
Two-Pound Ball is an invented game using a small, sand-filled medicine ball. In the game world, Two-Pound Ball is ancient and beloved, with historical figures such as Caesar and Jane Austen having grown up with it. The menus feature famous quotes modified to reflect this alternate history.
The characters in this game are amateurs playing in the "Minor Leagues" for small stakes or to make it onto the Duke University Two-Pound Ball team.
Please enjoy, and let me know what you think.