Two Crazy Mod 3D Models Released
To help bring more resources into the community, here are two 3D models, originally made exclusively for the Crazy Mod, that you can now use in your own public or private modifications for C&C Generals: Zero Hour.
The first of these models is the USA M1A1 Abrams Tank: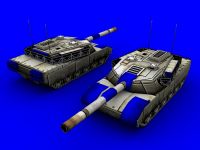 One of the most iconic tanks of the USA, the M1A1 Abrams Tank is equipped with a standard tank gun which does a bit more damage than the Crusader tank. It has been modified slightly so it doesn't have the breaking turret, so you don't have to worry about that when you put this into your own mods.
The second of these two models is a graphical update for the GLA SCUD Launcher: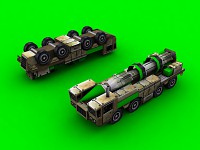 The original model of the GLA SCUD Launcher had a few problems, which became very visible in the Crazy Mod. For starters, it has no underside at all. You could see right through it like a window. This remake adds an underside to the GLA SCUD Launcher, and also makes the wheels a bit rounder. Those hexagonal wheels must have been really bumpy to drive on.
Get both of these 3D models in the addons section of the mod profile.
More 3D models and other downloads to come soon!
-Jordan