Download Greedy Guns!
Did you knew that our beta keeps being updated? 0.9.4 is the current version, with some improvements, such as a better jump. If you haven't played it you are still in time! DOWNLOAD IT NOW, AND YOU WONT REGRET IT :D !!!!

Greedy Guns art, live on Twitch
@migrafael as been doing Greedy Guns art live on Twitch! This is a opportunity to see how the wizard creates is spells... Making new enemies, level art and much more cool stuff! Stay tuned at .twitch.tv/tioatum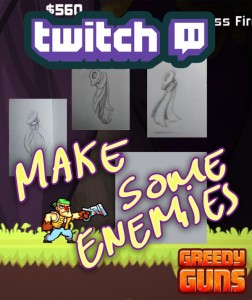 New arenas!
We are now working in new arenas to give the players a different pleasure with the greed of the kill! These frenetic rooms will be full of enemies and will be really hard to finish. Only for the toughest players!
New turrets!
Our artist designed the new turrets for the game. Now they really look agressive, with that crystal power coming out of them. Less organic, much more destructive!
More concept art!
Our artist is really productive! Once again remains the question: How will Greedy Guns look in a near future? Just take a look at this drawings and follow @migrafael!