Hello everyone. We have had a very busy couple of weeks in the Twisted Insurrection staff section. The staff have grouped together again to give the mod an active pulse again this month and we're preparing for the next release of the game, which will be Twisted Insurrection Version 0.40.
We've begun with further optimisation to improve upon the overall performance, it has been tricky working with such an ancient engine, but results are looking great so far. Naturally there have been a number of balance and gameplay changes too, mostly again based on the input from the public players. The main feature of Version 0.40 will be the improved client, Rampastring has been hard at work to bring many new features and additions to the table, most notably is the statistics feature that will allow you to view your overall game log that keeps track of lots of information you may like to keep on top of!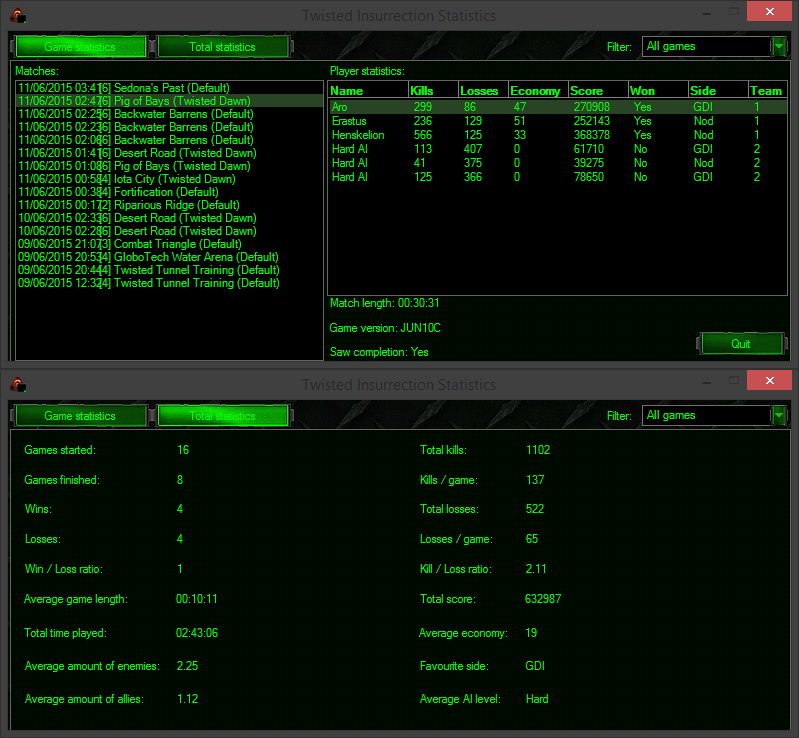 As you can see, there is plenty of information provided here that is recorded throughout all of the games you play, be they on or offline.
Alongside the new Statistics feature, a direct link from the client main menu to our FinalTI Map Editor is also provided, seeming as how some players were having difficulty trying to locate it in the past. There has also been a large change to our settings menu, adding more options and organising them into their correct categories making navigation much easier.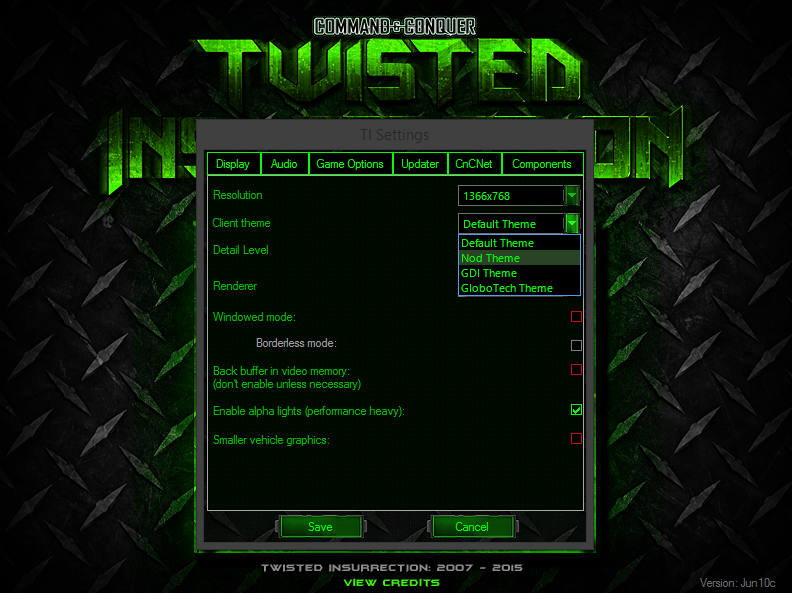 And also as you can see from the image above, there will be a selection of themes to chose from. Right now there are 4 themes, but we plan to add more and improve upon our current themes in the future. Some other themes will include Twisted Dawn and possibly a mutated theme. We're happy to hear suggestions too if you have any. Click on the images to view them in larger sizes.

Next up, we have three new additions to the Twisted Insurrection Original Soundtrack. Two of which (Plague, Armour and Speed) were composed by Bobek, our newest staff member, the other (Nod Thrash) was composed by Speeder, the mastermind behind the popular Yuri's Revenge mod, Mental Omega.

And to finish off this news post, there are a few new maps that have been made for the next update too. You may have already seen two of these recently posted on some of our sites, but here they are for those of you that haven't. Click on the map previews to view them in actual size.

That concludes are update for this week. We hope you've enjoyed the new features, music and maps and we're happy to tell you that there will be plenty more news on the way soon.