Hello all,
7 years ago we started to entertain the french community (Belgium, Canada, Switzerland and France) with a game named "Terre des éléments" (litterally Earth of elements). We feel now that it was not fair to exclude the english community of gamer. Sure it was not a deliberate choice, In fact we were so involved in the management and evolution of the game that we couldn't spare enough time to work on a localization.
We all have a "real" job and this game was made only for pleasure and peronnal challenge during evenings and week ends.
We don't gain money with it because it's not our intent. It is free to play and the few bonuses you can buy are limited and serve mostly to pay for the server or organize some surprises for the players.
In the end there is absolutely no restriction in the game for someone who don't wish to spend money.
I would like to say it's a 2D browser MMORPG but the massively part is a bit exagerated for a few hundreds of players so I will only say it's an online role-playing game set in a fantasy universe playable within your browser without need to download anything.
How to play ?
Action points are earned each hour:
- Competence points for PVE (and PVP if needed)
- Interaction points only for PVP
- Profession points for the crafts
- Endurance points to move
Simply go to Riseofmz.net create your character and start to play
At the beginning you choose between:
- 4 classes warrior


, ranger


, necromancer


or magician



- 4 elements: air

, water

, earth

or fire


- 5 karmas: evil

, harmful

, neutral

, fair

or harmonic

(can change with your actions)
The skin of your character depends on gender, element, class and karma for a total of 160 different skins.
In addition to reward some players for their help or when you reach a certain level you can draw you own skin. Here are some of them:





















- The mouse is used to move (right or left click). All the skills are available through keyboard shortcuts which you can configure.
- Each new level, you choose the characteristics you want to increase between vitality, address, strength, spirit, luck, resistance and precision (same for the skills).
- The maps and some monsters or PNJ's skins are created with Tiled, the rest is homemade from scratch (some players helped a lot for the graphical part: items, distinctions, wolrdmap…).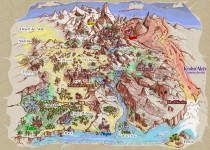 - PVP is available almost everywhere (except in the taverns) and everything is done so a maximum of players can enjoy it.
Thus, in some areas visited mainly by beginners, the level is limited: the high level players continue to have access to these areas, but if they do fight, their superiority is not too overwhelming
This game also offers the possibility of having two jobs.
- The first serving to harvest different crops (herbalist, miner, tanner or lumberjack)
- A second (carpenter, alchemist, weaver or blacksmith) used to product weapons, potions, armor, etc…
It is therefore a work of precision and teamwork to bring all the resources needed for different productions.
Each player has the ability to communicate with others using private messages or different chat boxes available. They can also, if they wish, meet in a tavern to enjoy a small dish, a drink or just courting offering flowers to the desired person.
You will be encouraged to form factions and thus be able to play with other people while having some bonuses and benefits. One of them is to build a fortress where faction members can stay and sleep in the shelter.
Details
In addition to all these possibilities, we took a special to details, for example:
- Sunrise and sunset so to have a night period
- When a player dies, a bloodstain appears on the floor.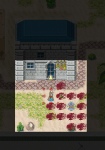 - Each skin exists in 8 positions and when you move or target a monster (or another player) you will automatically face the appropriate direction



- Powerfull attacks leave for a time a mark on the ground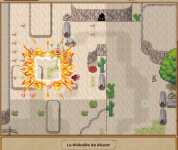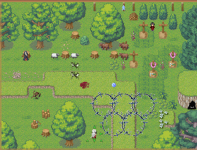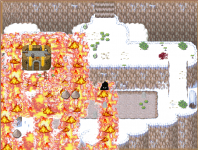 - Organized events often permit fighting on a large scale and gather solitary players and factions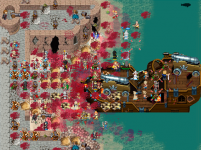 Tutorial available
For the moment only the tutorial of the game and the interface have been translated. Everyone who wants to try and test the gameplay can now register and have some insight of the gameplay.
Your first step will be to meet the soul recycler which you will certainly see many other times.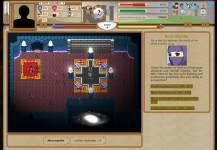 A wizard will explain to you the various aspects of the interface, how to move and interact. Then you will make your first steps in a wild world as the tutorial will let you dwell in the desert and the training camp.
There are many things to discover which are not available in the tutorial such as the collection, the crafts, the PVP, your faction's fortress...
Concerning the PVP I may add latter some maps to allow it, although at this level many usefull skills are not available.
Feel free to register to the forum and leave your comments.
Riseofmz.net
To conclude, the future game will be based on
- 7 years of existence,
- Over 1600 collectible objects,
- 330 distinctions to acquire to show your deeds to other adventurers,
- More than 1000 PNJ and 2000 events,
- More than 600 equipments
- 74 resources to harvest,
- 220 production recipes,
- 750 drops,
- 118 skills,
- Over 200 quests,
- Nearly 350 kinds of monsters,
- 500 maps to explore
- The ability to summon monsters to help you to fight,
- A lot of fun
Keril Cahendirr