I've been working hard on a tutorial mission. Since the game concept is very different and strange, a good tutorial is critical to teaching players what the game is. If done poorly, players will be left frustrated and confused, and will most likely stop playing. Creating a good tutorial will require stream of new playtesters who've never played the game before. Luckily for me, I started a public game design group in my city (the first and only of its kind), and will hopefully have a continuous supply of test subjects *evil cackle*.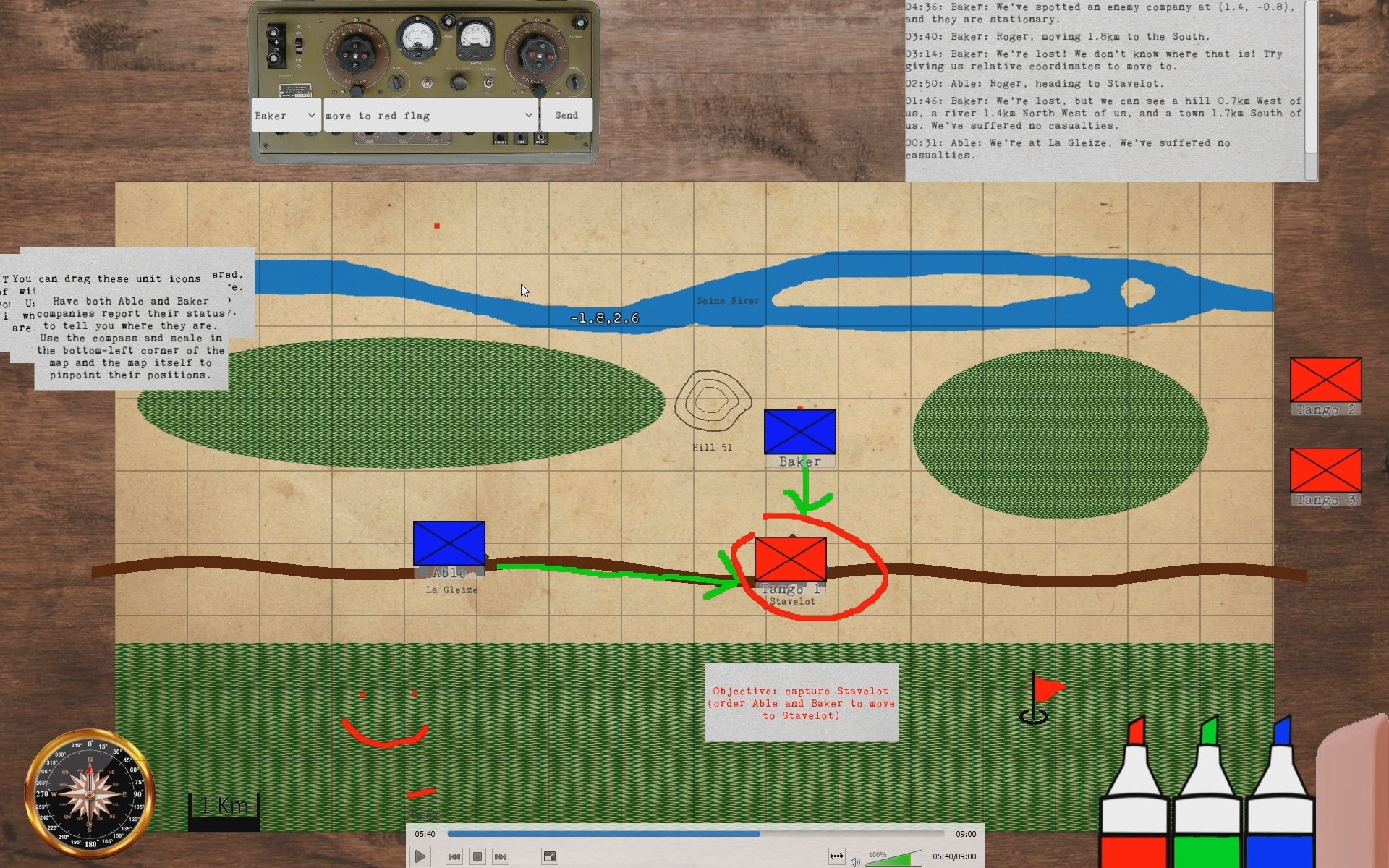 Onto the tutorial mission itself! It starts off with a brief description, and then moves onto a mostly black screen to highlight the radio. As commands are issued, instructional tidbits of paper fly onto the screen, hopefully drawing the eye of the users with its movement. The player has two units to work with. The player must use the radio, and the map to locate these two units. One is in a town, and states that explicitly. The other is lost, and gives a description of its surroundings ('There's a hill 0.7km west of us, a town 1.8km south of us, etc.). The map is pretty simple (pictured above), so it shouldn't be difficult to locate the second unit since there is only one hill on the map. Once the user has located both of their units, they must move them both to the enemy occupied town. The enemy is in a fortified position that without flanking, will take a long time to defeat (flanking negates some defensive bonuses). If both friendly units are fighting the enemy, the enemy is quickly destroyed.

There's a video of me playing the tutorial mission below. Let me know what you think! Most of you reading this devlog have already been exposed to the concept of my game, so you're already ahead of the poor saps who've never heard of it when they try it. If you spot something that wouldn't make sense to a new user, let me know!