Facebook
I recently launched a Facebook page for Turnover. Be sure to head on over and press that 'Like' button! Facebook.com
MAC OS X Port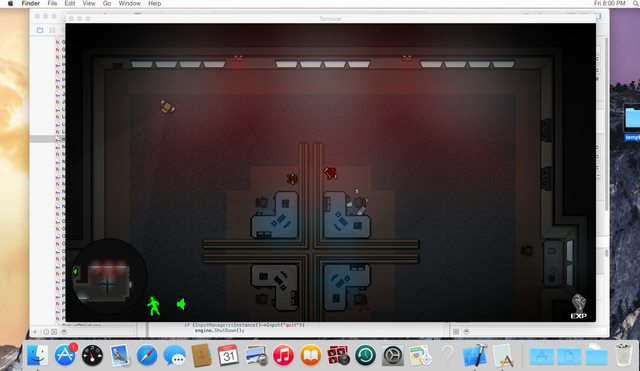 Also recently, I ported Turnover to MAC OS X. I'm targeting a 10.9 minimum spec. Everything runs fine so far. The porting itself wasn't too difficult, it was mostly learning my way around XCode, as well as figuring out the quirks to getting my dependent libraries working.
This was my first time using OS X, and I have to say I really like the app package system. Everything is held together in its own container, which is great.
So now, Turnover will be released for Windows, Linux, and MAC OS X. Having a build for all three was a big goal for me and I'm quite to happy to have pulled it off. Big shout out to Turnover's KickStarter backers, whose pledges helped make the port happen.
Alternative Worker Sprites

I made a few new alternative sprites for the Worker, just to add some variety to the world. The male and female versions of the worker will spawn randomly.
When colliding with the Worker, it will also display the name and title of the Worker, which will be pulled from a list. The KickStarter backers have been throwing some names into the pile and I plan on adding some more more on top of that.
Look-Ahead Pitch Effect
I added a view pitch effect when looking around. The effect is pretty neat looking and it helps break up the stasis of the game view. I had originally played with skewing the regular game view all the time, but i found the effect slightly disorienting when playing.
Level Update
Right now, the current level count is up to 22. I'm aiming for 30. I still have plenty of ideas, so hitting that number shouldn't be too tough. The level count isn't set in stone, so if I still have some more ideas, I'll create some more levels. If I feel like I'm rehashing too much or I run out of ideas, I'll end it where I need to end it.
Next
I've been working on a lot of under the hood stuff. I'm still busting bugs. I finally made a window icon. I'm using a new, cleaner font for the game. Level work pushes on.
Sometime by the end of the year, I'll continue filling KickStarter rewards. I've also begun preparing for Turnover's Steam Greenlight campaign. That should be nice and nerve wracking.