It's been more than two weeks since the last progress report. I've just been keeping my head down and putting in the work, so apologies for the delay in between dev blog posts.
HUD / Menus
I've been putting a little work into the pause screen, which shows the level you are in and any experience and perk information that needs to be relayed.
I usually work iteratively, so it takes a while before things take on life. The pause screen, like most other things in the game, tend to grow organically as development goes on. Generally, I hate setting things in stone too early and I like to allow room for things to evolve. This let's me avoid the "plan -> create -> dislike -> scrap" way of working as much as I can. "Measure twice, cut once," as they say.
Here's an example of the first animation for the pause screen: selecting a perk on level up.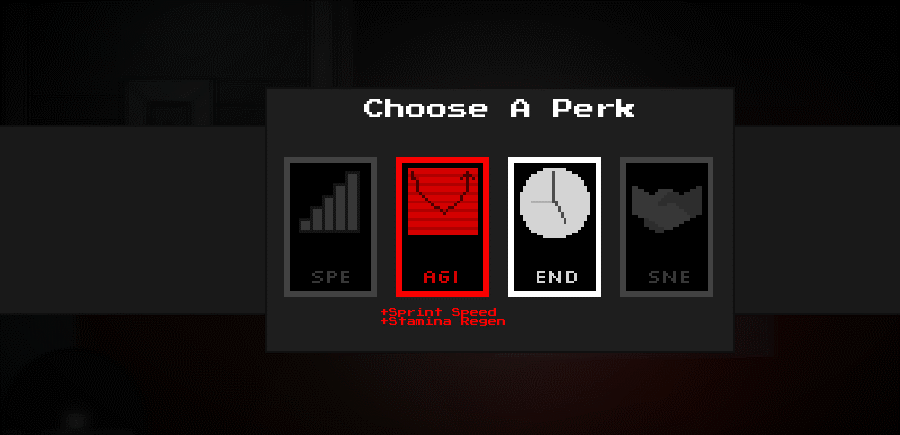 There are currently 4 perks available right now. They need to be balanced, which means more may be added, split, etc. Once all the levels are finish, I'll balance out the perks more thoroughly.
Bystanders
KickStarter backers who pledged for the "Terrified NPC" tier will be able to create designs for Bystander NPCs.
Bystanders are background NPCs that will populate the floors of Bartleby HQ. They will represent terrified hostage workers who are trapped in the building by the private security firm.
Here's a GIF of the very first test Bystanders, all scattering after hearing gunfire in my test level. This should help add some life to the world.
Post-KickStarter
Mostly, I've been handling the allocation of KickStarter funds to handle the budget goals. As with most business related issues, these things take time. Once I have more news on that front, I'll be sure to post about it.
I've fulfilled the backer wallpaper reward, creating an interesting background based on the main character of Turnover, Clea. I'll begin working with backers on the creative tiers sometime around the end of the year. I want to ensure I have the majority of conventions locked down for the creative things before I give backers the creative requirements.
Next
Turnover continues to roll along. My issue tracker is packed and the last 1/3 of the levels are currently being worked on. Still a lot of work to do.