Tsardoms Total War features a title system which is linked to controlling certain territories. Most of the settlements in the game have a certain title ancillary attached to it. There are major ancillaries and minor ancillaries. In order to obtain a minor ancillary a general must spend 1 turn in a settlement which has a level 1 feudal estate built. The next turn he will have an ancillary with the name of the title and its effects. In order to obtain a major ancillary the conditions are more onerous and will include the faction needing to control certain other ancillaries and having higher level feudal estates.
In the next version the territories of the Byzantine Empire will receive a whole host of new ancillaries. These ancillaries cover Greece, Anatolia, the Aegean islands and the Balkans. The most important of these being the Byzantine Themes. Each Theme will offer a unique Doux title with specific bonuses. Some may offer larger bonuses, other smaller bonuses. New events will provide the instructions as to what territories and ancillaries are required in order to obtain the Theme title.
In order to obtain one of these Doux or major ancillaries your faction will need to control several minor ancillaries and the settlement will need level 2 feudal estates.
Now players can roleplay the revival of the old Theme system!
Ancillaries in Greece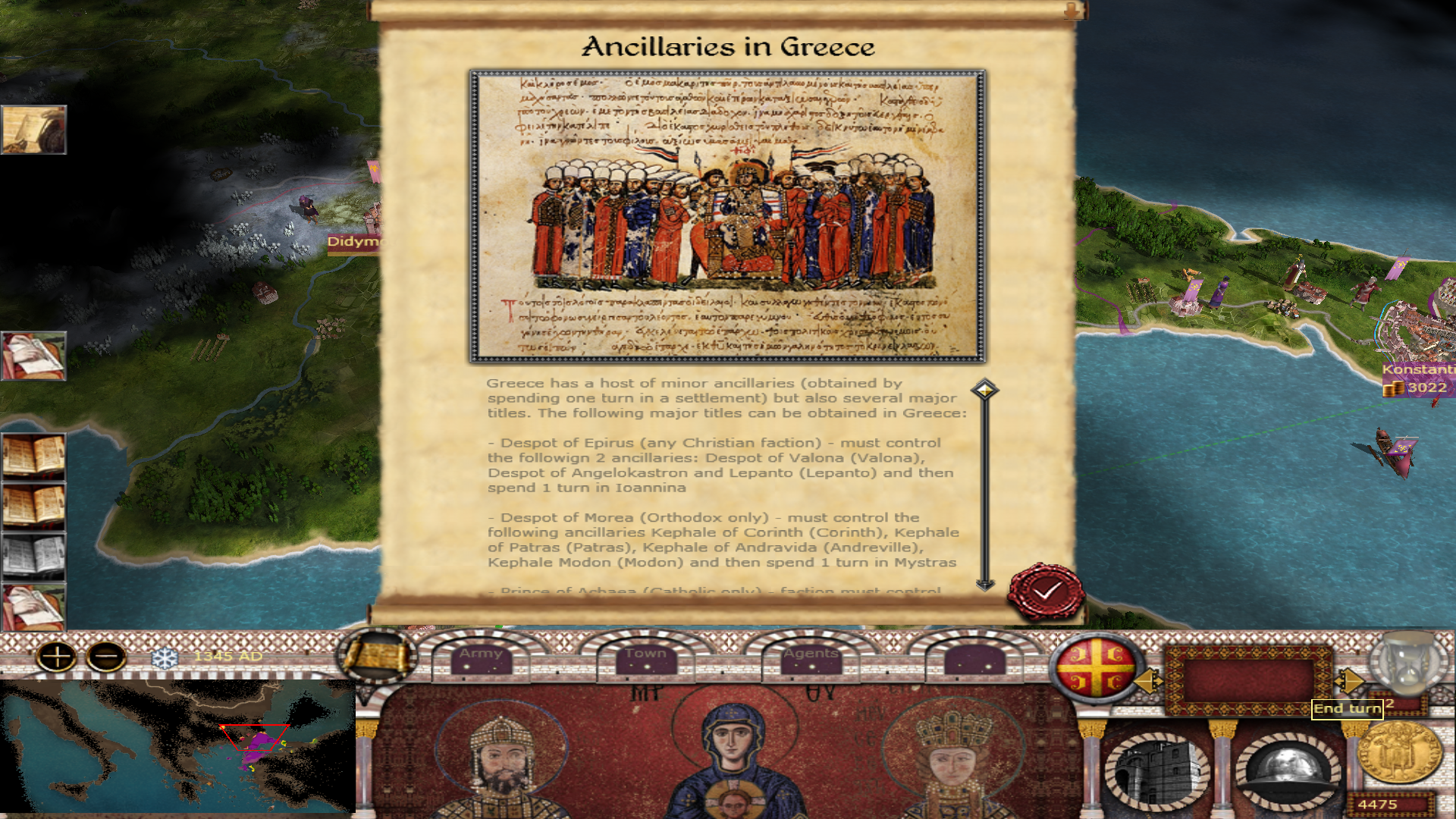 Greece has a host of minor ancillaries (obtained by spending one turn in a settlement) but also several major settlements. The following major ancillaries can be obtained in Greece:

- Despot of Epirus (any Christian faction) - must control the followign 2 ancillaries: Despot of Valona (Valona), Despot of Angelokastron and Lepanto (Lepanto) and then spend 1 turn in Ioannina
- Despot of Morea (Orthodox only) - must control the following ancillaries Kephale of Corinth (Corinth), Kephale of Patras (Patras), Kephale of Andravida (Andreville), Kephale Modon (Modon) and then spend 1 turn in Mystras
- Prince of Achaea (Catholic only) - faction must control ancillaries Baron of Corinth (Corinth), Baron of Patras (Patras), Baron of Kalamanta (Modon), Baron of Geraki (Mystras) and then spend 1 turn in Andreville
Byzantine Themes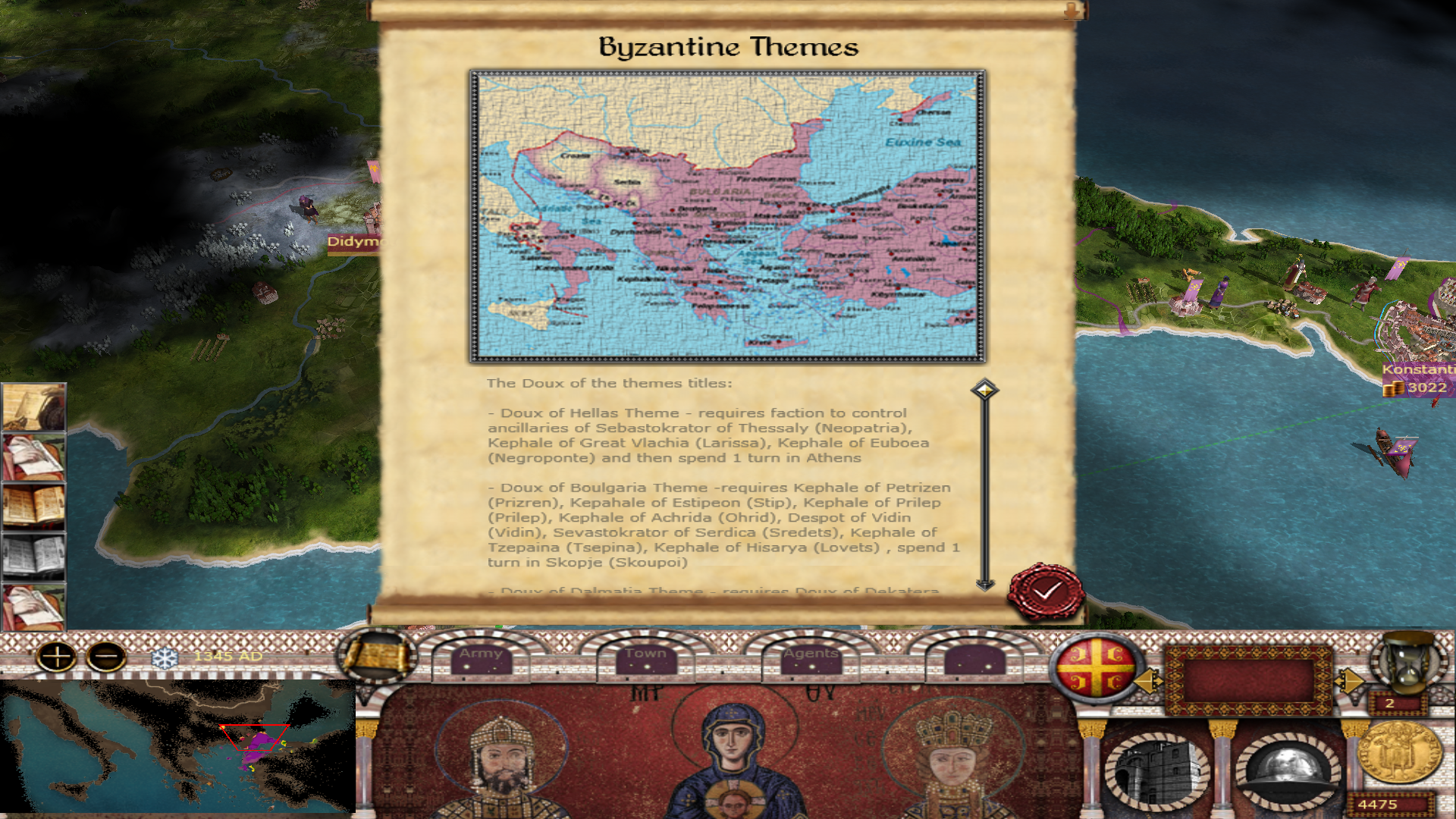 The Doux of the themes titles can only be claimed by Byzantine/Greek factions:
Balkans and Greece

- Doux of Hellas Theme - Requires faction to control ancillaries of Sebastokrator of Thessaly (Neopatria), Kephale of Great Vlachia (Larissa), Kephale of Euboea (Negroponte) and then spend 1 turn in Athens
- Doux of Boulgaria Theme -requires Kephale of Petrizen (Prizren), Kepahale of Estipeon (Stip), Kephale of Prilep (Prilep), Kephale of Achrida (Ohrid), Despot of Vidin (Vidin), Sevastokrator of Serdica (Sredets), Kephale of Tzepaina (Tsepina), Kephale of Hisarya (Lovets) , spend 1 turn in Skopje (Skoupoi)
- Doux of Dalmatia Theme - requires Doux of Dekatera (Kotor), Doux of Ragousa (Ragusa), Kephale of Ston (Ston), Archon of Zara (Zadar), Doux of Spalathos (Split)
- Doux of Paristrion Theme - requires ancillary Kephale of Odessos (Varna) , Kephale of Tarnovo (Tarnovo), Kephale of Simeonis (Shumen), Kephale of Nicopolis (Nikopol), Kephale of Krounoi (Karvuna), spend 1 turn in Drastar (Silistra)
- Doux of Thessaslonika Theme - requires ancillary Kephale of Berroia (Berroia), Despot of Serres (Serrai), Despot of Thessaslonika (Salonica), spend 1 turn in Salonica
- Doux of Makedonia Theme - Requires Kephale of Christoupolis (Christoupolis), Kephale of Didymoteichon (Didymoteichon), Sevastokrator of Philippopolis (Plovid), then spend 1 turn in Adrianople
- Doux of Thrace Theme - requires ancillary Kephale of Kallipolis (Gallipoli), Kephale of Messembria (Nesebar), Kephale of Raidestos (Raidestos), spend 1 turn in Raidestos
- Doux of Dyrrhachium Theme - requires ancillary Kephale of Lissos (Kruje), Kephale of Scutari (Skadar), spend 1 turn in Durazzo
Isles
- Doux of Sikelias Theme (same bonuses as King of Sicily) - control Kephale of Kalavrias (Cosenza), Kephale of Siracusa (Syracuse), Kephale of Messina (Messina) , Kephale of Palermo (Palermo), spend 1 turn in Syracuse
- Doux of Aigaiou Pelagous Theme - requires ancillary Kephale of Pegai (Pegai), Kephale of Chios (Chios), Archon of Lesbos (Mytilene), Kephale of Lemnos (Palaiokastro), spend 1 turn in Mytilene

Anatolia

- Doux of Optimatoi Theme - requires ancillary Kephale of Nicomedia (Iznikmid), Kephale of Skoutarion (Uskudar), spend 1 turn in Iznikmid (Nicomedia)
- Doux of Opsikion Theme - requires ancillary Kephale of Nicea (Izni), Kephale of Prusa (Bursa), Kepahle of Kotyaion (Kutahya), Kephale of Dorylaeum (Eskisehir), Kephale of Palaeokastron (Balik Hisar), spend 1 turn in Iznik (Nicea)
- Doux of Paphlagonia Theme - requires ancillary Kephale of Gangra (Kangri), Kephale of Amastris (Amastri), Kephale of Kastamone (Kastamonu), spend 1 turn in Kangri
- Doux of Boukellarion Theme - requires anciilary Kephale of Boli (Bolu), Kephale of Ancyra (Angora), spend 1 turn in Angora
- Doux of Samos Theme - requires anciilary Kephale of Smyrna (Smyrna), Kephale of Tralles (Guzelhisar), Kephale of Magnesia (Manisa), Doux of Mylasa and Melaundion (Milas) spend 1 turn in Smyrna
- Doux of Thrakesion Theme - requires anciilary Kephale of Pergamon (Bergama), Kephale of Philadelphia, Kephale of Laodikia (Ladik), Kephale of Ousakeion (Usak), spend 1 turn in Philadelphia
- Doux of Cibyrrhaeots Theme - requires ancillary Kephale of Rhodos (Rhodes), Kephale of Kos (Kos), Kephale of Attaleia (Adalia), Kephale of Coracesium (Alaiye), Kephale of Makri (Beskaza), spend 1 turn in Adalia
- Doux of Anatolikon Theme - requires ancillary Kephale of Iconium (Konya), Kephale of Philomelion (Aksehir), Kephale of Polydorion (Burdur), Kephale of Apollonia (Uluborlu), Kephale of Akroinon (Kara Hissar), spend 1 turn in Kara Hissar
- Doux of Seleucia - spend 1 turn in Karaman
For a comprehensive list of ancillaries and other guides please go to our main forum on Total War Centre Twcenter.net