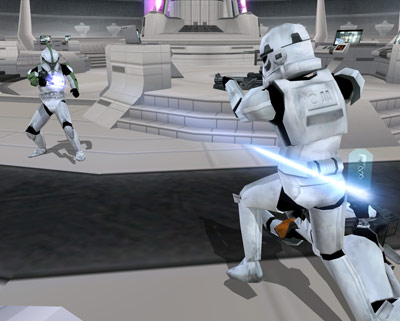 Anti-troopers were clone troopers developed after the Clone Wars ended who were purely based on Jango Fett's genetic template.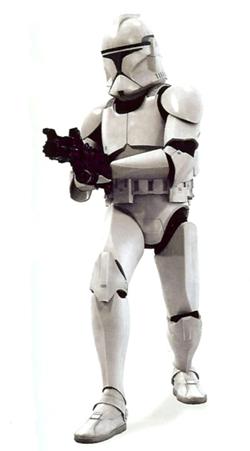 Clone troopers infantry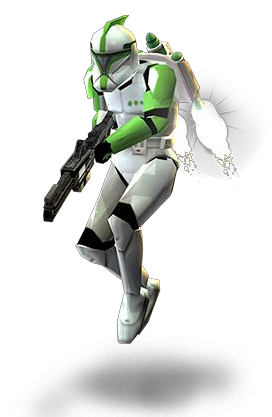 Clone jet troopers, or aerial clone troopers, were clone troopersequipped with and trained in the use of jetpacks.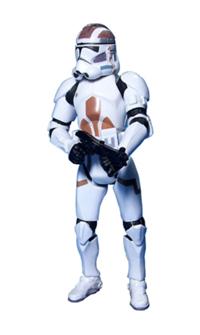 The Combat Engineer Battalion was a battalion of clone troopers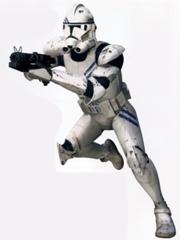 5th Fleet Security was a clone trooper unit that fought in the Clone Wars.


The 38th Armored Division was a unit of clone troopers in theGrand Army of the Republic during the Clone Wars.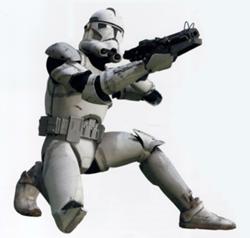 The 41st Elite Corps was a legion of elite clones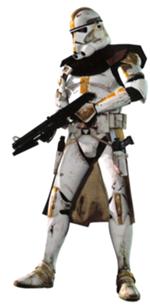 The 327th Star Corps was an elite corps of clone troopers during the Clone Wars. They were one of the most active units in the Grand Army of the Republic, and fell under the 2nd Sector Army and Systems Army Alpha.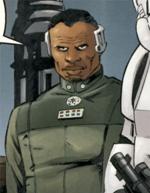 The troopers of the 501stLegion were clones of thebounty hunter Jango Fett, who had been selected byJedi Master-turned-Sith LordDooku to be the template for an elite army. Cloned by expert Kaminoanscientists, the troopers were given top-notch training in many fields, as they were designed to be the ultimate soldiers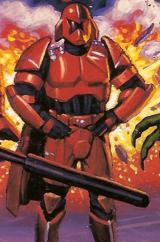 The Coruscant Guard, later commonly known as the Imperial Guard or less commonly the Elite Stormtroopers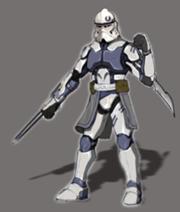 For when it comes to fight High level targets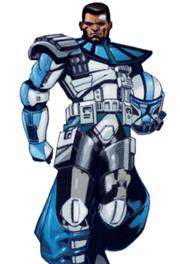 Advanced Recon Commandos—also known as Advanced Recon Clone troopers or simply ARC troopers—were an elite variant of clone trooper in the Grand Army of the Republic during the Clone Wars. Although less numerous than the other clones, they were among the most skilled soldiers in the galaxy.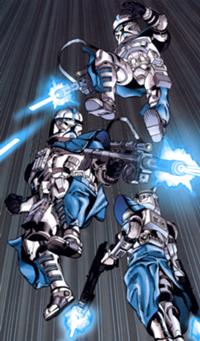 Only ten allowed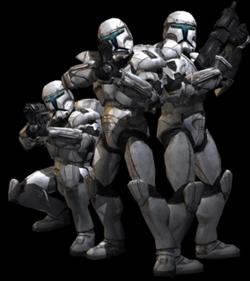 A clone commando, or Republic commando, was an elite soldier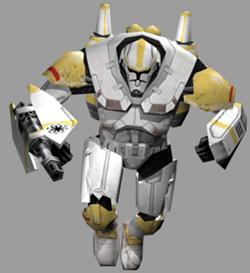 The clone blaze trooper was the Grand Army of the Republic's frontline close combat infantry support unit and a type of jet trooper.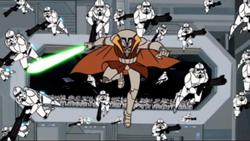 Clone marines were elite clone troopers of the Republic Navy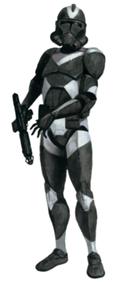 Clone shadow troopers were an elite cadre of clone troopers, devised by Director Armand Isard of Republic Intelligence during theClone Wars. Since the numbers of the Advanced Recon Commandoswere dwindling, Isard created the shadow troopers as a reconnaissance unit, who, with the benefit of greatly modified and expensive armor, could operate covertly and undercover. Usingmagseals installed in their armor, shadow troopers could attach plates to themselves that could pass them off as mercenariesbelonging to certain factions. With that advantage, they could infiltrate facilities and gather intelligence with ease.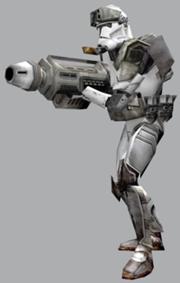 The clone trooper heavy gunners were one of the heavy weapon specialist-type troops.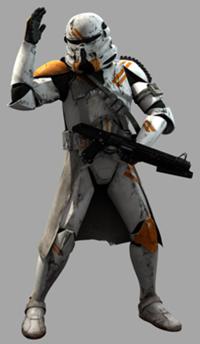 Clone paratroopers, also known as clone airborne troopers, were clone troopers who were specially-trained for high-altitude drops.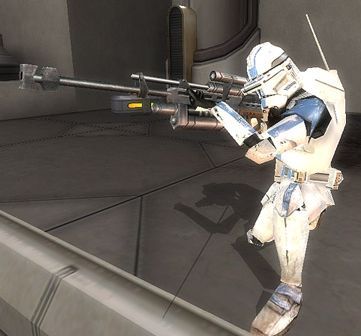 Clone snipers, also known as clone sharpshooters, were a specialized variant of clone troopers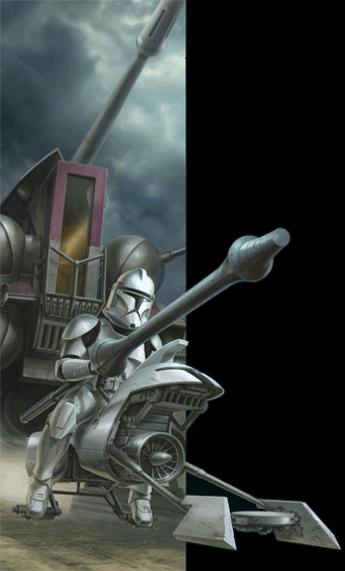 Clone lancer troopers were clone troopers who specialized in speeder bike combat.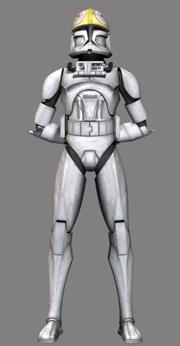 Clone trooper pilots were special clone troopers bred in the Kaminocloning centers for the purpose of piloting craft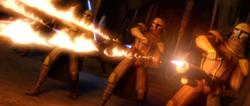 The Flame troopers were a special branch of clone troopers that specialized in the use of BT X-42 heavy Republic flamethrowers as well as other incendiary weapons. Flame troopers wore specialized armor designed to counter heat that they were often in. They were present during the Second Battle of Geonosis. Their successors were the Imperial Incinerator troopers.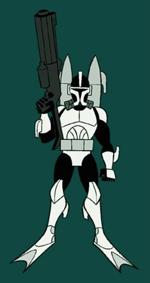 Clone SCUBA troopers, also called clone subtroopers were elite aquatic assault clone troopers grown on Kamino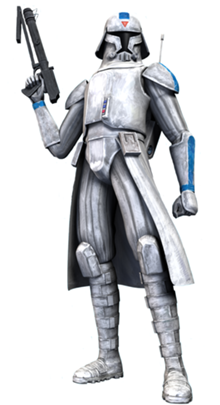 Clone cold assault troopers were a specialized division of clone troopers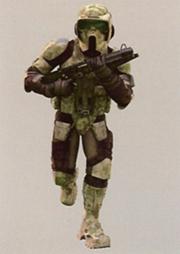 Clone scout troopers served as special scouts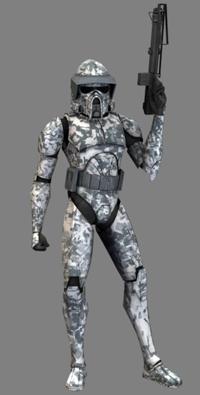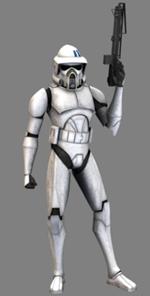 Advanced Recon Force Troopers, or simply ARF Troopers, were specialized clone troopers that carried out short-range reconnaissance for Jedi Generals and clone commanders.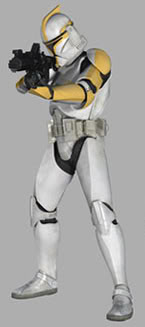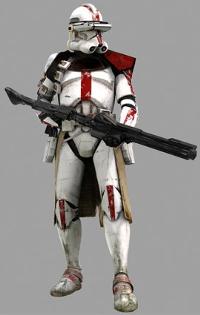 Clone trooper commanders were clone troopers bred on Kamino for leadership roles