I am proud to present another 5 months of effort into improving and expanding TripleA, by releasing to you the newest stable version 1.7.0.3
Besides a load of small bug fixes, I have been working on some major new features:
1. - Dedicated Automated Game Host Server:
No more need to "port forward" to be able to host online games. You can now use any one of our new "dedicated" hosts.
TripleA now includes a fully automated server which can run from a terminal with no ui, or optionally a small ui. People can setup multiple of these, allowing anyone who can not host themselves to join the game room and set which map they want to play, and then play without port forwarding or messing with their firewall.
2. - New Games Included:
TripleA now supports 'Chess', 'Checkers' (English Draughts), 'GO' (also called Igo), and a major overhaul of 'Great War' (a World War 1 game).
Also, some games that normally can be downloaded separately are now included by default with TripleA: the World War II series of games (Classic, Revised, v3 [AA50], v4 [Spring 1942], v5 [1942 SE], v6 [1941], and Pacific/Europe/Global 1940).
3. - New features for the Battle Calculator:
More information is shown such as starting power, TUV swing, total hp, avg units left when winning.
Can now specify to retreat after X rounds, retreat when Y units left, and/or retreat when losing.
Default Casualty selection now takes Territory Effects into account, and you can also specify an Order Of Losses for casualties.
4. - New User Interface features:
New Keyboard Shortcut: press "F" for 'Find Units', which will highlight all units you have with movement left.
When selecting units for moving, their movement left is shown in Blue by your mouse.
New report given at end of turn detailing income collected, any national objectives, and any blockade actions.
Can now change the font size and color of map text such as unit counters.
5. - New Edit Mode Options:
Can now use edit mode to change political relations between players, move units around, add units that nations can't normally produce, add land units to sea zones, remove units belonging to multiple nations.
6. - Sounds now play for Clients in online games
7. - Many new features for future maps:
Image files for game notes can now be included with the map zip, allowing faster loading and offline loading.
New Phase: User Actions, which is similar to politics except that it is specifically to allow a nation to activate triggers of their choosing.
New Phase: Random Start, which allows players to choose territories one by one, similar to Risk, or have them allocated randomly.
Air battles can now occur before normal battles, and can now scramble into an air battle, and retreat from air battles.
Normal battles and air battles can have custom number of rounds set.
Anti-Air type units can now fire offensively, can fire multiple rounds, can damage or kill, and can have custom sounds.
Support Attachments can now affect rolls or strength, and can affect enemy or allied units.
New condition for 'gameProperty' allows custom game options, and new options for condition 'chance' allow incrementing if failed and decrementing if successful.
A ton more new features for map and game makers!
8. - Lots of Bug Fixes:
Some small fixes for movement validation.
Some fixes for rare crashes.
Lot of other small bug fixes, see changelog for details.
9. - Others:
When in History Mode, you can Right Click on any history node and make a savegame at that point in this history.
TripleA now checks if it is out of date, or if your maps are out of date, once per month.
Maximum memory bumped up to 1gb, meaning that you need at least 1.5gb of free unused ram (or you could crash). You can also now set the max memory to be used in the "system.ini" file.
New AI, "Does Nothing AI", for use with multiplayer Free-For-All games.
Other keyboard shortcuts: "N" will cycle through territories highlighting units with movement left. "I" shows a popup containing unit/territory information. WASD/ArrowKeys will move the map around (can also right click and drag your mouse).
10. - Lots more, see a full list of the changes here: Triplea.svn.sourceforge.net
Play Axis and Allies online free with TripleA!
The "Dedicated Servers" will change TripleA online play forever, I hope. Now anyone can host!
Remember to support TripleA if you enjoy playing on it. Out donation page is here:
Sourceforge.net
The first picture is of the new battle calculator: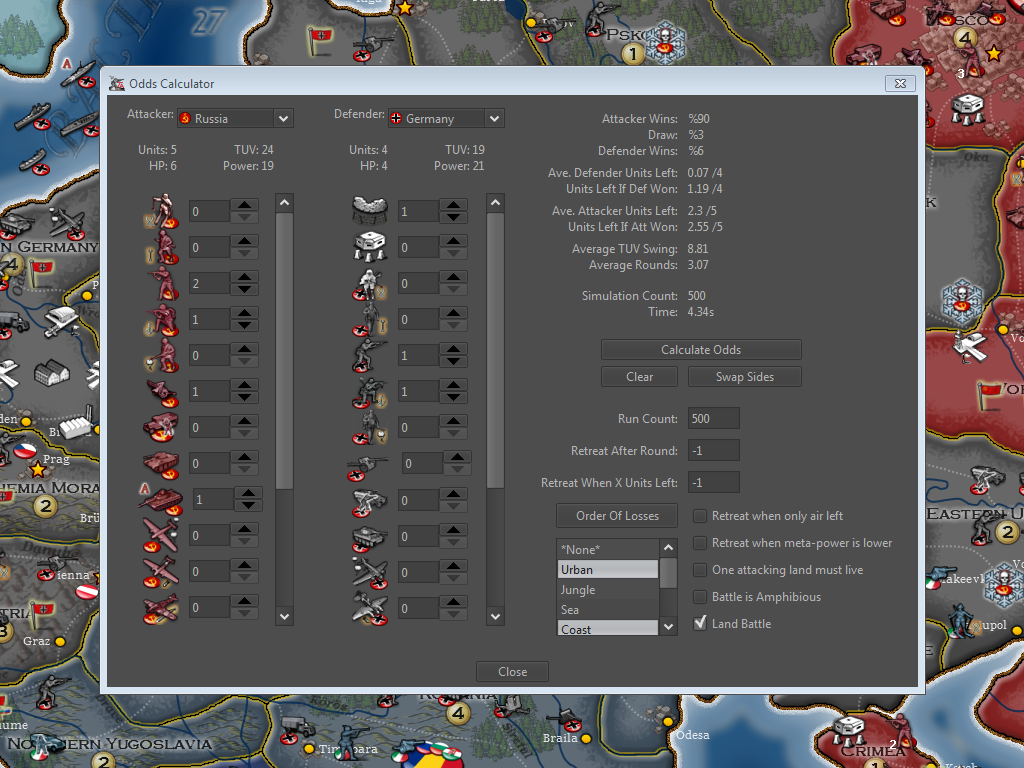 The second picture is of the eastern front of the relatively new map: "Total World War"
This map is probably the most complex map made for triplea yet, and includes features such as a multi-layer, multi-category tech system, major and minor powers, separate production facilities for air/land/navy, and territory combat modifiers.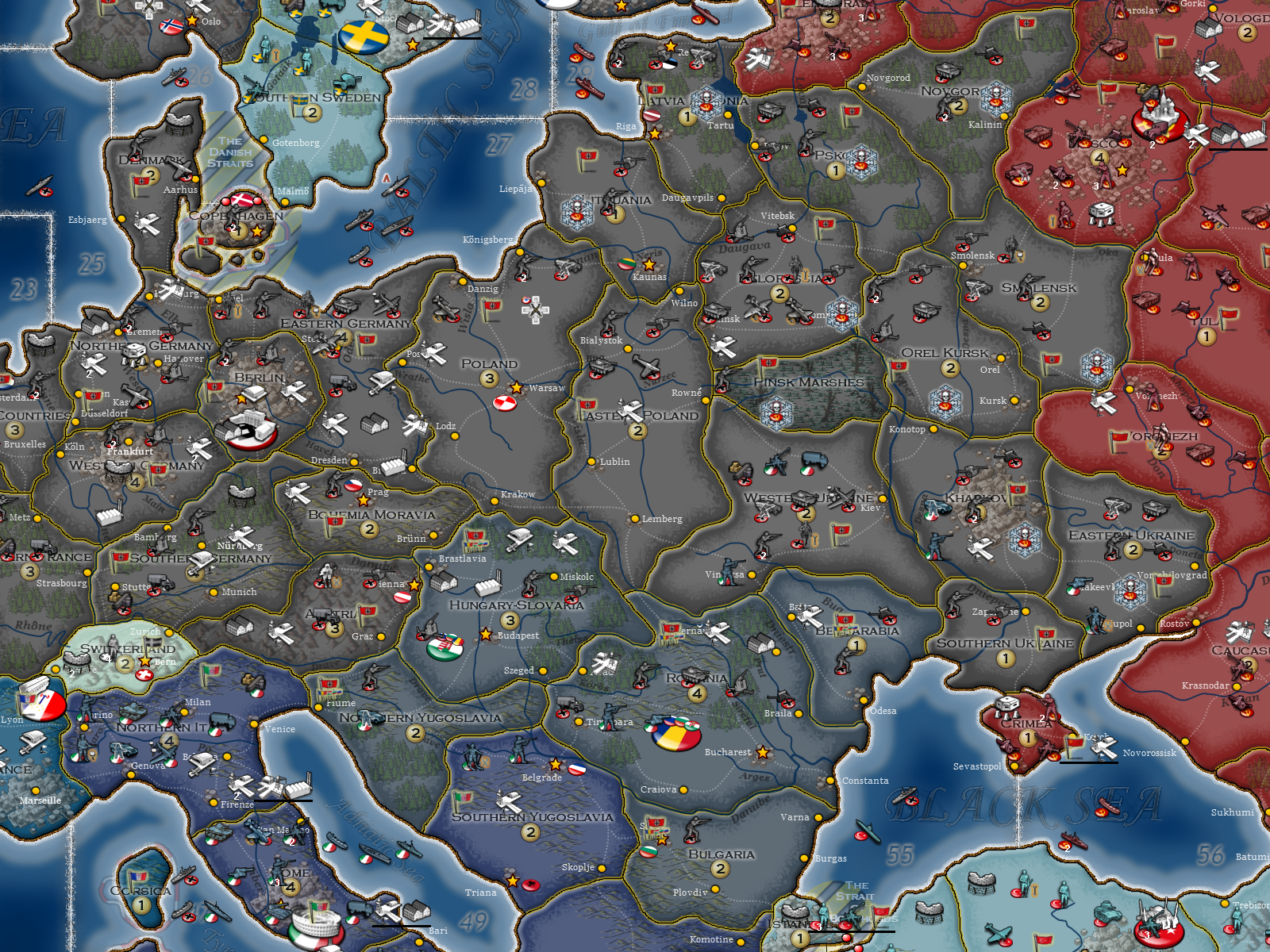 And here is the full map for TWW, zoomed out to 20%: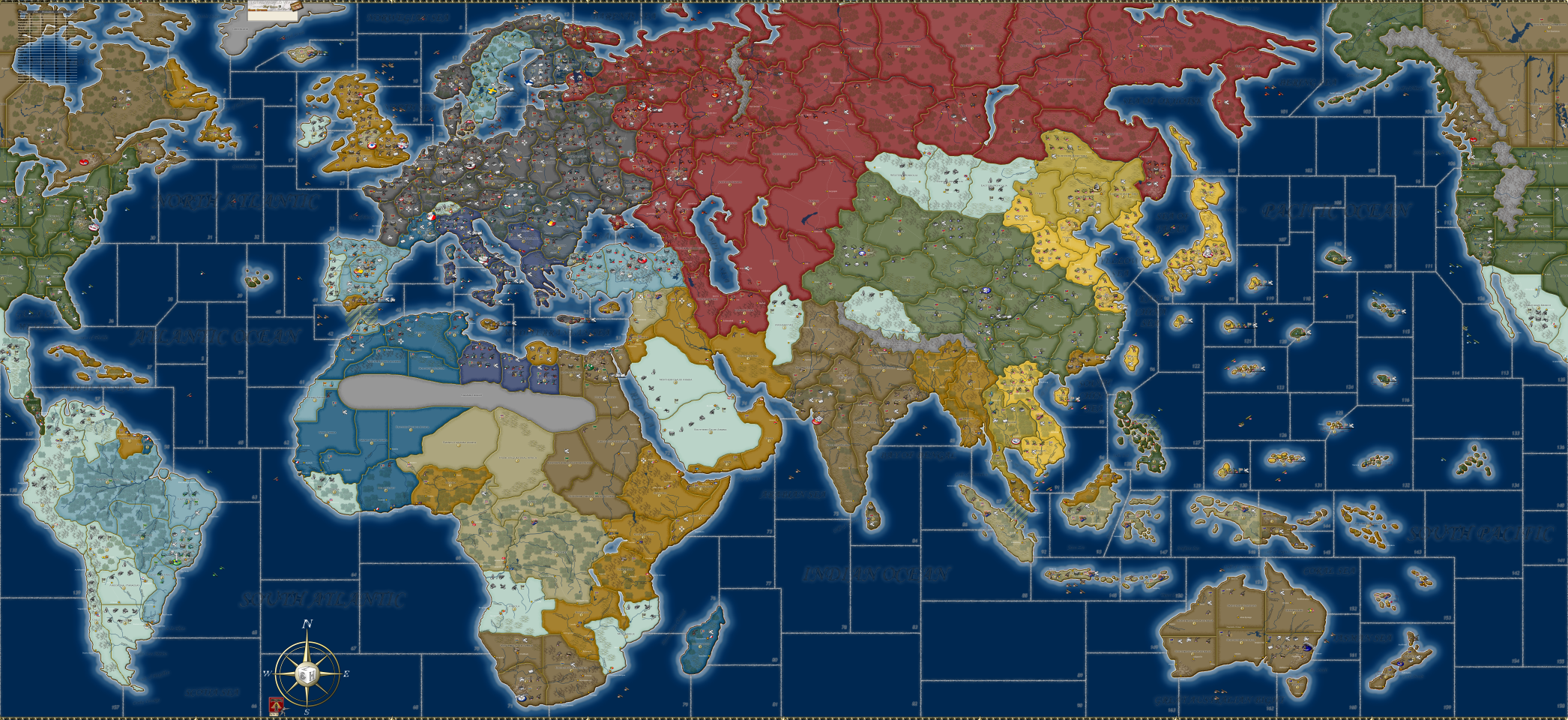 enjoy!