The epic conclusion to the Trapopedia series, while previous "installments" can be found here and here. As promised, gameplay footage at the bottom, don't miss it!
~Trapopedia~
Cost: Medium
Although the rebels might've acquired the cloaking technology, they didn't realise that there might be also the uncloaking kind out there. And obviously there is in the form of an Unstealther, your solution to anyone stupid enough to run around with their invisibility on, thinking they might just walk by completely unnoticed by any traps nearby. Besides that, however, it also emits a low-pitch, loud sound which can either drive anyone crazy or just provide some audio cover for anything near it.
Laser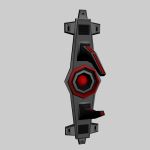 Cost: Low-Medium
Probably one of the devices most overused in fiction, the infamous "laser". The philosophy behind it is quite plain and needs little explanation, however there's a small twist to it - it's probably one of the best support weapons, as the Laser will target anyone within its arc of fire and concentrate its beam on them. This combined with its extraordinary range means that the best placement is behind your own lines, where it won't be targeted. The two major drawbacks, however, are: low damage per second and handicapped health, which means that once fired at, the Laser might not survive long. It's still fun while it lasts.
Paralyser
Cost: Low-Medium
The rebels are running into your flamer, but get away just in time? Somebody is rushing to help their teammate, while avoiding your mines? Time for something fresh! The Paralyser holds in place anyone who walks into its arc of fire and will keep them like that for a few seconds. And even after that they will be severely slowed down for the next few moments. Furthermore, its small size does not give away its own position easily, and thus can be used safely in conjunction with other traps. So, trap them in front of a Laser, or when there's a Pigeon living next door, or when a Devourer is chewing on their friend. Satisfying, isn't it?
Landmine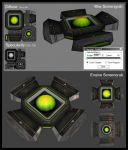 Cost: Low
This little device could easily be an anti-tank mine, but now serves a different purpose – blowing up infantry. Heavily modified, the Landmine lies in wait only to blow up if anybody gets near it, harming them and any teammates nearby. Although smarter foes might be able to avoid it, a good placed Fan might be all that you need to jeopardise any attempts at circumwalking it.
Zapper
Cost: Medium-High
Area of effect weapon, does exactly what it says on the tin. Although Zapper might do low damage per every zap, it inflicts the attacks on everyone in the area and, as a bonus, "punches" their view, thus disorienting for a second or two. Mainly a support weapon, also acts as a handy distracting device and something to have around a corner to surprise anyone who walks into its radius.
~End of part 3~
---
Gameplay footage
---