Now Live! Tournaments and Prizes Twice a Month!
Alien Labs, creators of Minions of Steel (minionsofsteel.com), which was just greenlit by Steam and the community (Steamcommunity.com), has put together a promotional game called "GENEI's Apocalypse".
GENEI is the main character in Minions of Steel. We created GENEI's Apocalypse (Geneisapocalypse.com) as a way to help fund MOS. We thought it would be great to offer some things to the players and supporters of MOS. One thing we are doing is giving away prizes, including ASUS gaming rigs, during tournaments of GENEI's Apocalypse. Another is applying the purchase price of GA towards MOS when it is released. This makes GA, essentially, free.
The idea is, we get some upfront funding to help us get the servers and artwork completed for MOS, and the players get a competitive arcade shooter, GA, while they wait on MOS to release. They then get that money back on the purchase price for MOS!
We wanted to try this rather than an early alpha release of MOS on Steam. We would like for MOS to release in a more stable state. We thought this would be a great way to push MOS over the finish line while delivering something to the gamers, and giving back to the fans by giving away prizes including ASUS gaming rigs!
GA runs in web browser and was made with Unity. Players will get immediate access to the game as soon as they purchase it. GA is in a strong beta state and there is a playable demo of it by clicking on "Try Now" from geneisapocalypse.com. Players can track their progress from the leader boards and communicate in the forums. Tournaments are held twice a month so you always have a chance to win! Premium Tournaments are held after every 500 sales sales of the game and consist of ASUS gaming rigs!
We have a tournament running this weekend as part of testing the game and the geneisapocalypse.com site itself. We are giving away Steam Games! First prize is a Steam game valued at $59.99. Second prize is a Steam game valued at $39.99 and third prize is valued at $19.99.
Rules, game play synopsis and other information are posted in the forum: Geneisapocalypse.com
Competing, killing zombies, supporting MOS and a chance to win prizes is the draw of GENEI's Apocalypse!
Proceeds from GENEI's Apocalypse! go straight to aid the development of MOS. Play beta .8 now by clicking the link at the bottom of the page, or this text!


Vultures make off with the dead and you lose points!: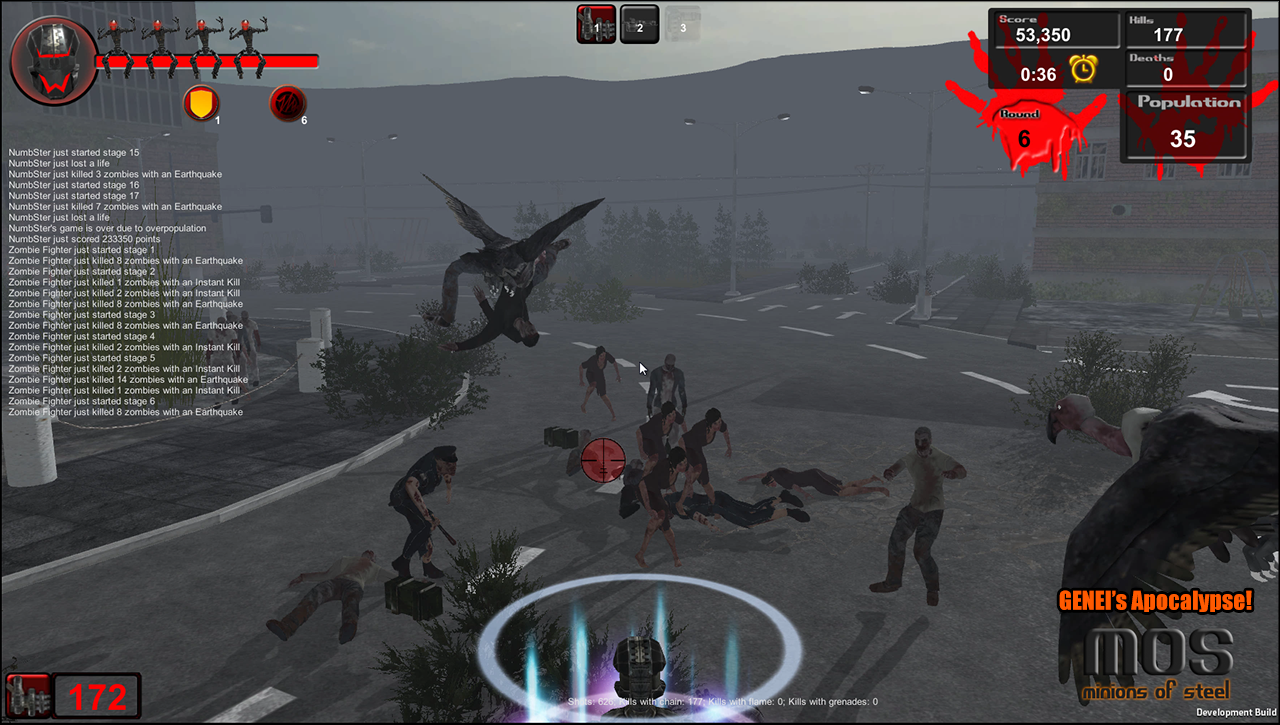 Use the flamethrower for hoard management and DOT: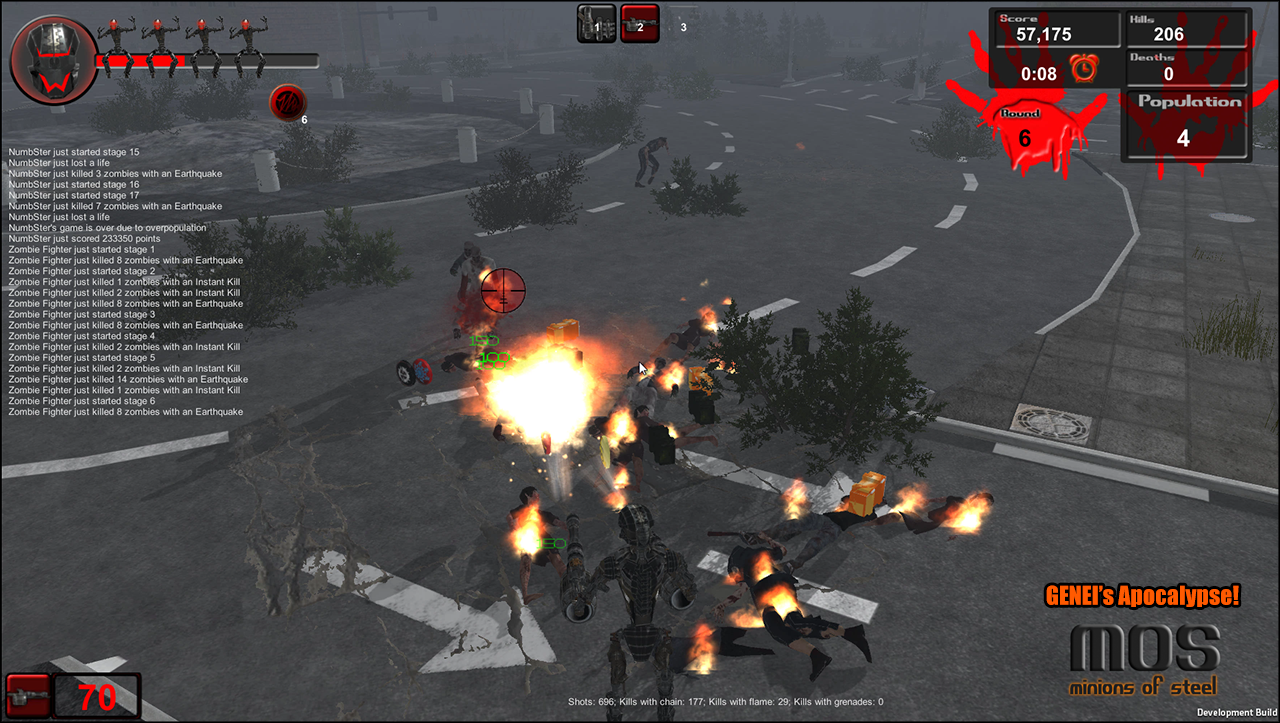 Note!
To zoom the game to fit your browser window, click in the black area around the game window and hold "Ctrl" while pressing "+" or "-". Use "F1" to pause the game once it has downloaded, to perform the screen size operation. GENEI's Apocalypse! runs in your browser!