We are proud to announce our first weekly-ish update is now on Steam, Super Cat Herding: Totally Pew-Pew Edition!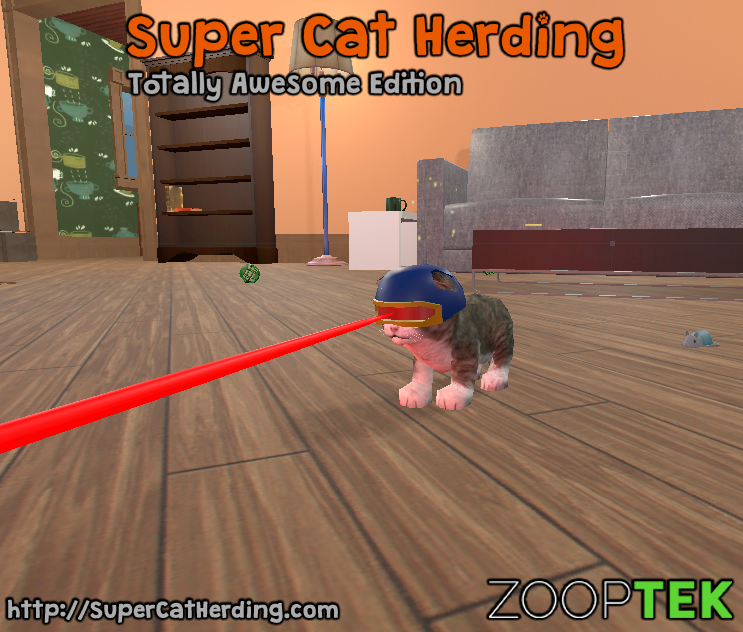 In this week's update, we are introducing a new pew-pew-themed tool! Can you find it? First player to send us a screenshot or video of them using the new tool will get a prize! Please send your submissions to the official ZoopTEK Facebook page.

As promised, we have been listening to your suggestions and working hard to make Super Cat Herding's experience more streamlined:
Greatly reduced time necessary to unlock your first few tools.
Added many cute cat toys near the player spawn on the first level, so you can find their first unlock even quicker.
New, more clear, objectives user interface. Pay attention to the objectives panel on the right side to find your next task!
Added arrow under cats to guide you toward objectives. Some players did not find all the crazy tools!
Abilities that attach tools to the kittens can now be directed without changing back to the laser pointer. For instance, you may now aim the kittens with the propeller cap by simply clicking in the environment after spawning the propeller cap on them.
Enhanced cat accuracy when jumping.
Decreased cat's initial impulse when jumping with maximum speed buffs, making them a little more sane!
Buffs do not reduce power as they near completion, effectively increasing all buffs' potency.
Increased time for performing quests.
Added a fan's song to the track list. Thanks Andrew Gee!
Rendering optimizations, for better frame rate on desktop and VR. These are sizable gains, though likely only noticeable for those with below minimum specifications.
Incomplete accomplishments on props will not "count against you" if the prop is destroyed; very noticeable once you start using fire-based abilities.
Reduced likelihood of a player from escaping the level.
Bug and prop fixes.

Show us the fun you're having, via the ZoopTEK Facebook, Twitter, or subreddit. Keep sending us those suggestions! Thanks!