The 2021 Mod of the Year Awards has concluded the first round of voting, and after 10 days and over 50,000 votes being tallied and 5,000 mods in the running, the final Top 100 nominees have been revealed!
Phase 2 has begun, in which voting is now open for the Top 100 mods to determine
2021's ultimate winner. You have until December 21 to cast your votes!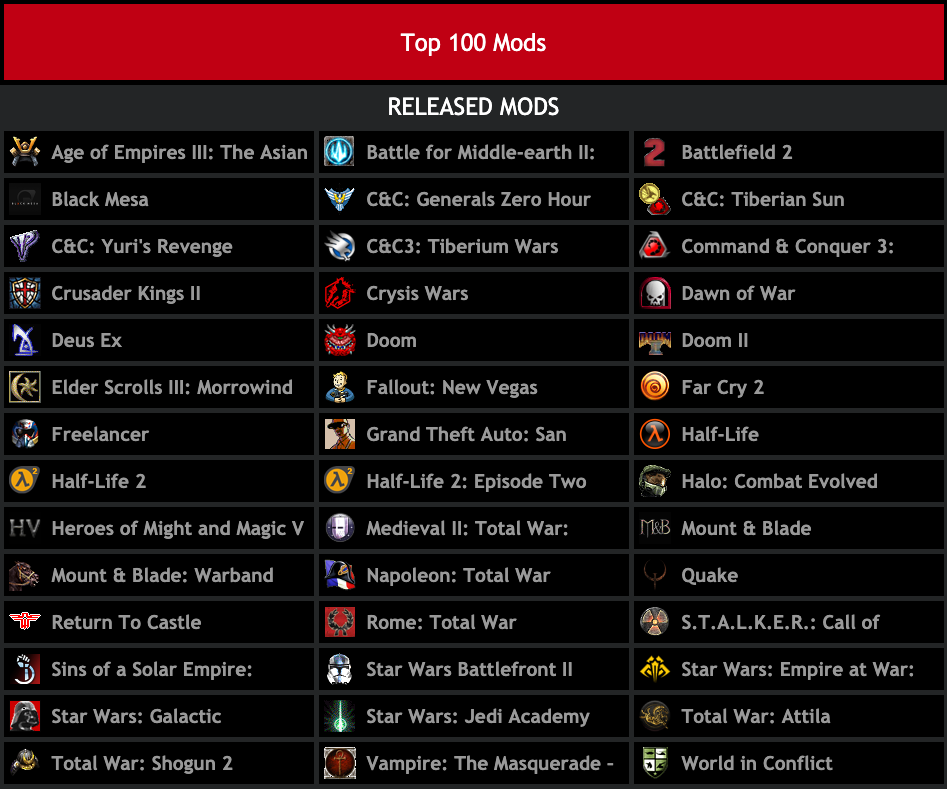 2021 continues to deliver with awesome mod releases featuring in the Top 100, like Unification Mod - Dawn of War: SoulStorm, S.T.A.L.K.E.R. Anomaly, and Black Mesa: Blue Shift. Whilst the charts contain the good ol' moddable games of yesteryear for the most part - Half-Life, Dawn of War, and Star Wars: Empire at War: Forces of Corruption, for example - it's also great to see Mount & Blade II: Bannerlord picking up the baton of moddability with a fair bit of representation in this year's Top 100. With new modding tools for Halo MCC, CD Projekt Red giving modders some much deserved recognition, and Mass Effect: Legendary Edition having enhanced modding support over the original games, it seems like modding is, once again, in the spotlight for major studios.
You can vote for more than one mod, so be sure to
cast a vote for all the mods you think are worthy of a win!

Congratulations to all the modders whose projects made it into the 2021 Mod of the Year Top 100 . Now is the time to rally your community to support to secure votes and spread the word about your mod far and wide. Be sure to continue updating your community about future releases, developments, screenshots, and videos of in-progress work. Congratulations also to those mods who didn't make the Top 100, but came incredibly close and put a huge amount of work into their fantastic mods throughout 2021.