TNG ERA CONTENT UPDATE
G'day Moddb community!
At the time of writing it has been exactly 140 days since we last submitted a news post for authorisation on Moddb, that's 20 weeks right there, 5 long months of mostly silence. Sure we've put up the odd picture, and the feature on the Prometheus, but there's been nothing to indicate when another update might be out! And while we're still a long way from release Gamma and TMP we thought that there was no reason not to push the improvements we've made to the TNG era out into the community!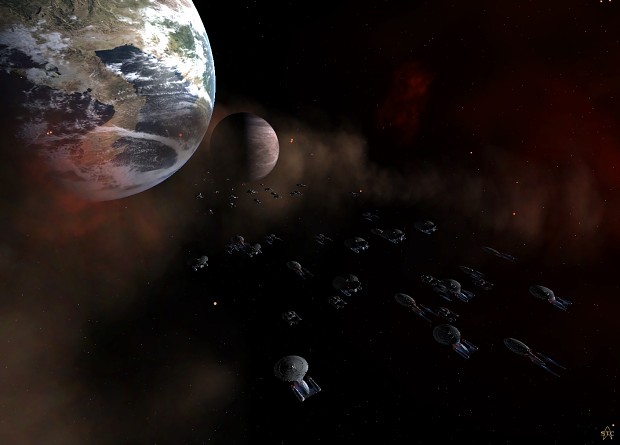 Many of you have seen the image above, a teaser for the unannounced update you see before you. What you might not have seen is that it hints to things which have been done with the mod!
Completely Rebalanced
We have completely overhauled our balancing method to account for the ERA system that we have implemented, weapons are standardised across types too, but smaller ships can only carry the smaller variants of the weapon. With this system ships like the Defiant and its parallels, the K'vort and the Shrike, are not just canon fodder anymore! They pack a punch and they need to! Heavy ships take the heat now too and can pull you through when you need it most.
Part of the rebalancing has been to add in a "warp timer", this is a compromise between having warp drives abused by players and having them too restricted. The distances in the game maps, mere tens of thousands of kilometres, would never be traversed with warp drive in the "real" Star Trek universe, the warp timer acts as a cooldown to prevent damage to the warp drive essentially as such tiny jumps put considerable strain on the engines.
We have the warp timer set to 1 minute currently.
We have also added a "safe" deathmatch mode where various scripts can be disabled to allow for a better multiplayer experience if you are suffering from a lot of desynchronisations.
Shader 2.0 has been optimised
Previously people with Intel HD 3000 or 4000 video cards were unable to render the ships properly in Shader 2.0, this is a thing of the past now with our variant of Shader 2.0 fully optimised for Intel cards as well as gaining a modest performance boost on cards that it already worked well on. We have also brought back the default transparency effects of Homeworld 2 to add a pleasing effect to your cloaked warships.
Please note that Intel cards will need to have their lighting level of detail set to medium in the game settings! Some ships will appear entirely black if the highest level of detail is used.
New Ships
There are a few new ships appearing, the newest addition being a (mostly finished) Romulan Fighter from the old game "Star Trek: Invasion", the Romulan TNG bomber is also set to be replaced before release Gamma hits the net.
There is also of course the Prometheus (with MVAM), the Klingon E7 and the Saucer and Stardrive of the Galaxy class (allowing Saucer Separation).
Updated UI
The UI has been updated to be colour coded depending on the race you are playing as. Blue for the United Federation of Planets, Red for the Klingon Defence Force and Green for the Romulan Star Empire.
Dominion Alliance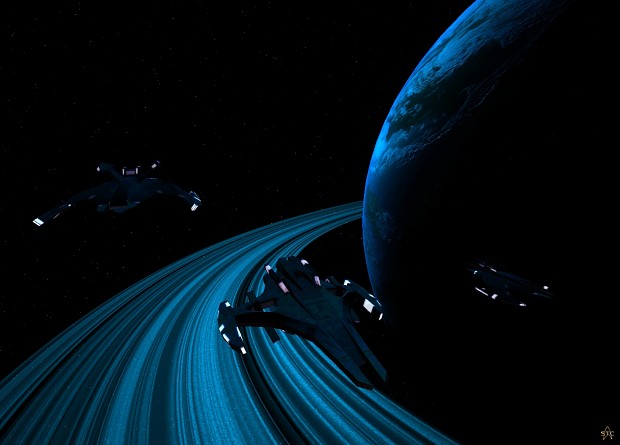 One of the most oft-repeated questions we've had about the future of the mod was if we could have XYZ race in the mod in addition to the three in there now. The answer was no (the answer is still no by the way), because no other race in the Star Trek universe was prominent in all four eras!
But! But... we have come up with an idea where the player is now able to make an alliance with the Dominion and receive aid from them in the form of ships, in return for ever-escalating payments of dilithium. Think twice before you make this alliance, the Dominion will only even out the odds between you and your enemy, they won't deliver an overwhelming force to you, and you have to pay for every ship you lose... the price of mismanagement... and should you be unable to pay the Dominion will turn on you...
Only one player can have the alliance with the Dominion during a game and there needs to be one free player slot for it to work (eg: 1v1 game with the alliance needs a 3 player map) . The price for dealing with these devils can be high, but if you don't get burned victory is life!
Totally, Completely Random Maps

Each release sees us doing away with something that everyone thought was impossible to do with Homeworld 2. This time the impossible thing is fully multiplayer compatible random maps.
We have redone all of our old Deathmatch maps as well as add in 6 new ones which are randomly generated each time you enter the map, they are marked in yellow on the game setup screen. Full kudos goes to Stargazer for programming this variant of the random map generator from the ground up!
There's much more in there of course, and I'm getting tired of typing! What are you still reading this for?! Download the patch already! This patch can be installed on both the original release BETA and the hotfix-ed version of release BETA. So no need to worry about which version you need before patching!

Continuum Corp.

UPDATE - 08/06/2013
A hotfix has been prepared for the TNG content update to help with issues reported since its release, this hotfix will only work on versions of Continuum that have been patched to the TNG content update!
If you are wanting to install Continuum from scratch then here is a helpful guide (all of them are links) for which order and what item you will need to do the install:

Rest assured that our next release will be a stand alone release again, we are aiming to have release Gamma out before 2014!!