Yes, I've been working more on the title screen image. This is just a piece of it - original will be 800x600 and title will be placed and sized differently. I wanted reach effect similar to the classics like Commander Keen, Crystal Caves etc.
There will be creepy hallway lighten up by candles and spider crawling down the walls so the final idea is quite epic. Also, I was talking with my composer few days ago and main theme music will start growing soon. Some cool ideas are in the bucket already. I'm so excited about this!
Planning
In last week (almost two) I had hands full of planning. I had to stop a bit with everything and look at the whole picture. I found out I need to shape everything up a bit more - I want all possible details down like why is that corridor there, how the hell did they bring those heavy stones in that room? I want to place everything around with purpouse. So, let me give you one quick example:
Statuette of the goddess – cleanser of souls
In one of the maps (it has to do something with sacrifices) you'll find quite a big lady statuette standing on the skulls. Through the books / parchments you'll learn it's purpose. It's the cleanser of souls where people were cleansed before being sacrified for X reason. (yes, X reason will be revealed in the game). You'll have to activate water flows around the map to activate the silhuette. After that, water will start flowing out of the statuette into the floor and heavy stones will move infront of you and passage will be revealed. This is just a qucik skecth for you to get an idea.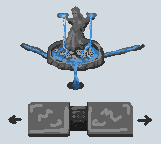 Details like that are very important for immersion. I would like to let player know about the place with every room and stone placed.
Teaser: somewhere along the journey, River of Life will cross your way ( Dr. Phibes anyone? ).
Map Editor Tools
I'm still working on few map editor editions - lights in particular. I had all types of lights hardcoded for I thought "It will be ok, I don't need that many different light types". How wrong I was
So, I've decided to put some extra time into that.
Purpose:
1. Shape light types directly in the editor
2. See lighting in action from the map editor
Once I finish that, I'll make a video of map editor in action to make a comparision between old and new system. For evidence (and because it's cool obviously) that I wasn't changing something that wasn't necessary at all.
____________________________________________________________
Courier goes on the Bundle In A Box quest