Hello! Today, we will talk about signs and feedbacks in T.I.M.E.S.. Indeed, our user interface and our stress factors are two important parts of our student prototype.

Stress Factors
During the pre-production, we focused a lot on the stress of our Japanese soldiers. Our stressline system was an interesting gameplay feature and also a useful development tool for our designers.
But we realized, secondly, something very essential: we didn't know how to communicate this game mechanic to the player. Little by little, signs and feedbacks became a significant part of our production effort. And after all, we decided to display all our stress factors directly on the UI. Here is what happens when the player activates some stress factors on a group of enemies.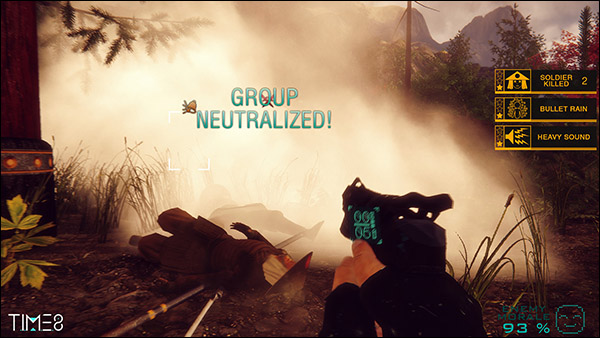 Yellow stress factors are a little bit stressful, orange ones are frightening and red ones are terrifying. It means that you should focus on red stress factors to quickly increase the fear of an enemy group.
Combos are highly rewarding and are the best way to win! You just have to activate as many stress factors as possible in a single action to neutralize the enemy group. Besides, it will save you a lot of ammunition for the next fights.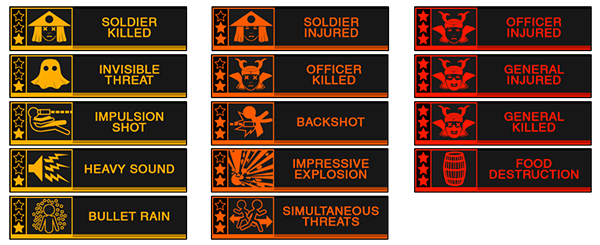 Enemy States
An enemy state icon above an hostile indicates what is his current reaction:
Attack: the enemy group is not scared and performs an effective and coherent attack (a surrounding for example)
Defense: the hostiles are looking for covers and safe locations because they feel that they are loosing the fight. Remaining soldiers can try to warn an officer on the battlefield to make the rest of the army organize a massive counterattack against you!
Neutralization: the fight is over, remaining soldiers are so scared, they won't attack you anymore
Some enemies will have specific reactions, not necessarily hostile ones:
they could be looking for the origin of an unusual sound, something they heard in their close environment (it could be you!)
a soldier could inspect a location because he is suspicious
if you are not aggressive, a group could try to scare you away instead of attacking you
this one could be a subterfuge, if you turn back they could call the rest of the army
All of this is fully systemic!
We hope you enjoyed this news about important signs and feedbacks in our prototype. Do not forget: T.I.M.E.S. will be released on Wednesday the 1st of October, 2014. Stay tuned, and see you soon!
- T.I.M.E.S. Dev-team