Lots changes over three years
If you didn't know already (I posted an article here about it) Samphi has now been in development for three years. Lots changes over a period of time that long, especially when you're young like myself! I started developing Samphi straight out of high school and wanted to create the next big thing! For the first 2 and a half years of development I was making a game that I felt other people wanted to play mainly. Yes I like those types of games and I put in the things I liked but my goal was to have as large an audience as possible and sell TRILLIONS of copies.

Once I released 0.5 I stopped updating the game. There is a solid reason for this: at first it was because I was making big changes to the core of the game but also because my perception was changing. The reason for me making a game was shifting. Instead of wanting to create a game to have millions of plays I wanted to make a game to tell my story. I have always wanted to do this but before felt no-body would care; now I realise … that doesn't really matter. It was 'Indie Game: The Movie' I think that opened my eyes. Once I'd watched that and seen the passion those guys were putting into the games and the meaning (particularly Edmund Mcmillen, I fucking love that dude he rocks) it became very apparent that my intentions were misplaced.

It's not about getting 1,00,000 views on videos, 1000s of downloads, it's about producing a game that not only am I proud of but one that tells my story. If this means I get 5 downloads instead of 1000s so be it, I'll be much prouder of those 5 on something I've put my heart into.

How does this effect Samphi?
In terms of the game play that is already in the released version that will largely stay the same, just how it is implemented will change. There is much more substance to the game and the message behind game play. Until now I've revealed nothing about the story behind Samphi but here it is. Samphi is a story about relationships and how you take them for granted until they are no more. I did this and had a pretty tough time dealing with it (in many ways I still am) hence the dramatic change in Samphi. I want to tell my story and make people think. Once someone has finished playing Samphi I want them to reflect on the meaning behind the game and go hug their loved one as they won't always be able to.
Can I just say, at the time I started that first paragraph I had to no idea how I was going to tell the story. It was still all in the air. After getting half way through I just had a major epiphany and have pretty much just wrote the game in the last 5 minutes. I grabbed a scrap of cardboard and started drawing – here's those scribbling. They look like random mess but that's a game plan. Please excuse the penis on the left.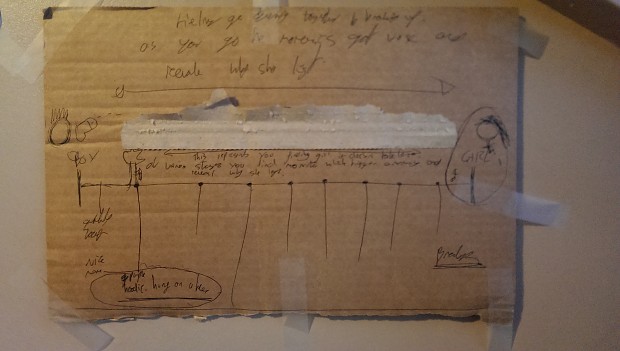 So what's next?
Work! Lots and lots of work. Now that I know where I'm going it's just a matter of implementation. I've got my testing team back on standby for a release soon so we can start catching bugs while I work on constructing the game. I have some good stuff planned away from the story also which I will outline in a later article. This includes things like custom texture packs, sharing maps and other good stuff.

If you took the time to ready through this entire article thank you, and I hope you like the new direction of the game, a much more meaningful experience. I will be able to show it off better soon when I release some videos, then you'll get a real idea of how it will play.

As always you can show support for the project by following me on twitter @greeny_games, @samphigame, and watching the game here. It's awesome to see people are interested in what I'm doing so every follow is greatly appreciated!

Next article I'll go over some gameplay, so until then ciao.