Hi everyone! This week we'll be talking a bit more about game and level design and how we defined the mechanics for our cards. Want to know more about our card categories and what you will be able to play? Come along!
***
Let us start with a quick recap: Creatures of Yuhu is a trading card game in which both players battle each other by summoning different magical creatures. In our game you will have access to two types of cards, all of which have a cost: creatures and tricks. On the one hand, creatures have a health and hit point (or damage) value, they are played on the game board, attack on each round and die once their health reaches 0. On the other hand, tricks have an immediate effect when played.
This being said, our game has 4 card categories, all of which include different creatures and tricks. Our categories are Science, Ghost, Guardian and Cosmic. Each category has different mechanics available, as each of them represents different strategies. Lets take a look at our game system: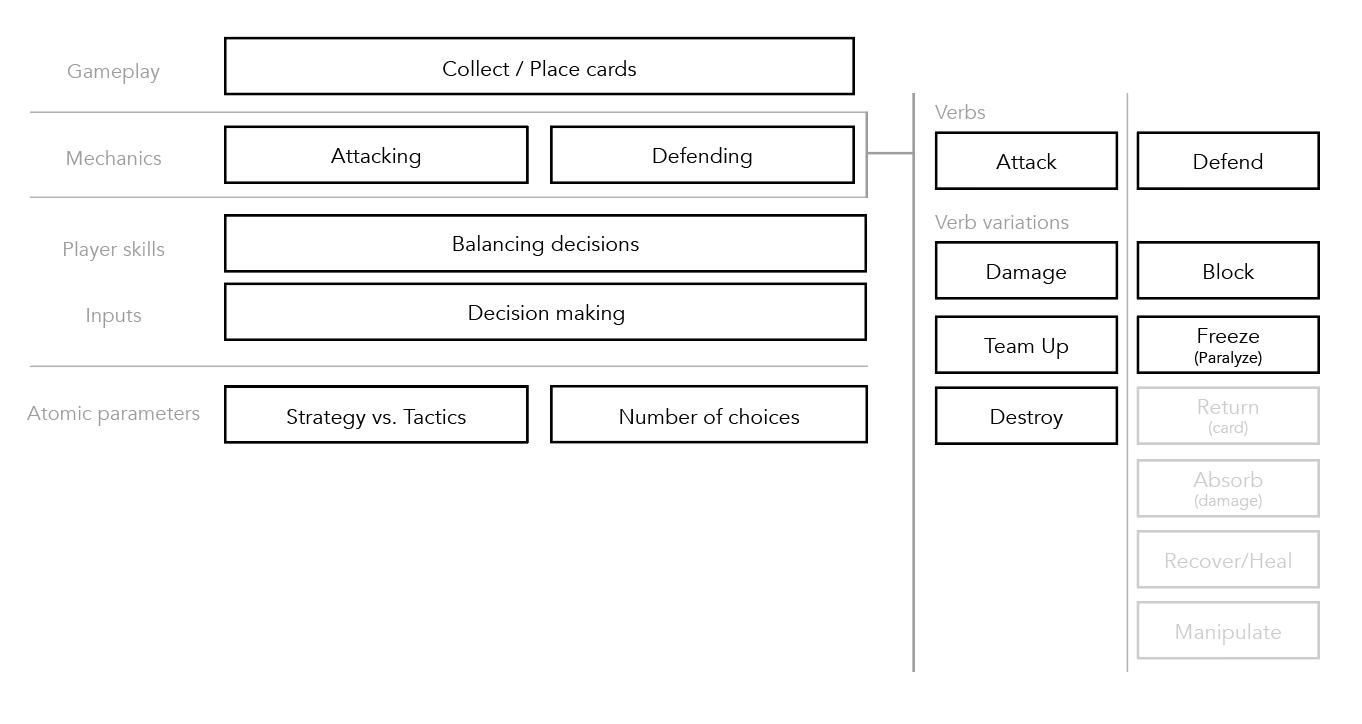 Creatures of Yuhu - game system
As you can see, our main mechanics - attacking and defending - derive into several verbs, or secondary mechanics. Damage and block are the basic ones, common to all categories: damage happens every time a card attacks; block is the basic defensive approach of placing a creature in front of another to take the inflicted damage. The rest of the verbs were selected by us in order to define different strategies. The ones you see highlighted were the ones implemented in the Science and Ghost categories.
The Ghost category is designed to be our most offensive category. It attacks fast and gives you quick rewards for that, as you can swiftly overwhelm your opponent by multiplying small damage creatures in a short period of time. Besides damage and block, Ghost has available the team up verb which allows you to pair two cards in the same board lane.
Science, on the other hand, is a category dedicated to controlling the gameplay. Its cards evolve slower than the Ghost ones, they complement each other and their synergy comes from a common benefit with the freeze mechanic. With this category you may wear off your opponent, taking them to the late game stages when you will pull out your big guns and deliver the final blow. Besides damage and block, Science features the freeze mechanic, making it impossible for an enemy creature to attack in a round. Destroy has also been implemented in one card of this category in order to balance the power of the Ghost deck.
We ranked our cards with a value according to their stats and abilities. This card value is directly proportionate to the cost of a card, which we adjusted according to the results of game tests as it is explained below.

Card balance chart preview: Veggie Mutation
We developed game tests to balance our cards. We have concluded that the Ghost deck was overpowered compared to the Science one, which had little chance to win as the early game was dominated by a strong offensive from Ghost. With this in mind, we adjusted the abilities and cost of some Science cards and decreased the damage of two Ghost cards. Below, you may find all the cards which we decided to implement. We will keep developing game tests in order to better refine this set of cards.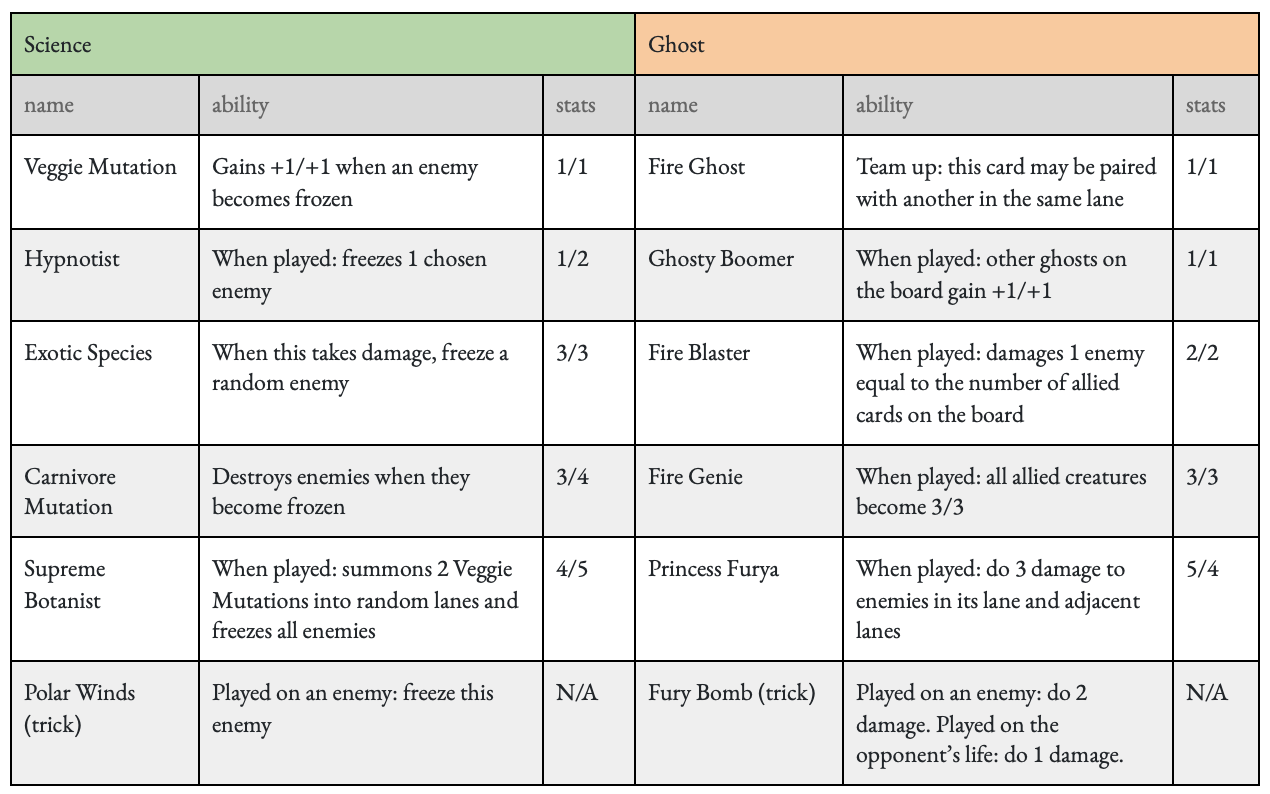 List of implemented cards
Our goal is to have players chose a category to fight and be able to build their deck freely. However, this will only be possible once more cards come up, which will happen in the future. At this stage, players will have pre-built decks of each category with 3 repetitions of each card, making a total of 18 cards per deck.
This is all for today! We hope you enjoyed our tiny explanation of our card balance process. We will come back soon with more game design posts to explain more of our level design.
See you soon!