To stay in the loop of the upcoming Tiberian Sun 22nd Anniversary Event running 18th of August to 29th of August please Join the Tiberian Sun 22nd Anniversary Discord Server also to keep up with TS Rising news as it happens to please join the official Tiberian Sun Rising Discord server.
It's MOTY, Spread the Love! Vote your favourite Mods!
It's Mod of the Year time of year, vote for your favourite mods you know the drill. Their tons of amazing mods both unreleased and released on ModDB each compete in their own category. May the best mods win! Go vote your favourite mods for phase 1! If that's us, we appreciate your support. Now for the updates!
For those who missed our TSR Gameplay Showcase on 23rd August for the 22nd Anniversary of Tiberian Sun, you can watch the whole thing on our playlist TibSun 22nd Anniversary TSR Event Playlist on our TS RIsing YouTube Channel:Or you can pick the videos that interest you from the event below individually if you scroll down this post enjoy!
"The first missle landed here, it started some sort of chain reaction reformating the earth at the atomic level into pure toxic tiberium. Nobody has seen anything like it, it is Armageddon. "General Soloman"
It's as we feared Nod has deployed their new Tiberium Chemical Missiles and they are extremely dangerous. Once deployed they release quite a large dose of Tiberium Gas to the area. Its highly concentrated it will ether kill organic creatures in moments or what we've seen far more commonly extreme mutations very quickly. It looks like Nod has a tool to spread their divination quickly and efficiently with these.

Fortunately, they require a specialised facility and Nod needs to harvest Tiberium Veins with a special Harvester unit we've called the Weed Eater. If you can deny Nod the Veins then no Tiberium Chemical Missile can be constructed. You might try Disruptors or ORCA Bombers to attempt to kill the Veinhole Monster entirely although this is no easy task Commander when provoked the creatures to release more Tiberium Gas and have large tentacles that are quite dangerous.

In other news we finally witnessed a Nod Construction Yard being deployed in the field, it is as was previously reported Nod is indeed using Subterranean MCV's to setup bases making it difficult for us track Nods movements in establishing new bases.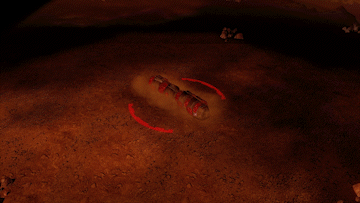 We've also been observing Cyborg Reapers web up infantry with some kind of webbing, the Cyborg Reaper couldn't get more terrifying it sends a chill down my spine knowing we could encounter that in the field. It also seems the battlefields have gotten a bit rescaled EVA must be optimising things with the battlefield link.
For those of you that missed our live event on the 23rd of August (or if you were there and want to relive it), I wanted to make sure you caught up on all the juicy gameplay footage, reveals, new content and intel gathered. Here you are Commander:

You can watch the entire event at our TibSun 22nd Anniversary TSR Event Playlist on our TS RIsing YouTube Channel:Or you can pick the videos that interest you from the event below individually:
Intro and Q&A with Assassin


Action Gameplay Sequence



Nod Cyborg Commando

GDI Dropship Bay

Q&A with TS Rising Development Team
Multiplayer Maps
AutoGates and Firestorm Defense
Music: Searching Dunes

Music - Toxic Atmosphere

Music Mines and Mortars
Tiberium Ecosystem
The Q&A's with me and then the development team were originally held on Twitch to experience them with all their chats intact check out my Twitch channel. Or you can watch the entire show all as one long awesome experience at the TSR's TS 22nd Anniversary Playlist.
Twitch Highlights version of Q&A with Assassin


Twitch Highlights version of TSR Development Team Q&A
Mod of the Year 2021 and Stage of Development
Lastly, it is Mod of the Year 2021, we had hoped to get a release out this year some of the barriers we knew we had to conquer as part of our optimisation efforts took longer than we had hoped. That said we have made great progress this year and I think it won't be too much longer before we'll be showing and comparing some of the optimised work vs the unoptimised one so you can see what all the fuss is about!

That said if you liked our showcase this year at the 22nd Anniversary of Tiberian Sun, and you've liked what we've shown, developed and progress shown this year. Then we'd appreciate the support. Note we have won Unreleased MOTY so you won't be knocking fresher unreleased projects out of the running. If we get enough votes we can still get an honourable mention which is always nice so if you think we've earned it vote in round 1.
On the other hand, if you feel there are mods you think need the votes more than us then by all means we encourage you to vote for the best mods, your favourite mods. If we're one of them great, but we also understand we've been around for a while so if you have a new favourite vote for them, you can always come back to us in the future which we hope you'll support us shooting for the released MOTY next time.

END TRANSMISSION

To stay up to date with news for Tiberian Sun Rising and upcoming events make sure you give us a Like on our Facebook page, follow us on Twitter and subscribe to our YouTube channel. To keep a pulse on TS RIsing and get the latest as it happens join our Official Discord server for Tiberian Sun Rising and please Join the Tiberian Sun 22nd Anniversary Discord Server