Welcome Back, Commanders! Thanks so much for your support we made it into the Top 100 Mods of 2017! Now we must call on you again to vote in our name to be one of the Top Mods of 2017! We appreciate your continued support and dedicated to bringing you the best.
This update we got something special to show you a brand new addition to the GDI. Now as you may or may not know TS Rising isn't a remake of Tiberian Sun. Its a reimagining or a Tiberian Sun 2.0 if you will we've been developing it with the intention of well what if Westwood had an engine like this what would Tiberian Sun be if it was made now. Longtime followers will already be well aware of our approach. One of our goals was to make the factions more asymmetrical and try to reduce shared units between factions and as a result, we have some unit exclusivity to certain factions and some new units to introduce this is one of the latter. This unit was modelled and textured by Sarge_Rho on the team thanks for your hard work on this unit it turned out beautifully.
Vote Tiberian Sun Rising for Best Upcoming Mod of 2017!
Remember to Like our Facebook page, follow our new YouTube channel and of course follow us on Twitter at @TibsunRising to stay on top of our latest updates and don't forget to shoot us a vote for MOTY 2017.
--------------------------------INCOMING TRANSMISSION---------------------
GDI Amphibious Carrier

Welcome Back Commander, we have a highly classified briefing to get you up to speed on project NAGA it started as a prototype back in the First Tiberium War that functioned as a rearming & repair vehicle for our ORCA craft in the field but it didn't live up to expectations. Of course much has changed Tiberium has spread deep into the oceans forming Tiberium Algae which is highly corrosive to sea vessels hulls and in some reported cases Tiberium-Bergs large crystals protruding up from rich mineral deposits deep in the ocean floors can tear a ships hull apart if not spotted. The state of Tiberium's spread has severely crippled our Naval operations and both our Battleships and Aircraft Carriers are largely docked at port indefinitely now. The Battleships 120mm Triple barreled cannons have already been slated for development of the Juggernaught mechanised Artillery platform.
Project NAGA was to develop a new type of Carrier repurposing equipment from our existing fleet of Carriers. But it needed to address the mobility issues so our team of engineers came up with an Amphibious Carrier it drives across land primarily it can traverse rivers and ocean where necessary and although it is a large vehicle it is able to be produced in the field at your Weapons Factories. The Amphibious Carrier is designed to go into Tiberium infected areas and can withstand the radiation the crew inside is shielded from its effects. Although be wary of Tiberium Veinhole Monsters while the vehicle is heavily armoured Tiberium Veins will still do a great amount of damage or destroy the vehicle if exposed for long enough.
ORCA UAV (Unmanned Aerial Vehicle)
With the threat of Ion Storms, the idea of using manned craft was ruled out for the Amphibious Carrier. Pursuing Nod deeper and deeper into Tiberium infected territories. We took advantage of Project STALWART which was developing next generation of ORCA craft and an unmanned craft. This new ORCA UAV is readily replaceable without loss of life.
The ORCA UAV has two main weapon load-outs and is designed to switch out its weapon load-outs. By default out of the factory, the UAV's are equipped as Gunships armed with rotary Vulcan cannons attached to turrets on the underbelly giving it a wide firing angle. With its onboard targeting computer, it has a very high-level accuracy and has been able to shoot accurately in circumstances a human pilot would not be able to.
The second load is a Bomber Variant equipped with bomblets that aren't quite as powerful as the ORCA Bombers but are still quite devasting none the less. This mode is intended to deal with heavier armoured targets the Carrier may encounter as well as enemy base assaults. ORCA Fighters and Bombers will need to resupply at the Airfield as the Amphibious Carrier is only equipped to resupply and repair the ORCA UAV crafts and have replacements on hand in lower decks.
Component Weapons System
It occurred to us that a mobile Carrier would need some onboard defences to deal with threats in the field especially while its UAVs are busy off on a mission or dealing with a target. So the technology of your Component Tower defensive structures was the basis for arming the Carrier. It has twin Component Slots that are equipped with a smaller variant of what is used in your base's defences and are designed to work in tandem. So you can choose between the Vulcan Cannon, RPG and SAM weapon platforms and they are interchangeable. Be noted every time you change the turrets you incur a cost as those turrets don't come cheap. While they arnt quite as powerful as the ones used in your bases defences the adaptability of this unit int he field makes it very versatile able to adapt from Anti-Infantry to Anti-Aircraft quickly if you have the supply chain.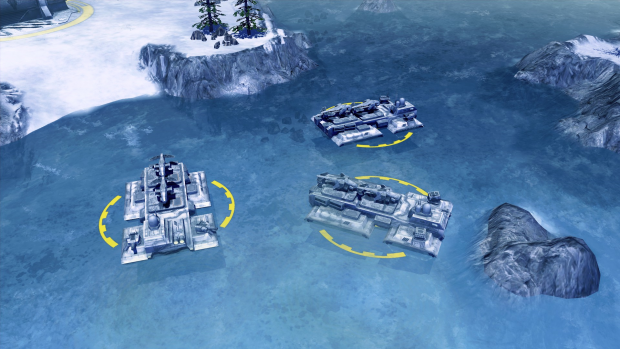 We are transferring control to you, good luck Commander we look forward to seeing how you utilise this new addition to your arsenal in the field.
--------------------------------END TRANSMISSION---------------------
Remember to Like our Facebook page, follow our new YouTube channel and of course follow us on Twitter at @TibsunRising to stay on top of our latest updates and don't forget to shoot us a vote for MOTY 2017.