Join our new Official Discord Server for Tiberian Sun Rising!

Status Update - Welcome Back Commander
First I would like to offer an apology to our fans, longtime followers & supporters for the slow down in updates and quietness here on our ModDB page. But fear, not your faith has not been misplaced we are indeed still alive and working hard on Tiberian Sun Rising. The official Command & Conquer Remaster has been live since June and provided something much needed during these difficult times with the global pandemic. I hope you've all been enjoying the return to the First Tiberium War. Which has been an outstanding success and excellently produced by Jim Vessela, Electronic Arts and Petroglyph please do support the official remaster now and buy it here, and please support the official release and help support the future of the Command & Conquer series that we all love. No, it's not required to play Tiberian Sun Rising but as Tiberian Sun takes place after the first C&C if you haven't revisited this gem yet you are missing out Commander.

I am happy to report that myself and the team have come through the world pandemic so far with good health and I hope all of you have managed to keep safe and healthy. I urge you to continue following the instructions from your authorities in your country and maintain social distancing and wearing masks in public. Stay safe and stay healthy out there Commander.

That said COVID19 did put a strain on some members of our team and unfortunately, it did have an impact on the development setting our schedule back but we are very grateful that this wasn't worse. I am happy to report we have completed the Art we need for launch that was a major milestone that was reached and we've been busy finishing remaining animations, VFX and the most time-intensive task we've been painstakingly working on and it's been a lengthy process is the optimisation of Tiberian Sun Rising for a public beta release coming so now onto the update you've waited so long and patiently for!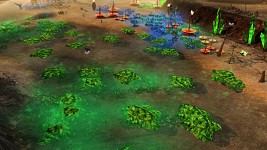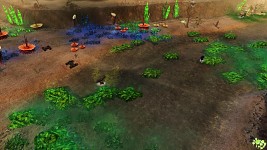 Tiberium Algae has started to be reported in temperate regions where Tiberium is spreading into water.


---
Remember to Like our Facebook page, follow our new YouTube channel
and of course follow us on Twitter at @TibsunRising to stay on top of our latest updates.
Join our new Official Discord Server for Tiberian Sun Rising!

---
Nod Unit Identified: The Nod "Scarab"
Welcome Commander, EVA finally has finished cleaning up the image from the Amphibious Carrier's Black Box that was recovered there was a lot of damage to the black box its a miracle EVA was able to recover anything this crisp and clear. While we were waiting for this intelligence we have had more reports from other GDI settled cities of a big bug, some kind of mechanised spider thing attacking cities and towns. Clearly intended as terror attacks and Nod's propaganda network's trying to spin these terror attacks as GDI hostility. It looks like Nod has been experimenting with the capabilities of their new toy that GDI spies have confirmed to be called the Nod Scarab and confirmed its profile to match our records but that is the only information our spies have managed to glean so far. This unit which clearly some kind of Nod Terror weapon has been somehow sneaking into area's destroying buildings and civilian targets and increasingly has started to engage more with GDI forces in small numbers.

What still baffles GDI intelligence is how this unit is managing to come out of nowhere for such a big unit. The first thought was a cloaking device but the black box data doesn't indicate any of the usual energy signatures we've detected when Nod's Stealth technology is decloaking nor any telltale shimmers. This has lead GDI intelligence to speculate that perhaps this unit may have subterranean travel capability we've yet to confirm this in the field but that is the best running theory that matches chatter and stories from surviving GDI troops and civilian witness's testimonies. One other detail that's dumbfounded our think tanks thus far is what weaponry this Nod Scarab is equipped with. We've been getting conflicting reports on the types of weapon armaments being utilised by the Scarab. What's even more troubling is we haven't been able to find traces of Nod weapons in the terror locations only GDIs typical armaments. This remains a mystery for the moment but we are investigating further and double-checking all data collected if this is Brotherhood trick we'll find it out. Given how agile this unit appears to be and how often it has retreated we also estimating the unit to have only medium armour which also fits with Nod's typical stealth & hit and run tactics. As we learn more we'll pass on the relevant data to you Commander. Our satellites managed to capture some recent footage of a Scarab briefly before it "disappeared" being escorted by a pretty large force of Nods Cyborg Reapers and the deadly Cyborg Commando.
Hunter Seeker Droid - The Brotherhood is Watching
Commander, we've been running tests with the latest production line of the unmanned Hunter Seeker Droid vehicles and wiring these into CABAL's network. We've been able to collect battlefield intelligence and data to track enemy movements in multiple regions and gained a much more detailed view of GDI's troop deployments.

Before you ask Commander, this isn't the same Hunter Seeker Droid you've used before in battlefield tests that were release and forget weapons to hunt down priority targets. No that version of the Hunter Seeker Droid was abandoned in favour of developing it into a new unmanned vehicle for Nod Commanders to use on the battlefield.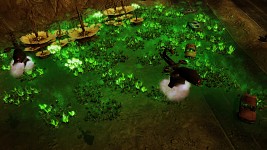 Due to its size and limited power supply, we've included a stealth device that will only activate once the unit is in position. Once stationary the stealth device will kick in and the Hunter Seeker Droid will be able to observe enemy movements and we've also equipped it with scanners to detect enemy stealth and subterranean vehicles. This makes it extremely useful for hunting down disloyal rogue Nod Commanders out for their own power instead of the unity of Nod and locating and detecting their stealthed bases to then co-ordinate attacks.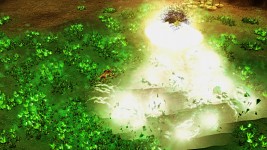 If it is detected or in range of enemy targets it has an inbuilt explosive weapon which reaches a temperature high enough to destroy all evidence the Hunter Seeker Droid was ever there along with its target. Although it is most effective on enemy infantry and vehicles a single Hunter Seeker Droid isn't very effective on structures but in larger groups can be a threat.
Wheres the Beta?
We thank you for your patience and good things come to those who wait. We are currently focusing on game optimisation (which we've had some remarkable technical breakthroughs on this year). Remaining animation, VFX and polish work are also ongoing but the main obstacle for us to get beta out is to complete optimisation. To set expectations we're looking at 2021 rather than 2020 which we did our best this year and we'll keep working hard over what remains of 2020 into 2021, the optimisation process has been taking longer than originally forecast. We do post stuff on our Discord now and then so for the inside news and for the latest join our Discord Server.