Mod of the Year
Welcome! Its that time of year again, Mod of the Year! Please show us your support and make your vote count for Tiberian Sun Rising for MOTY! If you have a ModDB Account please make sure you login to vote as Guest votes will only be counted in the event of a tie. So show your support and register a ModDB account if you don't already have one. Don't forget to vote for your other favourite mods too and may the best mods win! To vote all you need to do is click the big "VOTE" button on this page hurry make your votes count Phase 1 voting closes soon.
Nod's Technology of Terror
GDI Intelligence has learned of a new defensive measure being used by the Brotherhood of Nod. It seem's the Brotherhood has developed more mobile laser weapons then the notorious Obelisk of Light leading to these Laser Turret's which are a light weapon but in groups can be formidable defence. Particularly as when the Laser Turret's are not in use they fold up into an underground compartment hidden from view.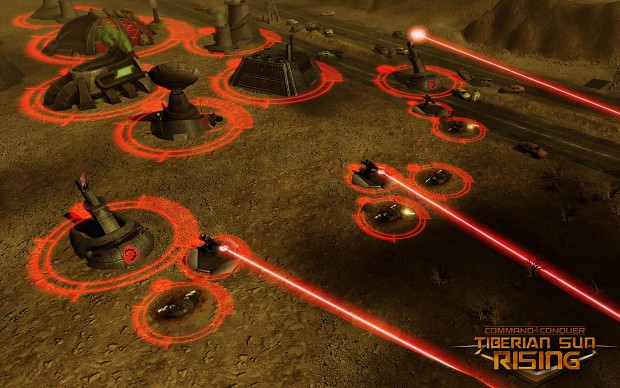 A Wolverine scout party essentially found itself ambushed by unknowingly walking right into an array of Nod Laser Turret's which appeared to pop up out of nowhere. Caution is advised to all GDI Commander's recommend dispatching some medium Titan class walkers with Wolverine scout party's as the main weakness of the Laser Turret is its range of attack our Titan's can attack these defence's outside their firing range however they will need to be detected first.
GDI Reaching Higher
GDI force's are now putting into field testing the newest generation of Personnel-Jumpjet Technology, these highly mobile aerial combat squads are equipped with highly manuverable Jumpjet Pack, a powerful Vulcan Cannon and is also equipped with a Sensor Kit for detecting stealth or subterranean units. Further details on these "Jumpjet Troopers" has been classified.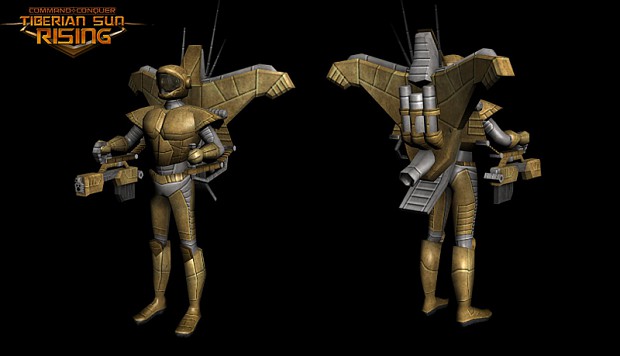 End Transmission, Thank you for your continued support!