Hey guys,
I'd like to start with some weekly updates from now on, always on Thursdays.
It's been some busy weeks, but we've achieved our internal February milestone. Yay! An important step for the voxel engine, for the game asset production and for the Unity 4 to Unity 5 update as well. The spirits are high.
We've also prepared some new player's building concepts for our 3D artists, which - mark my words - is a time consuming step before it finally goes to production. Every concept needs different perspectives in order to make the 3D artist's life easier. A nice workflow for the asset pipeline if you work with distant freelancers. But see for yourself below.

Furthermore for the most part I worked on gameplay routines of the game itself. Adding missing parts, reworking other gameplay elements and testing of how it feels compared to the quick gameplay of games like Don't Starve or Torchlight 2 (like: How is the camera in a cave? How does WASD and mouse-click-movement feel? How does item picking feels?).
A funny moment was when the terrain digging drops something like "dirt" or "iron" resources and then they suddenly started to fly up towards the sky instead of falling down. But this weird bug instantly caused Jeffrey and me to have a great idea about gravity devices, weapons or items. Also: See below.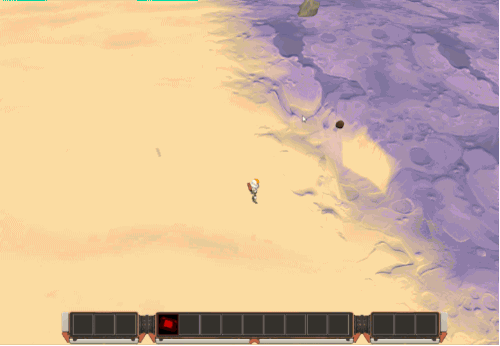 Right now Jeffrey is re-illustrating the UI, it is something we wanted to do for a long time. Up until now the UI had three different styles over time, so we wanted to reduce it to a number of two with a few simplifications implemented. While the 3D designers work on the new buildings, both of the aliens and the players.
Next Thursday I'll tell you more about how we generate a planet with our fancy voxel engine.
Cheers, Rafael