Hello, Indie DB.
We just thought we'd post an update video for our Through the Woods Kickstarter here, and explain a little bit about why we have chosen to seek crowd funding.
For those of you who don't know what Through the Woods is, here is a very quick description:
Through the Woods is a third-person psychological horror experience set in a forest on the western shore of Norway, about how far a mother would go to save her son. Through dynamic narration you follow the mother's re-telling of the events surrounding her son's disappearance in a setting heavily inspired by Norse mythology and classic Japanese horror games such as Resident Evil and Silent Hill.
So, we are a team of seven full time developers and we need money. We have received a small private investment and have also been lucky enough to get some money from the Norwegian government. But this is our first game, we started out with no initial capital, and the money we have been given so far is very soon going to run out.
We have to work fast in order to get our game out the door, to make some sales to earn some money so that we don't have to rely on government grants to keep us going. We need money for everything, of course, to pay for salaries, voice actors, motion capture, office rent, etc, but one of the biggest hurdles in our way in terms of efficiency is our hardware situation.
Almost all of us are using our personal laptops we bought when we started our game design courses. As you can imagine, being students, we weren't able to buy the most powerful machines on the market, and some of the laptops in the room with us here are between three and five years old.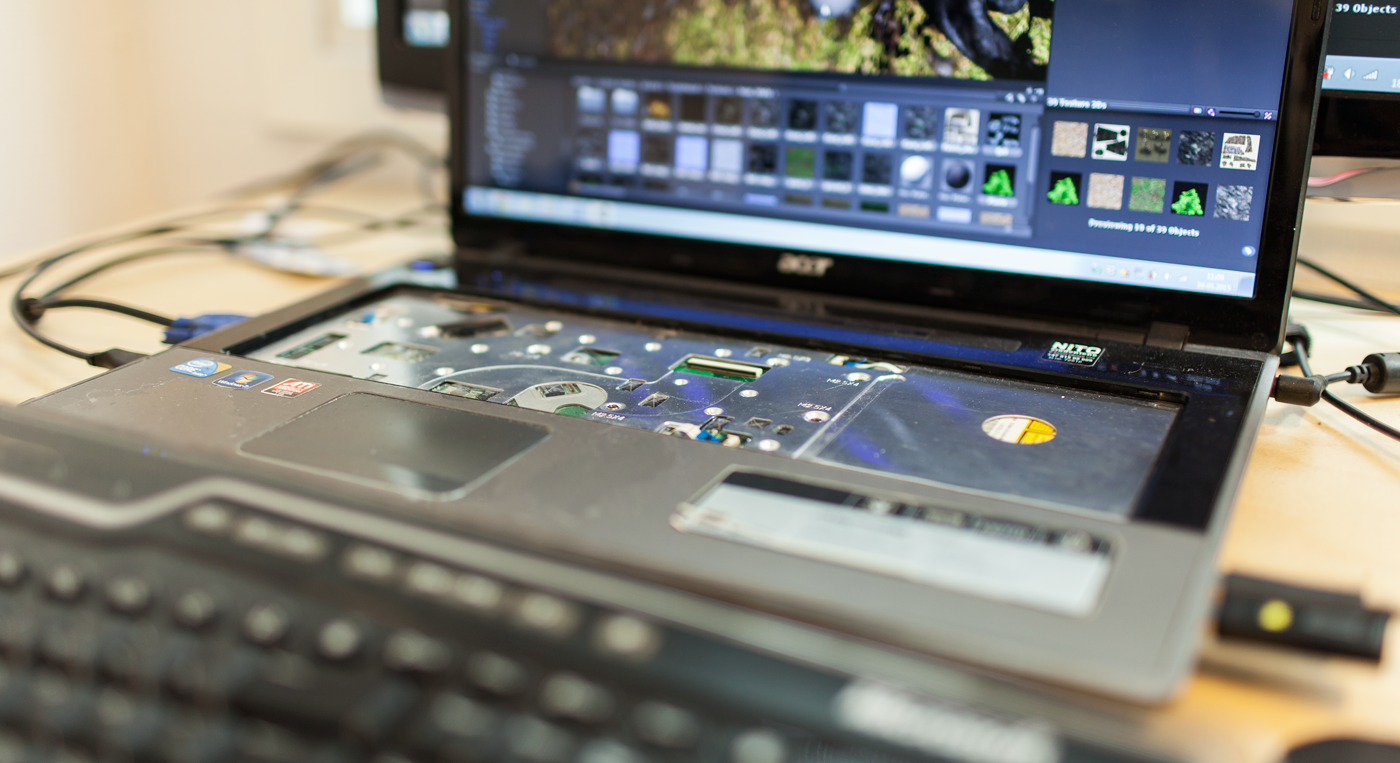 Most of us can't run the build of our game on even the lowest graphics settings now, without serious framerate lag and this is not an optimisation issue. It's purely a lack of horsepower where our notebooks are concerned. The game engine often crashes at the worst moments and it's really awkward to work with level design, layout and placement when the computers are stuttering so badly.
So what our Kickstarter is mainly for is to buy a few of the guys some powerful desktop computers to better handle complex and demanding processes and so we have less downtime waiting for programs to re-start, with less work lost due to crashes, etc.
If you didn't see the original Kickstarter video, here it is:
If you think our campaign looks interesting, we'd really love for you to consider becoming a backer. You get access to our playable prototype straight away to see if it's something you would be interested in getting behind. Otherwise, it would be awesome if you could share the project around your networks. I know that at Antagonist we share a lot of stuff from other studios to help out, so we'd be very happy to repay the favour in the future.
Aside from that, we'd really love some feedback on our game, our Kickstarter and anything else you have an opinion on. We value any input and want to start communicating more with the Indie DB community and indie developers outside Norway in general.
Thanks for reading!